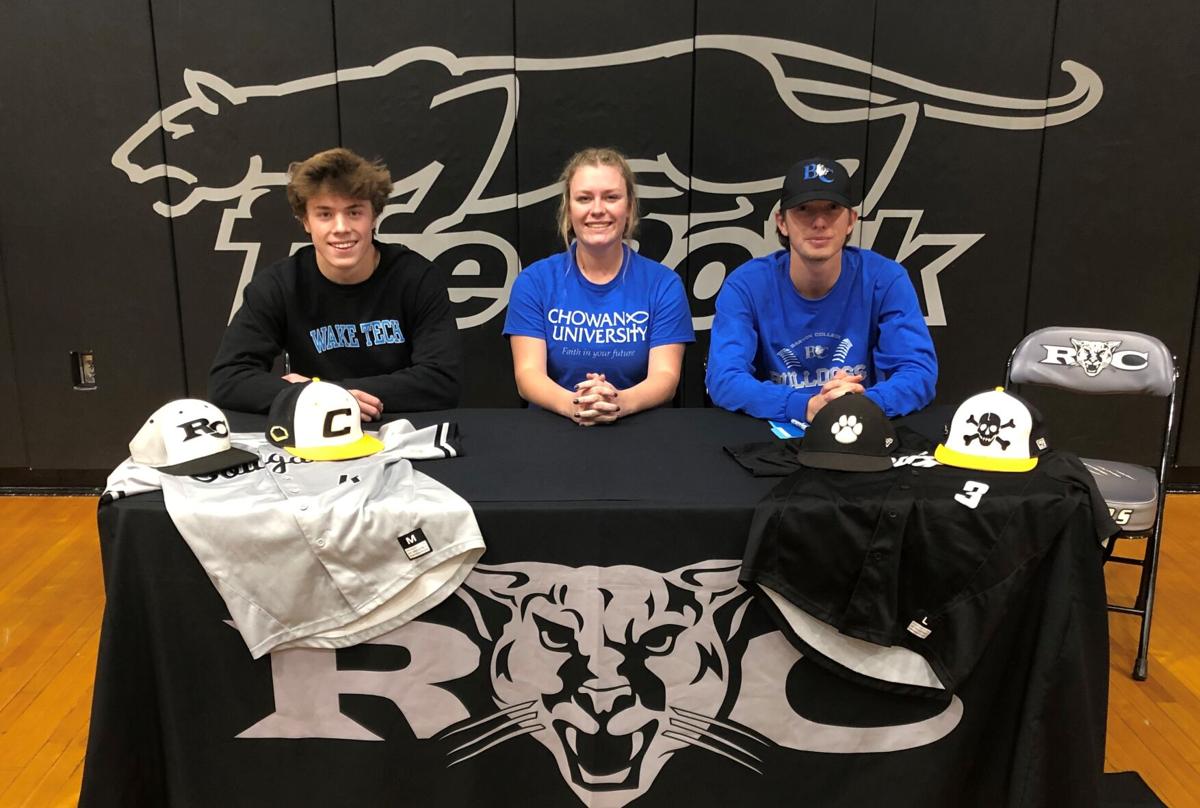 WENTWORTH – Three Rockingham County High School seniors recently signed their National Letters of Intent to become collegiate student-athletes following their final seasons in the spring of 2002.
Ayden Johnson and Mason Lynch inked to play baseball at Wake Tech and Barton College respectively, while Kira Soodek signed to play softball at Chowan University.
Ayden Johnson, Wake Tech
Johnson, a right-handed pitcher at RCHS, first got recognized by a Wake Tech Community College coach while playing travel ball with the Canes, an elite organization that recruits student-athletes with potential to play at the college level from North Carolina, South Carolina, Virginia and Maryland.
A few days after making contact with the coach, Wake Tech, located in Raleigh, emailed Johnson back and invited him for a visit which led to the offer.
During his junior season for the Cougars, Johnson had a .364 on base percentage, scored eight runs, hit eight RBIs and added six stolen bases. On the mound, he was 4-2 as a starter for the Cougars while compiling a 3.63 ERA and .864 fielding percentage.
Known for his change-up on the mound, Johnson says he continually strives to improve his arsenal and realizes that when he's pitching, pressure goes along with the job, but it is something he has learned to tune out.
"I just throw it in the zone and hope that my team stays behind me and does what they are supposed to do," Johnson said.
Now that his college choice is made, he looks forward to getting back on the diamond for Rockingham and is optimistic the Cougars can be a force in the Mid-State 3A Conference with the intention to build on an 8-6 finish last season.
"I think we are going to be good this year and we are capable of making a strong post season run. We've got a lot of talented guys and some young guys too that I think can make an impact."
Johnson plans to transfer to a four-year institution after Wake Tech to pursue a degree and a career track related to personal training.
Kira Soodek, Chowan University
Soodek, who primarily plays catcher for Rockingham, said Chowan University had the program she was looking for academically as well as the type of team where she felt she could make an impact at the next level.
Chowan, located in Murfreesboro, N.C. in the Northeastern part of the state near the coast, checked all of the boxes on her list on paper and after going down for a visit after a tournament, it didn't take long for her to accept the offer.
Soodek was nearly perfect defensively for a Rockingham team that finished at 11-3 in her junior season as she posted .992 in the field. She scored three runs, had five hits and drove in eight RBIs in 2021.
In addition to catcher, she also played some utility and second base for the Lady Cougars and feels that should give her an edge to make a difference right away in college. As a long-time catcher, she said it has helped her develop a better understanding of the game which allows her to keep all of her teammates on the same page when crucial situations arise in the game.
"Being a catcher for so long has helped me develop some leadership qualities and made it easier to work with different pitchers with different skills because of the experience I've gained over the years," she said.
In addition to softball, Soodek also plays basketball and volleyball so balancing school work and practice has been a job in and of itself over the course of her high school playing career.
"I don't sleep a lot," Soodek said with a laugh.
"I use a lot of my time in class to do my homework and before and after practice is really crucial for me. My family has really been there to support me so that gives me more time to focus and that really helps a lot."
Soodek plans to study exercise science and possibly major in physical therapy.
Mason Lynch, Barton College
Lynch has been a jack-of-all-trades for the Cougars over the last several years playing catcher, shortstop, outfield and utility which has made him a valuable asset for Rockingham.
It was most certainly a factor that the coaching staff at Barton College, located in Wilson, liked as well which led to the signing.
As a junior at Rockingham, Lynch had an on base percentage of .412 and scored 10 runs. In addition, he had three RBIs, five doubles, tallied nine stolen bases and had a .889 fielding percentage.
Part of what has helped him grow as a player is his offseason play through his work with the Dirtbags, an organization that has helped thousands of kids get opportunities at the college level and also produced more than 200 reach Major League Baseball players over the years.
Lynch plans to major in physical education at Barton, but he's got lofty goals he and his teammates hope to achieve before he heads off to college.
"My goals are pretty simple. I just want to play good in the field and in the batters box and hopefully win a state title," Lynch said.