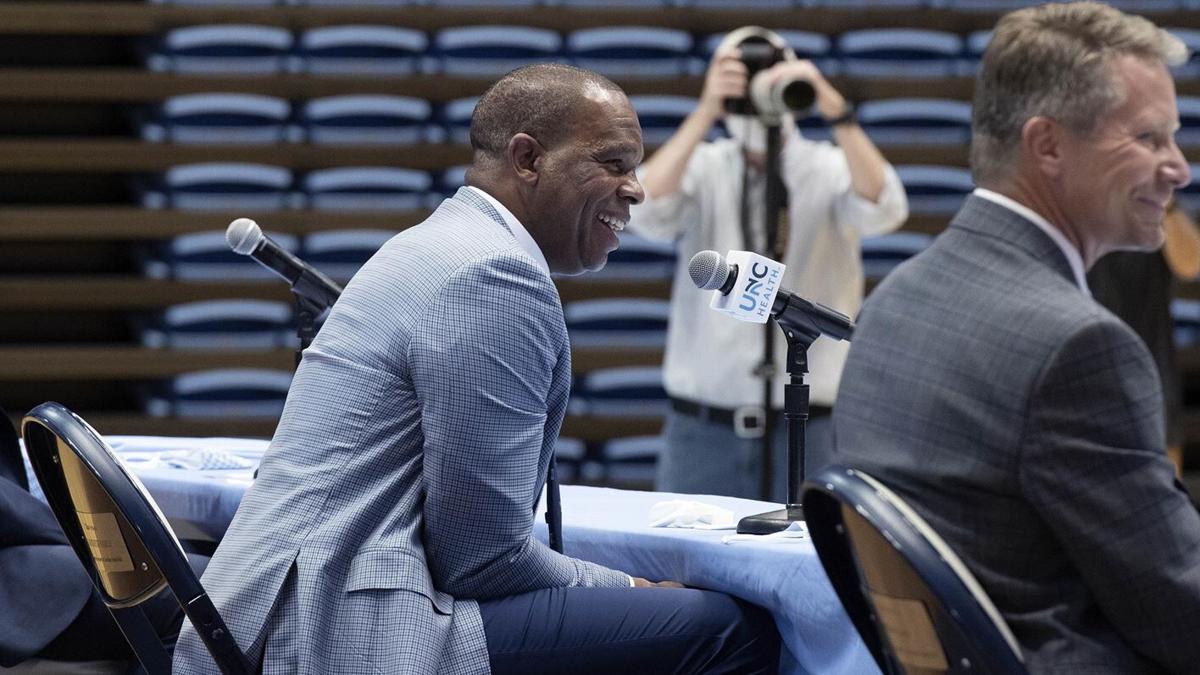 CHAPEL HILL — What you know about the new Carolina Basketball staff, Hubert Davis Edition, is that they are all members of the Carolina Family.
The new head coach of the Tar Heels made it clear on his very first day on the job that he wanted staff members who understood what it was like to be part of Carolina Basketball, who could easily relate to both the pressures and thrills being experienced by the current players.
But saying they were hired because they prefer the correct shade of blue is shortchanging them. These guys can coach.
Consider these blind credentials as if you didn't know who they belong to. One staff member is a national champion who is lauded by his most recent employer as being indispensable to making connections with their current players. Another is a Final Four Most Outstanding Player who has been observing a Hall of Fame head coach every day for the last six years. A third has won a national title as a staff member at one of the nation's most prestigious programs and has demonstrated a knack for working the transfer portal. The oldest new member of the staff comes from a coaching family, has been a head coach in the SEC and other stops, played under Dean Smith, and understands the exact assistant coach-to-head coach transition that Davis is now making.
And the other is, quite simply, Eric Hoots, who needs no further introduction and in the last five or so years has moved from the behind-the-scenes guy who only program insiders realize is the glue of the program, to the widely recognized essential cog who holds everything together.
Now that's a staff — Sean May, Brad Frederick and Jeff Lebo on the bench, with Jackie Manuel and Hoots in other staff roles. Davis has assembled a staff of Tar Heels, yes. But it's not as though the first five people who called him and could recite the alma mater got the job. There was no shortage of applications. But Davis wanted to build a cohesive staff, committed to player development, that could complement and accentuate each other's strengths.
"The thing I love is that we're all from different eras of Carolina Basketball," says May, who is moving from an administrative role onto the Tar Heel bench as an assistant coach. "We have guys who can speak to what this place means to them and the experiences they had. Especially with recruiting and being able to relay that to the families of kids we're going after, that's special."
Davis said on day one that he wants his players to "unpack their bags" and fully commit to being members of the Carolina Basketball program. In the basketball office — where Davis wants to reemphasize interaction between players and office staff members and coaches — they'll find players with a combined 14 years of experience as Carolina players and over three decades of experience on staff. There won't be much that happens in Chapel Hill during the 2021-22 season that at least one person on staff hasn't lived through before.
But current players will also be able to find staff members who have won national awards, and played in the NBA for multiple seasons, and talked basketball with the sharpest minds in the game — starting, of course, with Dean Smith, but not just limited to Smith.
Ultimately, coaching at North Carolina is different. It's all the basketball aspects of the nation's best program … plus a little more. It's spotting a player in the summer who once wore your number and having him instantly call you by name. It's understanding why Smith and Bill Guthridge and Roy Williams matter, not just on the court but also off of it. It's an expectation of a certain standard, one everyone has had to meet for generations.
Davis knows that players choosing to play basketball at Carolina aren't just picking cool uniforms (although that helps) or one of the nation's most iconic college basketball facilities (but that's nice, too) or a place where they will instantly be recognizable both on Franklin Street and nationally.
They're choosing Carolina to get better, to be coached, and to be coached by staff members who have walked in exactly these footsteps and know how to take the next step. And choosing to play basketball here — a choice everyone on staff has made (Hoots would have played if he'd been as talented with his jump shot as he is with a unicycle) — is different, too. In the days to come, you're going to hear more about some stylistic adjustments. The coaches making those adjustments understand the weight of directing the Carolina program.
"When I walked through that tunnel as a player, I felt the gaze of the players who came before me," Lebo says. "I understood what I was representing every day — those who set the bars high who came before us, but I also wanted to set an example and a way to do things for those who were coming after us. I want those players who play for us now to feel that. We have achieved what we want to do if they understand the importance of putting on the jersey and walking through that tunnel and understand the magnitude of wearing that Carolina Basketball jersey."