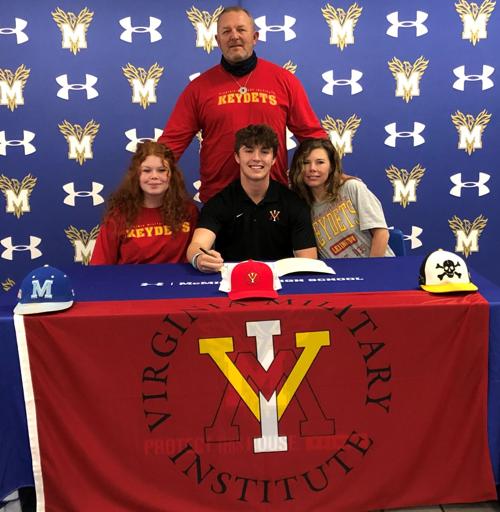 MAYODAN — McMichael senior Matthew Wright signed a letter of intent for a baseball scholarship at Virginia Military Institute Monday afternoon.
One of the most versatile athletes to compete at DMHS in recent memory, Wright was 6-2 as a starting pitcher as a junior. He had a .0947 ERA and a .968 fielding percentage while being productive offensively as well with a .565 on base percentage.
Wright was also the quarterback for the Phoenix football team, closing out the season with a 7-4 record in 2021 while amazing 1,360 yards and completing 85 of 164 passes.
In addition, he was also one of McMichael's most proficient scorers for the basketball team last season, averaging 14.8 points per game on the hardwood.
In previous seasons for the baseball team, Wright has played primarily pitcher as well as spent some time in the outfield, but he expects to play short stop during his senior year at McMichael.
A four-year Scholar Athlete Award winner, he is projected to play in the outfield for VMI. Wright said he feels playing multiple positions and competing in a variety of sports make him a better-rounded athlete and a stronger leader.
"He's a stud-gamer no doubt. He wears it all on his sleeves, just like me. He's a very emotional kid, but he plays hard and an outstanding young man," first year McMichael head baseball coach Bobby Smith said.
Smith, who took over for Clark Erskine earlier this year, already has relationships with the current McMichael players from summer league ball, Wright included.
Although Wright and his teammates didn't foresee a coaching change heading into the 2022 season, they have taken it in stride.
"It hasn't been difficult, but it's been different. I play travel ball with Bobby Smith and he is a great coach, but being with coach Erskine for so long, it's just going to be different and the guys are just going to have to adjust to the way we play this year," Wright said.
He believes McMichael has all the tools and pieces in place to improve upon last season's 8-7 finish and he is determined to close out his high school career on a high note.
"My goal for myself is to bat .400 and my goal for us as a team is to win the conference championship and make the playoffs," Wright said.
Wright and the Phoenix are slated to begin the 2022 season with a road scrimmage at Atkins Feb. 23