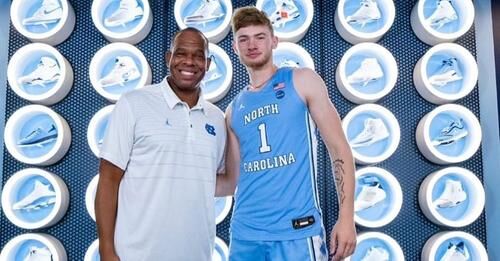 Hubert Davis was quick to win on the recruiting trail during his first summer as UNC's head coach, grabbing class of 2022 commitments from forward Jalen Washington, guard Seth Trimble, and center Will Shaver.
The search for a scoring wing lasted a little longer but ended Sept. 15, as Tyler Nickel announced his commitment to UNC.
Ranked the No. 79 player in the class of 2022 according to 247Sports, Nickel is known for his offense and his motor.
Below is Nickel's interview with 247 Sports:
What was your official visit to UNC like?
It was great. Just being able to spend quality time with the coaches, the players, and being able to see everything about the program in different facets. I wanted to just be with them, eat with them, be around them, in a social setting and basketball setting. I was able to have deep, straight conversations with Coach (Hubert Davis) and everything that we talked about just brought me to the gut feeling that UNC was the best spot for me.
When do you know you were ready to commit to Carolina?
I loved everything while I was there, and I loved it the day after. ... There were a lot of great options out there for me. This was the hardest decision I've ever made. After going through everything extensively with my parents, we ended up coming to the decision that Carolina was the best move.
What was Hubert Davis' reaction?
He sounded so excited. He said he was trying not to get emotional. He was very, very, very happy. He told me many times how happy he was. He like couldn't stop laughing and smiling, he said. He sounded like he was almost ready to cry. All the coaches were reaching out to me and telling me how excited they were. It made me ready to get there.
Sean May has been your lead recruiter. What's your relationship like with him?
He's a straight shooter. He tells me everything about what's going on, how he's feeling, how Coach (Davis) is feeling. Him and Coach Davis have been preaching the same message.
During the visit, did you have a film room session with Hubert Davis? Did he show film of former Carolina players?
They sent me clips and stuff, but they aren't really doing that. They just told me that what I do is what I do and it's not really comparable to like a set stereotype, I guess. That was their big message: I would just be able to be me.
And who are you on the court?
Killer. Killer. Scorer. That's about the best definition I can give you.
Where does your confidence come from?
There are a lot of things I've experienced that people wouldn't know or expect. I've been through a lot of adversity, just knowing that regardless—by any means—I'm going to win. Because it's me or somebody else. I'm going to win because I have to.
What role does the UNC staff envision for you?
Coming in, primarily as a wing guy, scorer, who can guard multiple positions. They want me to do what I do best, and a lot of that is scoring.
What's your UNC recruitment been like overall?
It's been—interest was just what it was when I was younger. But then Coach Davis saw me (in late June) and started recruiting me heavily. And that escalated, escalated, escalated to what it is now, me being committed to play there.
How was playing pickup with the team during your visit?
I felt really good and I think I played well. I'm not going to go into a lot of detail, but I felt really good and that's what it is.
How aware were you of North Carolina's other targets and their timelines? Was that a negative against them?
No, it never hurt them. At the end of the day, I know it's a business and you have to look out for what's best for you. And I think that's what ended up happening.
The tattoo on your arm says 'anomaly.' Why that word?
An anomaly is something that deviates from whatever the standard is, whatever is normal. To me, an anomaly is one of one. It's something you can't replicate and it means you can't define who I am and what I do as a person. It means, to me, not comparable.
Ultimately, what did it come down to for you all?
You know, I really think it was fit and the Carolina family feel. We were really pleasantly surprised in our meetings with Coach Davis and being invited out to his home, about how much they knew about Tyler and how they told him that they needed the kind of game he could provide. It was really a feeling with the players, the coaches, more so than even the institution. At the end of the day, it was about what school provided the best opportunity for him to reach his ultimate goal.
How do they see Tyler fitting in?
They wanted him to play the '3.' They want him on the wing, because they don't have a lot of really exclusive wing players. They have some combo guards, but they really wanted a guy who could score from the wing, defend, and be a good teammate. That was a good fit for Tyler.
What's this process been like for you?
It's a lot. You learn a ton of things, I was telling Coach Davis, that you'll probably never use again. You wish you could write a book or something to share it. Sometimes it felt like drinking through a fire hose... What you can do and what you can't do. What coach speak is, learning what when someone says this they really mean that. But it was a fun journey. You get to spend a lot of time on airplanes, travel, and connect with your kid on the thing he loves to do. In that way, we'll miss that part of life where we're going all across the country to these tournaments.
What did you gravitate towards when it comes to Hubert Davis?
I'd say just how humble he was, and how clear a plan he had for Tyler when he gets to Carolina. That surprised me. I'm a Knicks fan, so I knew who he was, but I can't say I knew him or his family, and I feel like we got a chance to learn about that over these last few months. If you don't have trust with a head coach, it's really hard to have your kid go there and for players to make that choice.