Govt-and-politics
top story
UPDATE: Greensboro extends emergency housing program until end of the month
UPDATE
Residents of the temporary shelters at Pomona Park will be able to stay until the last week of March, an official said Tuesday.
The winter emergency shelter site will close at the end of the month so the baseball outfield, where the shelters were placed, can be readied for baseball season in April.
The city had planned to start taking down the shelters next week. However, Kristina Singleton, executive director of the nonprofit Interactive Resource Center, said officials changed their mind after seeing low temperatures could continue into next week.
Singleton is managing the site — which has 30 heated shelters that can accommodate 58 people — for the city.
The National Weather Service in Raleigh calls for lows in the upper 20s this weekend and the lower 30s Monday night in Greensboro. 
GREENSBORO — This week's cold snap is providing a reprieve of sorts for some residents of the city's emergency housing at Pomona Park.
The city had planned to begin dismantling some of the 30 Pallet houses — 64-square-foot shelters that can accommodate up two people — at the park.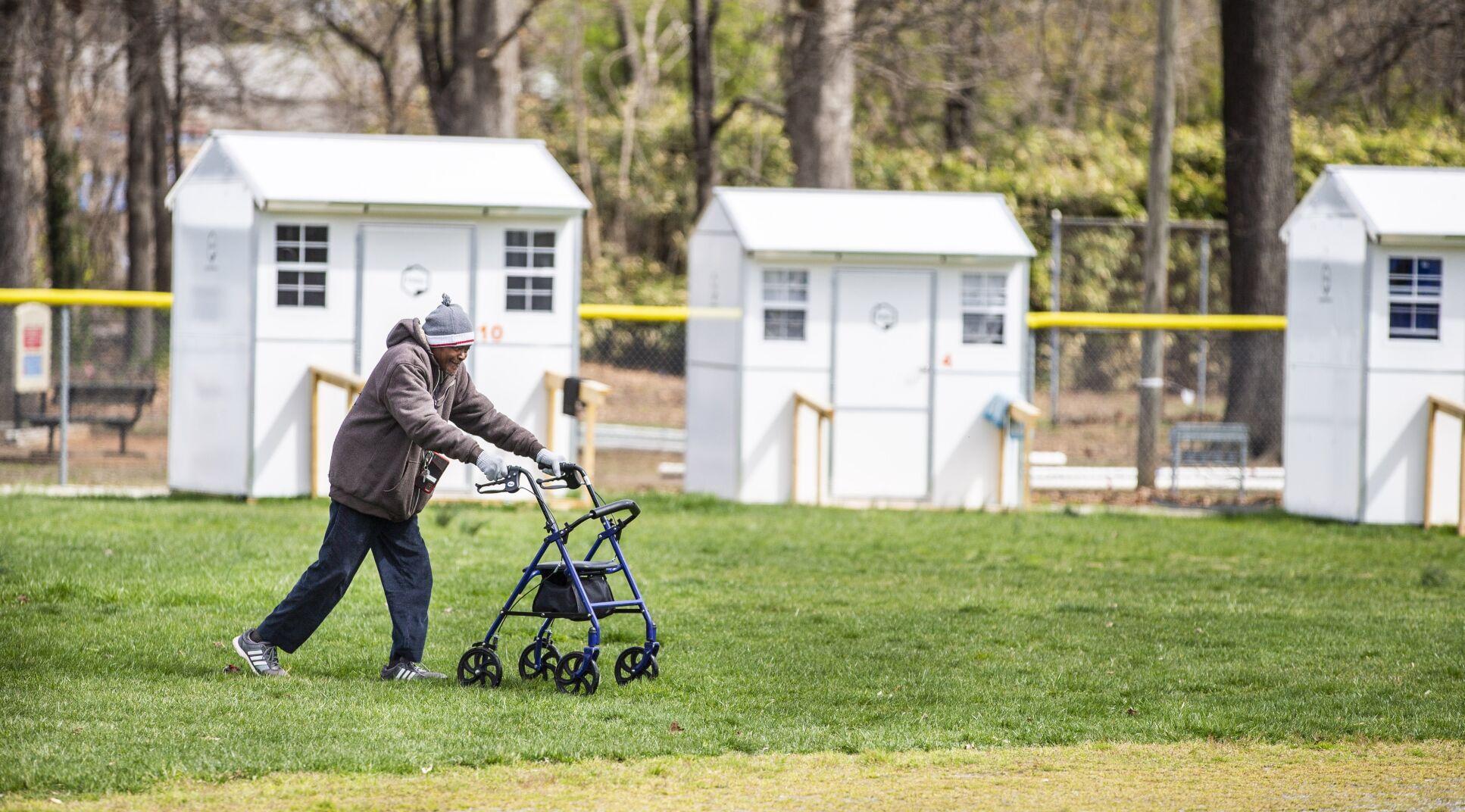 But with temperatures expected to dip to 27 degrees on Wednesday and Thursday nights, Kristina Singleton said the city is postponing that until next week. Singleton, executive director of the nonprofit Interactive Resource Center, is overseeing the city's winter emergency housing program.
The prefabricated housing units, which can accommodate a total of 58 people, will be disassembled by the end of March and stored until needed again. The Washington-based Pallet PBC, which makes the houses, says they can be erected and broken down multiple times. The Pallet houses are heated and there are restrooms and portable showers available at the site.
As of Monday, no new people were being housed at the park — where the Pallet homes are spread around the outfield.
Forty-seven people were housed there on Monday, and it's unclear how many will end up back on the streets.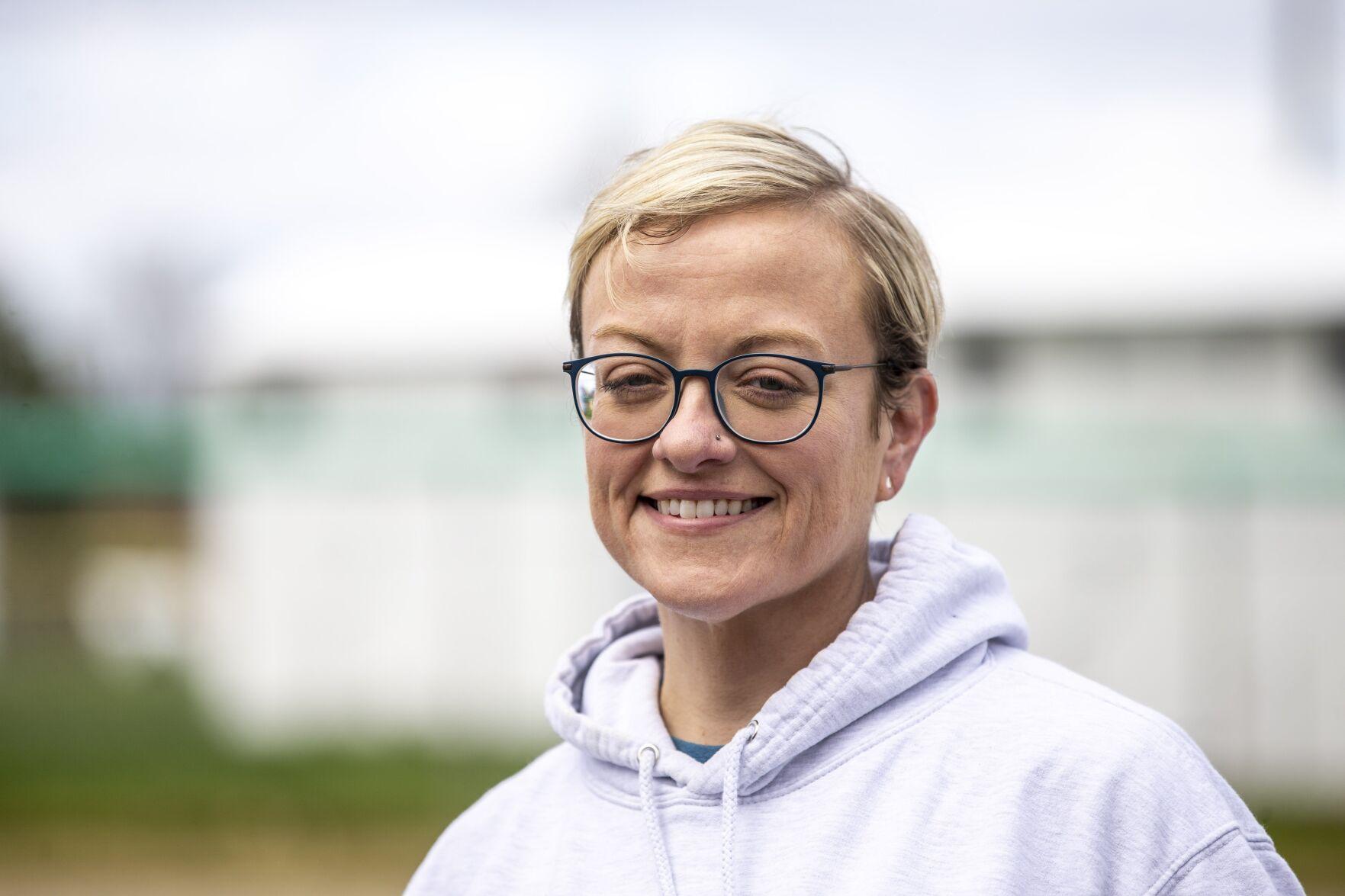 Singleton said case managers from a variety of nonprofits will continue working to find more permanent housing for the residents.
"We are in a national crisis for housing and the lack of affordable housing obviously would not allow us to move all those people into a permanent solution," Singleton said.
When it chose the site, city officials promised to return the park in usable shape for its intended purpose by the beginning of baseball season in April. The city erected a temporary fence to protect the park's diamond infield, which has special matting installed over a concrete pad to accommodate people with mobility issues.
The Pallet houses will be taken down in four stages. "The staggered set-up was in an effort to keep some folks there as long as possible based on their acuity and their needs," Singleton said.
Michael Woods, 68, who's stayed at the site since the end of January, said he's grateful for the city's help.
"I can take a shower. I don't have to sleep out in the rain no more," said Woods, who had been without housing for about a year. "I'm not cold like I used to be. I'm anemic, I can't be out in this cold for too long."
His future housing remains uncertain. "I don't know where I'm going to go, but I'm searching," Woods said.
Adrian Xeno, who's been at Pomona Park for two weeks, said Monday he just found out he'll be moving out sooner than he thought.
"I thought I would have a couple more weeks, and they basically cut my time in half," said Xeno, 42. "The plan I had, I've kind of had to retract that and figure out something else."
He was disappointed that he wasn't getting more help finding a permanent place to live. "But, I'm kind of a late entry to … this program, so I'm just kind of at the back of the line," he said.
Since it opened in December, Singleton said 75 people have been housed in the Pallet houses. Thus far, Singleton said, 57% of them have found more permanent housing.
"All of those folks were able to stay warm and safe throughout the winter," Singleton said.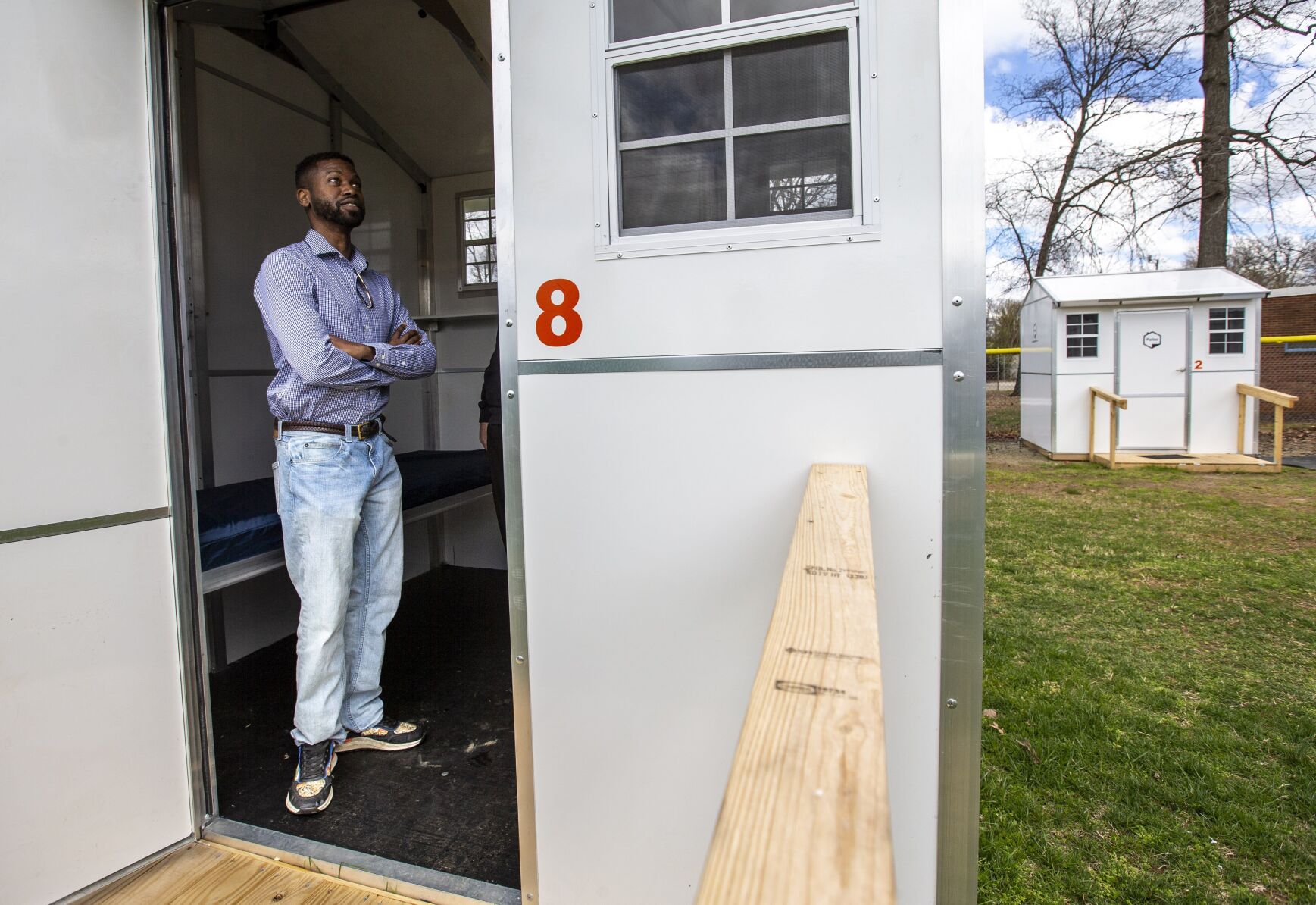 State Rep. Cecil Brockman, D-High Point, toured the site Monday, with an eye toward possibly having the state fund similar Pallet house programs.
He was surprised at how tiny the homes are. "Obviously they're fitting a huge need in the community," Brockman said.
The city paid $380,000 for the Pallet homes, which the manufacturer says last about 10 years. Officials are still working on their emergency housing plans for next winter.
Another emergency winter shelter, the old Regency Inn & Suites, also will close soon.
Michelle Kennedy, the city's housing and neighborhood development director, said the city expects to have a renovation plan in hand by the end of the week for the old motel. Currently, about 55 people are housed there.
"We'll close (Regency) a week out from the renovations," Kennedy said.
Partnership Homes bought the former motel with financing help from the city.
As for Safe Parking, where people who live in their cars can safely park overnight, that program will move from Pomona Park to a more permanent site.
Kennedy would not say where that site is, noting that she's waiting for confirmation of the site from the city manager's office.
She said she hopes to release that information late Thursday.