Cone official: Plasma infusion for COVID-19 patients promising, but more study needed
GREENSBORO — As a nurse at Cone Health's Green Valley Campus, Terri Franklin has watched her patients struggle to breathe. She said she's seen doctors' notes at the hospital, which only treats COVID-19 patients, that read: "Patient would benefit from convalescent plasma."  
Convalescent plasma is the pale yellow liquid part of the blood and can be collected from people who have recovered from a disease. Their blood is presumed to have antibodies that helped them get better.
That plasma, in turn, can be administered to others with the same disease in the hopes they may recover as well.

So Franklin, who lives in Whitsett, decided to get her own blood tested. Although she had previously tested negative for COVID-19, the blood test found she was positive for antibodies to the coronavirus.
A few weeks ago, the 54-year-old began donating plasma at OneBlood in Greensboro, hoping it will help COVID-19 patients like those under her care.
"It's no worse than donating blood," Franklin said. "If people think they may have had it, they should get tested. It could keep one person alive."
Dr. Brent McQuaid, medical director of Cone's Green Valley facility, said the hospital is using convalescent plasma in some cases to treat COVID-19 patients, but its effectiveness is unclear. 
That clarity, McQuaid said, would have to come from large, well-controlled trials that show the plasma is an effective therapy for COVID-19 patients.
"There are small, poorly powered, somewhat well-controlled studies that suggest a benefit, and in this we take a lot of hope," McQuaid said, "but we can't say with confidence that this is something that should be used routinely for every patient who has severe COVID and requires hospitalization."
The studies have not shown a high rate of adverse effects, he said, "and when we have used it locally, there are, anecdotally, patients that have done well."
McQuaid said some patients who received convalescent plasma have improved within a day or two, but the same is true of some patients who didn't get it.
"That's where the value of a large study ... would be really helpful for us," he said.
Understanding the science
The theory behind using convalescent plasma is that the immune system of a person who has been exposed to the coronavirus has developed defense mechanisms to fight off the disease.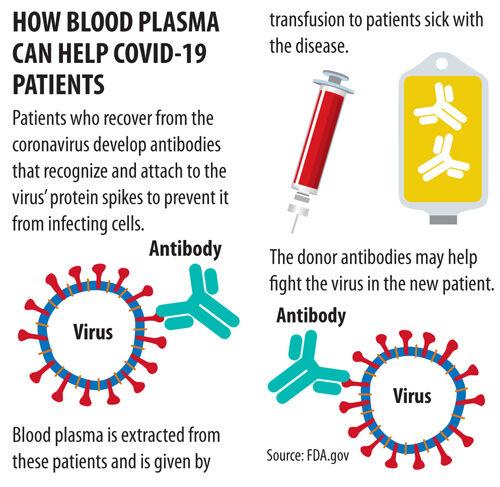 "There are other proteins that float around in our blood that are involved with the immune system," McQuaid said. "We can measure some antibodies that we know will react to SARS-coV-2 (the virus that causes COVID-19), but it's entirely possible that there's other antibodies that we're just not smart enough to detect that are in there."
When giving that plasma to someone struggling to fight off the disease, "you hope that whatever helped the donor will help the recipient," McQuaid said.
Convalescent plasma has been widely used to combat other diseases, such as Ebola, MERS, SARS and Spanish flu.
Still, he said, "there has been a huge gap in the science of high-quality data to tell us if (convalescent plasma) really works or not."
And the Food and Drug Administration's recent emergency use authorization, which allows using the therapy with or without participation in a clinical trial, makes getting that high-quality data more difficult, McQuaid said.
"The use does not have to be in the context of a trial anymore, so that makes it harder for investigators to easily answer the question," he said.
McQuaid said it's up to individual doctors and patients at Cone to decide if the therapy is appropriate. 
"If my own family member came to the hospital sick with COVID, I would probably want them to receive it," he said. "We know, at least, that it doesn't seem to hurt people."
Increasing demand
Despite the limited supply, McQuaid said the hospital hasn't had a problem getting convalescent plasma, although there may have been an instance where it was delayed for a day.
Pat Michaels, a spokesman for OneBlood in Greensboro, said the nonprofit began taking convalescent plasma on April 3.
"The demand has gone up 500% since April," he said, adding that the organization has centers in five states and supplies 250 hospitals. "We're catching up and we're meeting the demand."
The facility tests all its blood donors to see if they have the antibodies.
"If you come back positive, we will contact you and ask if you would consider donating plasma," Michaels  said.
Donors must be symptom-free for 14 days and plasma can be donated every 28 days at the facility, which is governed by FDA regulations for nonprofit blood banks. 
Convalescent plasma also may be useful in finding medicines to help fend off COVID-19. The CoVIg-19 Plasma Alliance, a consortium of plasma companies, is using it to develop potential new medicine for the disease. 
Looking ahead
Looking at the models and working with scientists involved in forecasting the spread of the coronavirus, McQuaid said he expects Cone Health will see higher numbers of COVID-19 patients this fall and winter.
With colder weather keeping people inside, more businesses being allowed to open and holiday gatherings, people are likely to come in contact with each other more often.
"We have seen ... that any time there is a holiday — whether it's Mother's Day, July 4th, Memorial Day — we get a spike about two to three weeks afterward. It's very consistent," McQuaid said.
He expects the same surge in the next few weeks because of the Labor Day holiday.
With her plasma donation, Franklin said she feels like she's helping fight the pandemic. 
"It literally could save somebody's life," she said.