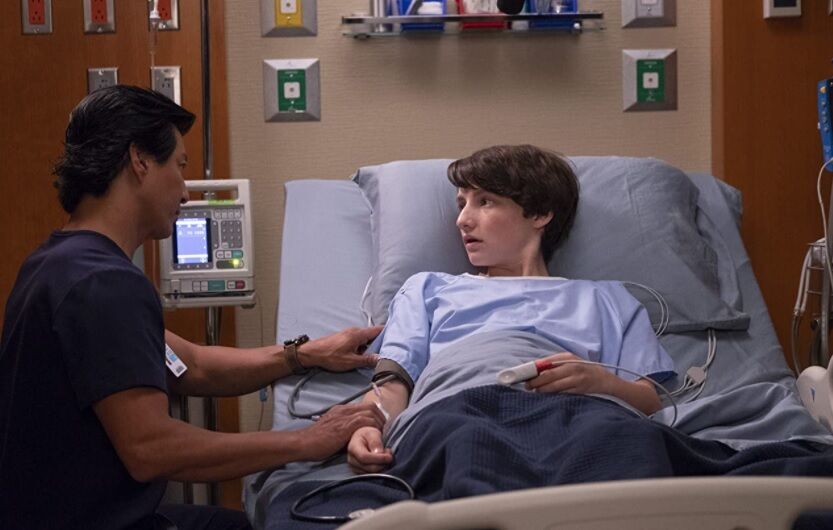 It's not every day that an actor gets to star in a family movie with a cuddly white lion cub, but it happened to Elliott Sancrant of Bermuda Run.
Elliott, a 16-year-old sophomore at Davie High School, has a starring role in "Lena and Snowball," a new movie now available at kiosks and on streaming services.
Elliott has been acting for about six years and already has landed some meaty roles in two films and guest supporting roles in three TV shows — "The Good Doctor" on ABC, "A Haunting" and "Snowfall."
In "Lena and Snowball," Elliott plays Jake who befriends Lena, played by Melissa Collazo. A bullied and lonely teenager, Lena discovers a white lion club, Snowball, in a swamp. The cub is wanted by clumsy poachers who kidnapped it. As Lena jumps into action to rescue Snowball, Jake will do anything to help her.
Elliott said Jake and Lena's relationship develops overtime.
"He starts out being part of the bullies who bully Lena," Elliott said. "At the end, they turn into boyfriend and girlfriend ... He sees the faults in his buddies."
Elliott laughed when he talked about his interaction with the lion cub.
"He was like super protective of Melissa," he said. "When it came to me, he did not want me around."
Other cast members in "Lena and Snowball" are Branscombe Richmond, Wade Williams, J. Gaven Wilde, Robert Knepper, Michael Perl, Spencer Allport, Hunter Flanagan, Michael "Big Smooth" Frazier; and Brian Herzlinger is the director.
Elliott said everyone who worked on the film from the cast and crew to the director were wonderful people to be around.
Film and TV roles
According to his biography on imdb.com, "Elliott has always had an old soul and love of learning. He has many interests including, travel, history, mountain biking, snowboarding and being outside with his dog. When home he enjoys cooking, playing guitar and piano. Maturing into more grown-up roles has been exciting for him. He is currently learning to use special effects and editing short films."
Elliott's first role in a film was in "Hard Surfaces," which was shot in Winston-Salem and released in 2017.
"He went from a small speaking role to actually a supporting role," said his mother, Abbie Sancrant.
Elliott said he was thankful for the opportunity to just be on the set of "Hard Surfaces."
"Once I got on the set, I realized this was actually great," Elliott said. "I loved the energy of being on set and everything. I just kind of went with it from there."
Drew Matthews, co-owner and director of in-STUDIO, a private training facility for TV and film actors in Greensboro, met Elliott during the filming of "Hard Surfaces." Matthews, who is also an actor and had a role in that movie, is Elliott's acting coach.
He taped the auditions Elliott booked for "A Haunting," "The Good Doctor," "Lena and Snowball" and some commercials.
"We've been really lucky that he has come through our studio, and we've been able to see him achieve where he's going," Matthews said. "He is a really great, subtle film actor. He gives powerful, subtle performances."
Elliott said the opportunities he has had since that first film are amazing, including traveling and meeting people, such as actors Jonathan Tucker ("Snowfall") and Freddie Highmore ("The Good Doctor").
"There are so many people I've been able to meet and so many things I've been able to do," he said. "Being on set is like a whole different world, basically. It's just opened up so many opportunities for me."
During shooting for "The Good Doctor" in a season 2 episode that aired in November 2018, Elliott spent two weeks in Vancouver, British Columbia.
He played a guest starring role in the "Jingle Bell Rock" season 2 episode of the TV show "Snowfall," but the scene was cut, which is a common thing to happen for actors.
"We were all brokenhearted," his mother said.
Still, Elliott said it was a good experience because he got to go on set and be part of the creative process. He also got to see up close how the TV show's production company made it snow in Los Angeles, Calif.
"It was like 80 degrees out in L.A. in a suburban neighborhood, and they had like five snow machines just constantly pumping out snow between scenes. It would melt and they would put out more snow."
In "The Haunting," he played Grier in the season 9 "Masks of Terror" episode that was filmed in Virginia.
For his role in "Lena and Snowball," Elliott got to go to Fitzgerald, Ga., a city known for the Burmese chickens that roam the streets.
"It's a great town," Elliott said. "We got to film there for a few weeks."
His mother said what she loves about acting is that her son gets to visit cool places and have different experiences.
During the shooting of "Lena and Snowball" in Fitzgerald, "it was filmed outside and when the roosters were crowing, you'd have to stop production. It was hilarious," Abbie Sancrant said.
There's even a kiss-on-the-cheek moment for Elliott's character Jake in the movie.
"They didn't tell me that they were going to do that, but they asked my mom for permission," Elliott said of the kiss. "They wanted a natural reaction out of me."