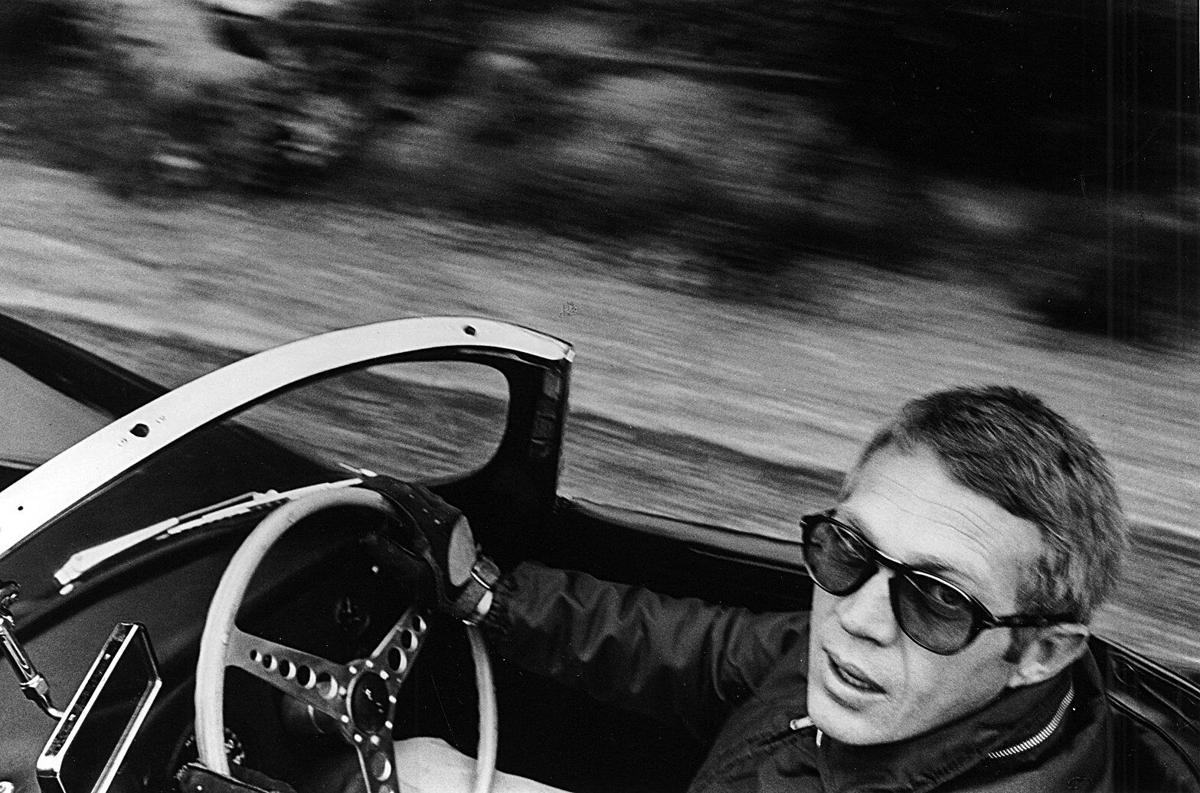 Actors spend much of their public lives speaking words written for them by others. Through those words, combined with some ever-mysterious physical alchemy, some of these actors become stars. A few attain immortality.
Think "Bond ... James Bond."
Think the late Sean Connery.
Still, Connery seems unlikely to attain the level of post-death attention, money-generating notoriety or "immortality" that has come to a few others. Think James Dean, Marilyn Monroe, Elvis and the subject of a new book, "Steve McQueen: In His Own Words" (Dalton Watson Fine Books).
It is a lavish book that charts McQueen's 50-year life in minute detail. It is the ultimate family album, a fanzine on steroids that will surely delight not only the most ardent fans of the man known as the "King of Cool" but also intrigue those with only a passing familiarity with him. Never a fan of tooting his own horn, I have to think that if McQueen were still alive he would be flabbergasted and perhaps disgusted by this sort of homage, but he might also be pleased that over 500 pages, he remains elusive.
You would have to be a serious McQueen fan to know that he was born in Indiana, a small town named Beech Grove near Indianapolis on March 24, 1930, and had a rough-and-tumble childhood. His parents were alcoholics and moving from home to home, he found in California a path to delinquency and petty theft. He wound up going semi-straight at a California rehabilitation institution called the Boys Republic, a place to which he would return for inspirational talks after becoming a star.
He enlisted in the Marine Corps and that gave his life some structure. Later acting classes in New York gave him a career.
It started somewhat modestly ("The Blob") but he went on to starring roles in such hits as "Bullitt," "The Magnificent Seven," "The Great Escape," TV's "Wanted: Dead or Alive," "The Thomas Crown Affair," "The Getaway," "Papillon," "The Towering Inferno," "The Sand Pebbles" and a couple of dozen more. He was, in the 1960s and into the 1970s, as big a star as there was (and most highly paid in 1974), standing on equal box-office footing with such contemporaries as Paul Newman.
And that, even though he turned down starring roles in such blockbusters as "Close Encounters of the Third Kind," "One Flew Over the Cuckoo's Nest" and "Apocalypse Now," choosing instead to play a cowboy in "Tom Horn" and a contemporary bounty hunter in "The Hunter," which was partly set in Chicago.
This book is the work of Marshall Terrill and there is no more energetic keeper of the flame than he, having written six — count 'em — previous books about the actor. He tells of McQueen's unsuccessful late-in-life attempts to write his own book.
What we have here is McQueen at a slight distance. We meet his three wives (actress Ali MacGraw the most famous and tempestuous), explore his passion for and skill with motorcycles and race cars, see him at parties and galas and at home. We, of course, revisit his films, with some interesting behind-the-scenes movie set photos. All the photo captions are informative.
McQueen was a private guy. In the late 1970s he was once approached in person by Chicago Tribune film critic Gene Siskel, who had initially been rebuffed in his attempts to interview the actor.
Siskel asked, "Do you think there's a chance we could do an interview in the future? Should I call your press agent?"
McQueen said, "Maybe. Look, I'm sorry but I just don't do interviews. I haven't given one in seven years. Yes, I have a press agent, but his job is to turn down interviews."
There is no doubt that this reluctance to talk about himself (especially to writers, he said once, "I just can't figure writers") helped to burnish his star. It seems refreshing in this brand-fashioning, what-I-ate-for-breakfast internet age, doesn't it? Mystery fascinates but does not explain.
Terrill touches on this in the book's introduction, writing, "McQueen had a reputation as a man of few words ... But the actor had plenty to say in real life ... (and) spoke frankly and insightfully on many subjects, including fame, cinema, money, sex, feminism, racing, popular culture, politics and the environment."
He also writes of the actor's "unique worldview that showcased his brilliant mind, curiosity and homespun wisdom."
McQueen's words in the book come from a variety of sources and allow us to speculate about what might have made him tick. Feel free to play do-it-yourself analyst with:
"I was an old man by the time I was 17."
"When a horse learns to buy me a Martini, I'll learn to like a horse."
"I don't know what makes me tick and I don't want to know."
"With strangers I can't breathe."
Those are a few of the 450-some quotations peppering the book's page. There are more than 500 photos, some redundant (another motorcycle?!) but many interesting as are some archival materials. A few are sad, such as those of the actor's final year, marked by his desperate seeking of all sorts of suspect "cures" for his cancer.
He died on Nov. 7, 1980, and since then millions of words have been written in attempts to explain the man. Siskel noted at the same time of his death, "It has been said that the greatest male movie stars are both boyish and virile at the same time (thus giving us more ways to relate to them) and McQueen fit that description. ... One could always see the mischievous little boy inside his tough guy."
Even I chimed in, reviewing a pretty good 2014 documentary, "I Am Steve McQueen."
McQueen continues to "live" in his films. And he is "alive" in commercials for, among many items, sunglasses, booze, watches, jackets, T-shirts, jeans, Zippo lighters, motorcycles and cars, such as the Ford Mustang.
Some old stars never fade away. The London Review of Books just offered a review of two new books about Cary Grant and there are a few Sean Connery biographies in the works. No doubt someone is working on a book about Clint Eastwood because, ghoulish as it might be, Eastwood, like Connery and McQueen, was also born in 1930 and became (need I say?) a cinematic colossus and (happy to report) is still at it.