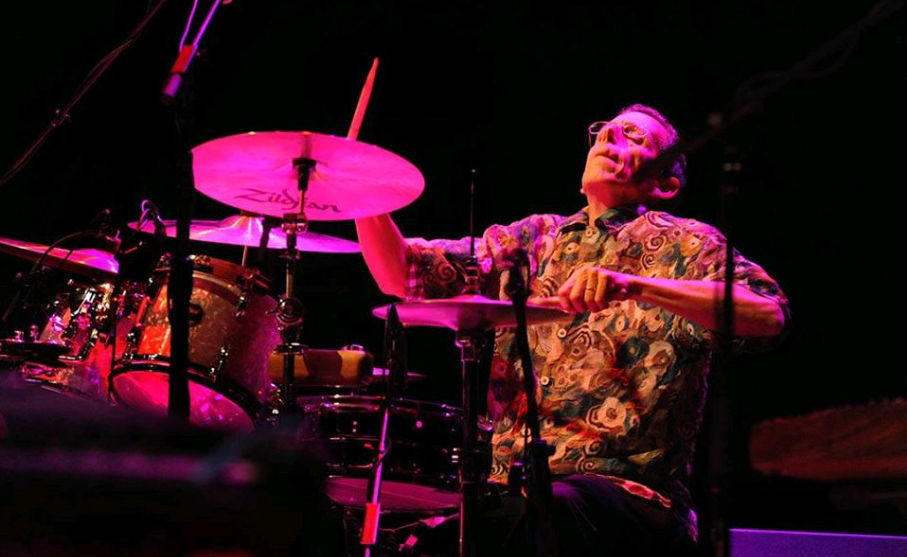 David Licht has an irregular pulse. But in his case, it's a musical condition, not a medical one.
Licht's percussive, hands-on therapy began in Greensboro with the Sentinel Boys, Tornado and the Swamp Cats, and it carried him around the world many times after diagnostic treatment by Eugene Chadbourne. Licht eventually sought out the curative powers of more rootsy applications, working through the bands Bongwater and When People Were Shorter and Lived Near The Water, eventually ending up in long-term therapy with the Klezmatics, which he co-founded with trumpeter Frank London in 1986.
These days, with the novel coronavirus raging, Licht looks back on his career from his vantage point atop a tall ladder. He owns a painting and plastering business he has maintained as a sideline to his musical aspirations since 1974.
"Quarantine is weird, but man, I did like three lifetimes of music," Licht said last week by phone from his Bergenfield, N.J. home. He hasn't quit the music business, just sidelined by the virus like every other musician around the globe. "I ran out of rooms at home to paint," he says. "(I) got my basement organized, all my drums and percussion that I've never got done in almost 22 years living in this house. All the gigs have evaporated, so thank God there's some painting available."
The virus has affected his former late-night schedule as well. "I'm on a 28-foot ladder all the way up, so like I'm killed. I'm in bed by 9 p.m.," he says, chuckling.
Licht is a native of Detroit. His family moved to Greensboro in 1965 when his father got a job at Bennett College.
"He taught teachers how to teach for 10 years at Bennett College. I turned 11 a month after we moved," Licht says.
His first musical interactions were with Sentinel Boys/Tornado members Bobby Kelly and Dennis Worley, who were a year ahead of him in high school. Licht didn't do anything musical in high school, but he joined the UNCG Big Band jazz band while there studying to be a medical illustrator. Dropping out after three years, he painted to support himself while he pursued a musical career.
"My parents supported me," Licht says. "I wanted to quit college, and they said, 'OK, you know you have to pay rent, right?' I don't think it registered till they came to see me at Carnegie Hall in New York 20 or 25 years later."
He learned to play drums from lessons with local jazz drummer and restaurateur Sammy Anflick, getting his first drum kit for his bar mitzvah in 1967. The beginning of his interaction with the Sentinel Boys is kind of fuzzy. He remembers noodling around on Scott Manring's porch out in Summerfield.
"Next thing you know we're doing gigs," Licht says.
Kevin Rutan, a fledgling painter, was a roadie, with his van used for out-of-town gigs. Licht teamed up with Rutan to form L and R Painting Co. in 1974.
Licht claimed a spot on the Sentinel Boys roster but says he was never inducted into the Tornado lineup.
"I remember just playing double drums with Cliff (Greeson). That was it. I wasn't actually a member of the band," he says modestly.
But the members of those bands, as well as the Swamp Cats, all highly praise his participation, ranking him as the No. 1 sit-in for their projects.
But the doctoring that most altered Licht's rhythms happened by way of Eugene Chadbourne's ministrations.
"This is crazy. This is the fork in the road," Licht says of his 1978 meeting with the avant-garde guitarist and arranger at the Creative Music Studio in Woodstock, N.Y., after answering an ad in Downbeat magazine.
Chadbourne called Licht later that year to invite him to join The Chadbournes, which shortly morphed into Shockabilly. To describe what Chadbourne was doing as offbeat is a gross understatement, the guitarist using pipe cleaners, balloons and found objects to pluck his often homemade musical contraptions, dissecting and rearranging the atoms of classic country music compositions as well as popular tunes. The 1987 release "There'll Be No Tears Tonight," half of it recorded in Greensboro and half in New York, features a take on Roger Miller's "Dang Me" that sounds like a head-on collision involving Miller, Captain Beefheart and the Reverend Horton Heat accompanied by a twisted, smoking guitar pulled from the wreckage and plucked by bloody, body-snatching demons. Licht calls it the transition record, labeled as "free improvised country/western be bop" on the cover.
But some who participated in playing the music live remember it as a life-threatening experience. At a Double Door gig in Charlotte, one attendee took umbrage at what Chadbourne was doing to his beloved country and attempted to rectify it with a hands-on approach.
"The Hell's Angels guys in the front rows were laughing their butts off, and this other guy didn't like it," Licht remembers. "A few people had to talk this guy out of fisticuffs, but the Hell's Angels guys loved the show."
The band only lasted a few years, breaking apart in '85. "It was the biggest sound for a trio I've ever experienced," Licht says.
When Shockabilly bassist-organist Kramer and his wife bought a studio in Midtown New York in 1985, Licht made the move to the city. He soon joined Bongwater with Ann Magnuson, who starred with Jamie Lee Curtis in "Anything But Love."
A high point was the band's 1989 appearance on NBC's "Night Music" series backing Screamin' Jay Hawkins.
"Screamin' Jay was the nicest guy," Licht says of the entertainer who was usually wheeled onstage in a closed coffin, springing out to perform odes to cannibalism ("Feast of the Mau Mau"), murder ("Stone Crazy") and gastric distress ("Constipation Blues.") "He was riffing, and we were playing 4/6 Led Zeppelin behind him," Licht says of the improbable mashup.
Licht's pulse was finally normalized with roots therapy when he founded the Klezmatics in 1986 with Frank London.
"As the drummer, my job was to keep one foot in the tradition and one foot in the future," Licht says. "We call it Jewish music, Yiddish music, known as the instrumental music of the Eastern European Jews."
The band became world-famous, touring internationally and recording prolifically. The band continues today without Licht.
"I left around 10 years ago when there were still three-week tours. My kids were getting a little too old for dad to be away for months. No regrets," he says. :The drummer who took my place was busy, so I did a couple of years worth (of touring) when there were still festivals."
Today, before the pandemic and his return to the ladder, he was working with clarinetist Michael Winograd & the Honorable Mentshn, world-class Klezmer revivalists who have sold out Madison Square Garden and are scheduled to play this year's N.C. Folk Festival in Greensboro. (Information about the festival will be announced closer to its scheduled September dates.)
That's off for now, but Licht says the band is promised a slot there next year.
Until then, he paints on.
"I'm not really a Zoom guy," he says. "I'll wait till I can get out there live. A year from September hopefully I'll be down there. Keep your distance, keep your mask on, and stay safe."
Stay up-to-date on what's happening
Receive the latest in local entertainment news in your inbox weekly!