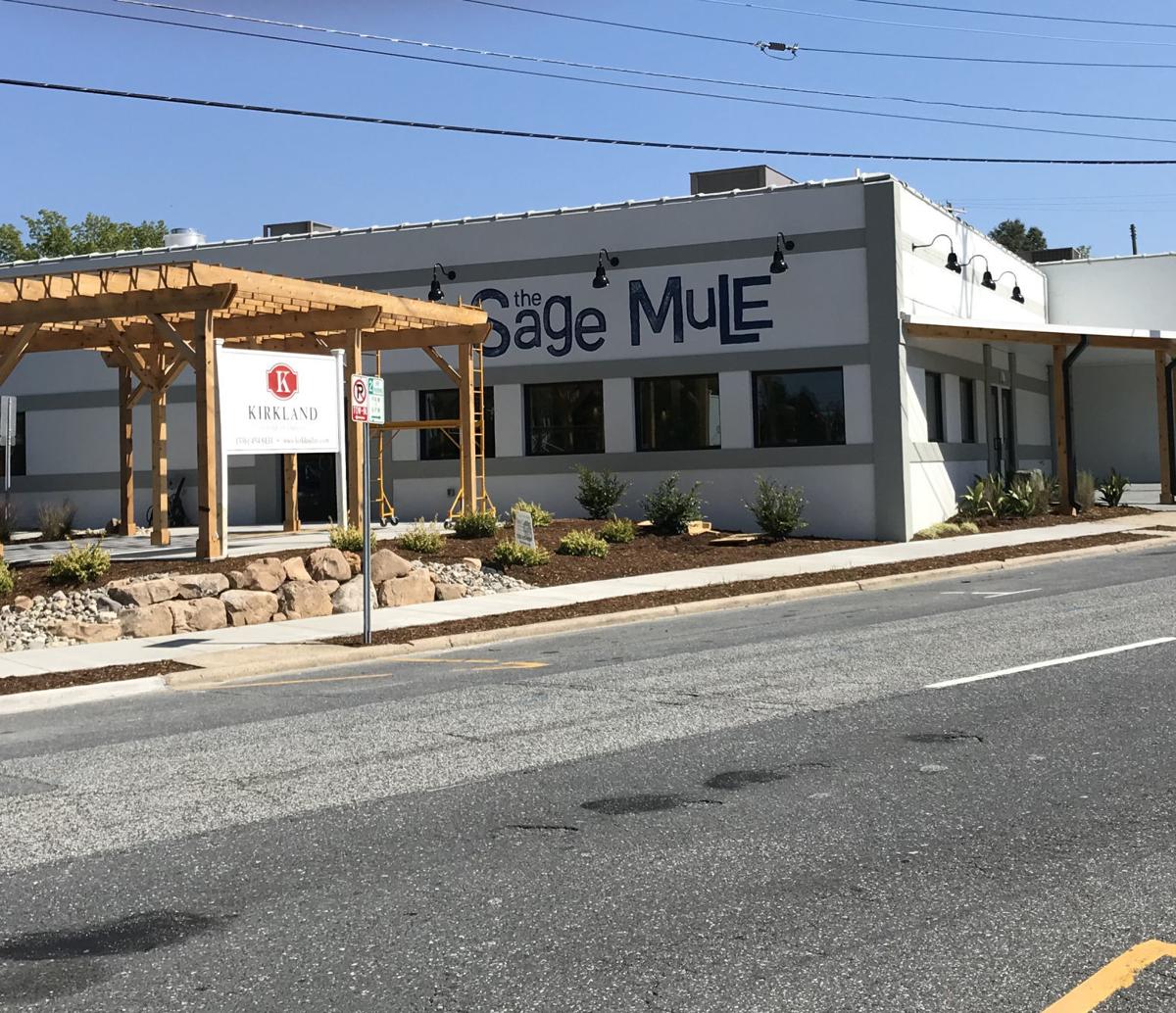 Downtown Greensboro is getting a new bakery and bistro.
The Sage Mule is opening at 608 Battleground Ave. next to Crafted the Art of Street Food and Preyer Brewing.
It will serve breakfast and lunch.
"It will have house pastries, breads and sandwiches," said Chef Steven Gingher who is opening the restaurant with his wife, Janice Gingher.
Steven Gingher, who is a graduate of the culinary program at Johnson and Wales in Charlotte, will operate the restaurant with the help of family and some of his fellow Johnson and Wales alumni.
"It will be a scratch-made kitchen," Gingher said. "We'll have artisanal sandwiches, sort of the classics, but approached from a different angle."
Sandwiches such as Scuttlebutt, Italian sub and pulled pork with broccoli slaw will be built on the bakery's own bread which also will be sold by the loaf.
Gingher said the bakery will offer scratch-made biscuits, breakfast sandwiches and a wide variety of pastries.
Beer and wine will also be available.
Gingher said the name is a play on the name Greensboro with Sage being the "green" and Mule, which is a cross between a horse and a donkey, or burro.
Gingher hopes to open The Sage Mule on Oct. 26, which is National Mule Day.
Local Foods Week
This week is Guilford Local Foods Week, a week to bring together local food advocates, farmers, chefs, restaurateurs and agricultural professionals.
Highlights of the week include:
Thank a Farmer/Homesschool Day from 8 a.m.-noon today at the Greensboro Farmers Curb Market, 501 Yanceyville St. in Greensboro. Meet N.C. Agriculture Commissioner Steve Troxler, go on a "veggie" scavenger hunt and watch a planting demonstration.
Urban Farm Festival from 4:30-6:30 p.m. today at Twin Oaks Urban Farm, 502 White Oak St. in High Point. Tours, demonstrations, pumpkin painting, food, music and produce.
Rural Farm Tour from 8:30 a.m. to 3:30 p.m. Thursday. Register at the Guilford County Cooperative Extension at guilford.ces.ncsu.edu.
Cooking demonstration at 10 a.m. Friday at the Piedmont Triad Farmers Market, 2914 Sandy Ridge Road in Colfax.
Celebrate the pumpkin with a $5 pumpkin pancake breakfast and live music from 8 a.m. to noon Saturday at the Greensboro Farmers Curb Market.
Tasting Fair from 1 to 4 p.m. Saturday at Deep Roots Market, 600 N. Eugene St. in Greensboro.
Bourbon and barbecue for benefit city parks
Dine on bourbon and barbecue to support free programming at LeBauer and Center City parks during an event from 6 to 10 p.m. Saturday at Center City Park at 200 N. Elm St. in Greensboro.
Goat dairy wins awards
Goat Lady Dairy in Grays Chapel brought home five ribbons from the American Cheese Society Competition.
The five goat cheeses that won awards are Providence, a natural rind aged cheese; Smokey Mountain Round, an applewood smoked fresh cheese; Creamy Classic, a fresh cheese; and Fig and Honey and Basil and Garlic, two seasoned fresh cheeses.
This is the fifth award at the competition for Providence and Smokey Mountain Round cheeses.
In addition to a gift box featuring all five award-winning cheeses, the dairy has added four new gift boxes to its online store at www.goatladydairy.com.
Family-owned Goat Lady Dairy has been making goat cheese since 1995 when the late Ginnie Tate started the dairy with her brother, Steve Tate, and his wife, Lee. The dairy has grown, and two years ago, the torch was passed to new owners Carrie Routh Bradds and Bobby Bradds.
Benefit for Dance Project
Biscuitville at 4524 W. Market St. in Greensboro will hold Breakfast After Dark from 5 to 8 p.m. Oct. 15 as a benefit for Dance Project.
Mention Dance Project when ordering and the nonprofit gets 20% of the sale.
Chain promotions
Applebee's Grill and Bar is offering new combinations starting at $9.99 that include a choice of one grilled entrée, such as Crispy Shrimp with a Grilled Shrimp Skewer; and one pasta, such as the Smoky Mozzarella Ravioli. The promotion is available for a limited time.
Cold Stone Creamery has the seasonally appropriate Treat or Treat Creation featuring Boo Batter Ice Cream mixed with pieces of Oreo, Kit Kat and M&M's. It can be purchased in a black or orange waffle cone or bowl.
East Coast Wings and Grill has some new items that include the Jack Burger with pepper jack cheese; the Mango Burger with pepper jack cheese, bacon, avocado and mango sauce; Cajun Chicken Flatbread with smokey Cajun aioli; and two items in egg roll wrappers that include Philly Stix with cheese steak filling and Buffalo Chicken Stix with Buffalo chicken.
Freddy's Frozen Custard and Steakburgers is offering a Blue Cheese Bacon Steakburger for a limited time. Freddy's has also brought back the Pumpkin Pie Concrete frozen treat. Both are available at participating locations through mid-November.