With all the new restaurants and bars cropping up in downtown Greensboro — not to mention the old favorites we all love — it can sometimes feel overwhelming trying to choose a place to grab a bite or have a drink. But fear not: Greensboro has a spate of food and beverage tours that give newcomers and locals alike a chance to get a literal taste of all that downtown has to offer.
Taste Carolina Gourmet Food Tours: A tasty jaunt through Greensboro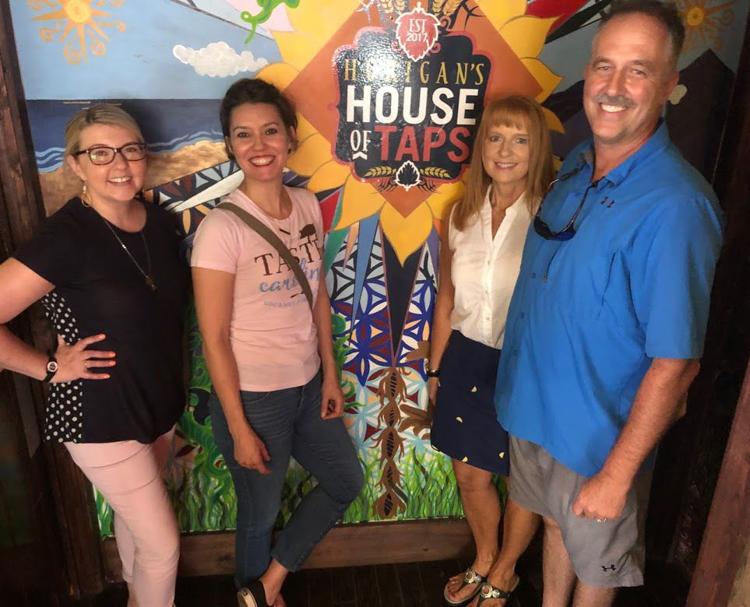 Ten years ago, Lesley Stracks-Mullem had a dream to open a sandwich shop specializing in locally sourced food. That restaurant never came to fruition, but Stracks-Mullem found another way to bring local food to eaters in North Carolina: Taste Carolina Gourmet Food Tours.
"The business grew from a passion for local food and to support local establishments," says Greensboro tour guide Carla Kucinski. "We believe they're the lifeblood of our city."
In the years since the tour first launched in the Triangle, Taste Carolina has branched out to nine North Carolina cities, including Greensboro, Winston-Salem, Charlotte, Wilmington, and Chapel Hill. The three-hour walking tours run every weekend, year-round.
On a recent Saturday, I joined Kucinski and two other foodies for a culinary jaunt through downtown Greensboro. The tour included six stops: Scuppernong Books, The Well Café and Juice Bar, Horrigan's House of Taps, Jerusalem Market, Liberty Oak, and Cheesecakes by Alex. Each restaurant offers a tasting plate and beverages, ranging from a charcuterie with Vida Pour tea at Scuppernong, to gluten-free avocado toast and smoothies at The Well Café, to New Orleans–style shrimp and grits at Liberty Oak. Attendees can specify food allergies and preferences before each tour.
Between stops, tour guides offer bits of the city's history, pointing out local landmarks and attractions. For outsiders like Sharon and Wesley Tatum, visiting from Southern Virginia, that mixture of food and tourism strikes the perfect note.
"I love hearing the history and finding new places to eat," says Sharon. "We'll definitely come back."
And for the businesses on the tour, which rotate periodically, Taste Carolina affords an opportunity to reach new customers and build buzz.
"The tour brings in customers to see our unique concept who may not normally come in," says Mike Horan, owner of Horigan's House of Taps. "We have had many repeat customers who we met through Taste Carolina. I enjoy interacting with customers and always have a good time talking to folks on the tour."
Brew Peddlers: A bicycle built for brews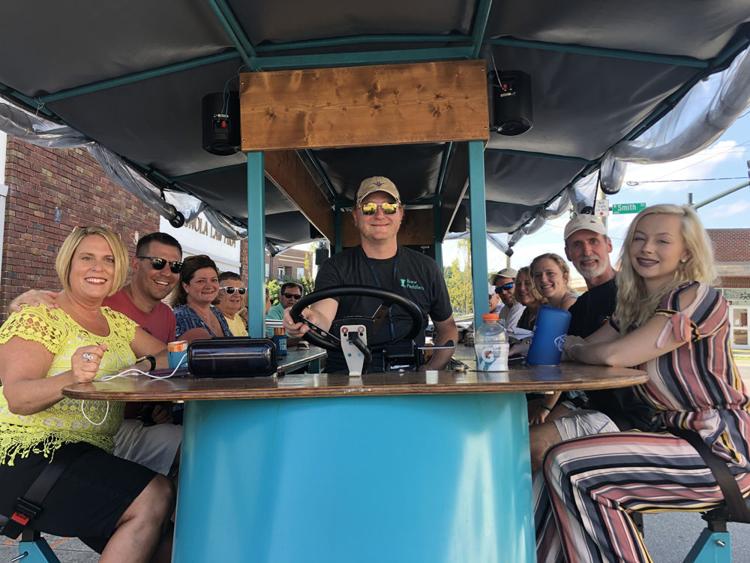 If you've spent much time downtown on a weekend night, you've probably seen Brew Peddlers. It's a funky-looking contraption — part trolley, part bicycle, part bar — and it ferries a dozen or so riders through the city streets, propelled by their own pedaling (with the help of an electric motor). The trolley allows riders to sample local brews at several downtown watering holes, including Boxcar Bar and Arcade, Natty Greene's, and Joymongers, to name a few.
The tour launched two years ago when friends Kenny French and Ben Graham decided to bring the concept they'd enjoyed in other cities to Greensboro. After finding and outfitting the trolley, they planned a route that allows them to hit stops without jamming up traffic — they're only allowed to travel streets with a speed limit of 25 miles per hour or less.
"We worked diligently with the city of Greensboro on trolley routes, safety requirements, and building a successful business plan," says French. "We contribute a lot of our success to customer service and going above and beyond."
The company's first tour was a group of off-duty downtown bicycle police, who helped them hone the vehicle and experience by suggesting additional features like a handrail to go along with the required seatbelts. Since then, the tours have operated pretty much every week, rain or shine. (A clear vinyl curtain unfurls in damp weather to protect riders.)
Riders can reserve the whole vehicle for their party or buy tickets for individual seats. On the day I bellied up to the mobile bar, driver John Jarvis was leading a private group of friends. I joined the amiable bunch, who arrived with coolers of their own beer and snacks to enjoy on the trip. (Riders are allowed to bring their own alcohol, but they can't take alcohol off the trolley or from the bars to the vehicle.)
None of them had ridden with Brew Peddlers before, and a few were a bit nervous. But as the drinks began to flow, and a slight breeze broke the otherwise stifling air as we rolled down the street, the crew relaxed, singing along to a Jimmy Buffett song playing on a cell phone hooked up to the trolley's Bluetooth system.
"They're unsure at first, but by the end of the night, they're loving it," Jarvis says.
And he was right. As the sun began to dip, the group really got into it, waving to pedestrians and belting out tunes.
"It's really fun," says passenger Lisa Rogers. "It's not what I expected."
Tap Hopper Tours takes bus riders behind the scenes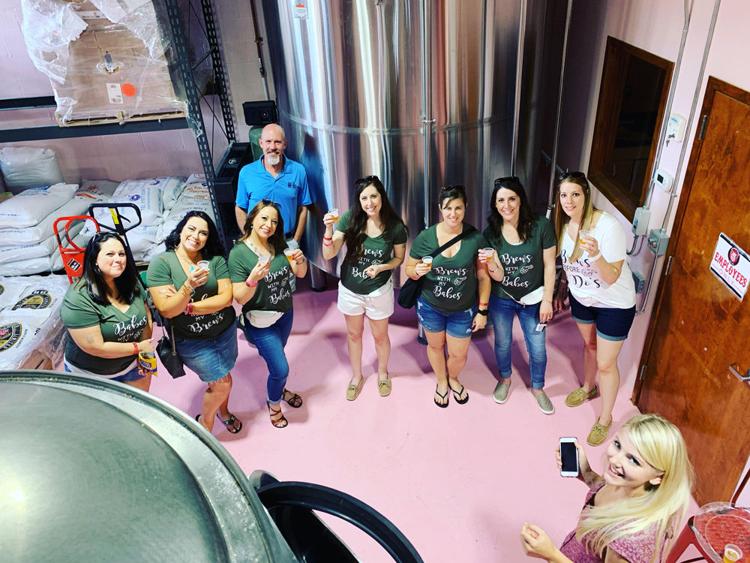 Venture a little further for craft beer without breaking a sweat by riding the Tap Hopper Tours bus.
Riders visit three local drinking spots: usually one or two breweries, plus a taproom like beerthirty or even Fainting Goat Spirits. Each stop offers a sampling of beverages at that location, a behind-the-scenes tour, a larger pour of your choice (except for the distillery), and snacks.
Jamestown resident Sarah Glanville heard about the tours at the Carolina Brewsfest in High Point, where Tap Hopper Tours was a vendor. So far, Glanville has been on five tours, most recently to High Point and Asheboro, and she also went on their beer tourism trip to Costa Rica.
Of the Greensboro tours, Glanville says, "We get to check out places we didn't necessarily know were there. Even if you've been somewhere before, you get to go and learn more about it."
A look behind the scenes at each location helps visitors learn more about the business and the process of making beer or spirits. And you can go as deep with it as you want.
"My husband is an engineer," says Glanville, "and he and some other engineers on our tour were asking about the inner workings of the machinery."
Folks who want to go as a group have the option of renting the entire bus for a private tour.
"It takes it to a different level when it's all friendly faces," Glanville says.
But even buying tickets to a scheduled tour is fun. Both times I went, I wound up bonding with strangers and finding common interests. At the very least, we shared an interest in good craft beverages — and got to explore them together.
Three years ago, co-founders Patrick Sanecki and Niels Larsen jumped on the opportunity to start the business when they saw there was a market for it here.
"We started because of our passion and love for the craft industry in addition to the growing of those businesses in the Triad," says Sanecki, whose background is in the culinary arts. "Instead of just getting a drink, [riders are] getting a story, and they're getting an experience."