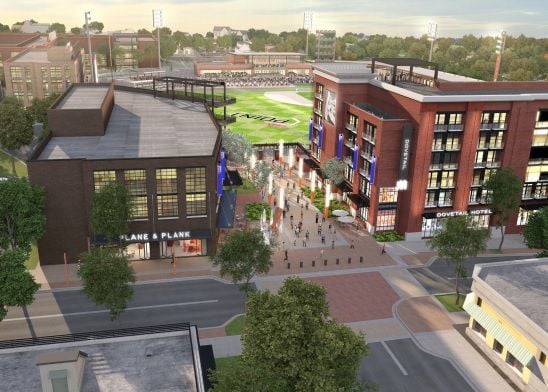 HIGH POINT — The Triad's first food hall will open next summer in The Outfields development at 275 N. Elm St. next to the High Point Rockers stadium in High Point.
It will be called Stock + Grain Assembly and it is accepting vendor proposals.
The 12,000-square-foot marketplace, a project of Baltimore-based developer CANAdev, will feature 10 vendors, ample seating and a large outdoor space.
The Outfields is being developed by Elliott Sidewalk Communities.
The new development adjoins a future plaza, BB&T Point stadium and downtown High Point.
"Stock + Grain Assembly will be a destination for local makers," said Mike Morris, CANAdev principal owner. "Vendors will offer a range of products, from coffee and breakfast to pizza and wine. We're excited for this opportunity to highlight High Point's unique culture and history, as we've done for the many communities that host our other food hall projects nationwide."
CANAdev has 16 food hall projects either completed or in the works, including in Baltimore, Boston, Tribeca in New York, Philadelphia and Washington, D.C.
Starting Nov. 19, CANAdev will accept proposals from food and beverage companies interested in vending in the food hall.