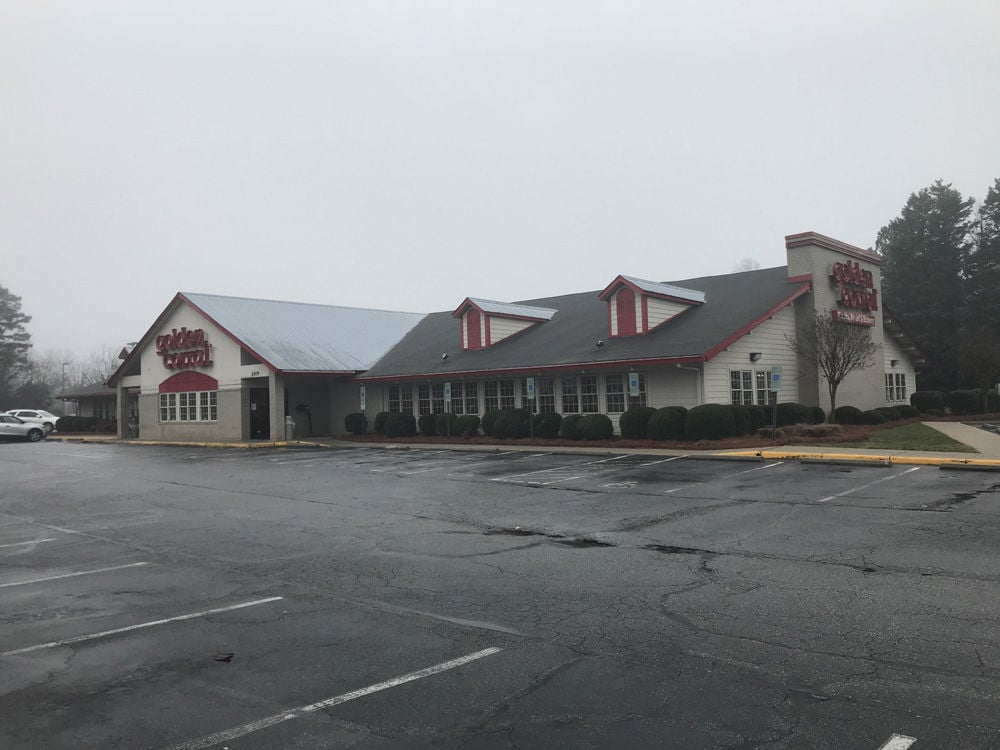 GREENSBORO — Instead of hot coffee, eggs and bacon, folks who showed up for breakfast Friday morning at Golden Corral on Lawndale Drive were met with a sign that the restaurant was permanently closed.
"I thought it might be temporary," said John King who was with his wife, Pat.
Beverly Barton was also surprised.
"We come out here every couple of months for breakfast," Barton said. "We've been coming here for years."
The restaurant, which has operated there for 20 years, closed on Wednesday.
"It's not financial," said David Gronewoller, president and CEO of GC Partners Inc., which operates nine Golden Corral restaurants in three states, including the two in Greensboro.
Gronewoller said the franchise for the Lawndale Drive location expired in October. He said he wanted to keep the restaurant open, but he has to meet updated criteria set forth by Golden Corral.
"To get a new franchise agreement, first the location has to pass the development criteria. Second, you have to tear down the building and rebuild," Gronewoller said.
Gronewoller said part of the development criteria is having 2.75 acres, which the Lawndale Drive location does not have.
Customer parking frequently spilled over into other areas of the Shops at Kirkwood shopping center where the restaurant is located.
"We've looked for three years in that submarket for a piece of real estate. Nothing came open that was a size we needed to do what we did at Wendover," Gronewoller said.
Gronewoller was referring to his other Greensboro restaurant, which is at 4404 Landview Drive just off Wendover Avenue. That restaurant was rebuilt in 2018 to replace the previous 24-year-old building. The new restaurant was a prototype for Golden Corral's new look.
Gronewoller said Golden Corral has worked with him to keep a restaurant in north Greensboro.
One possibility was opening a Family Table, which is a smaller concept that Golden Corral is testing in other markets. Gronewoller said Golden Corral isn't yet ready to sign franchises for that concept.
In the meantime, Gronewoller said managers of the Golden Corral at Wendover Avenue and locations in Winston-Salem and Reidsville are working to take in the 60 or so employees of the Lawndale Drive restaurant.
"Everybody will have an opportunity to continue working," Gronewoller said.
Also not forgotten are the many veterans groups who regularly met at the Lawndale restaurant.
"We'll take care of them at the other restaurants. We are a major supporter of the veterans," he said.
Gronewoller is also a supporter of Senior Resources of Guilford County. His restaurants provide meals to Senior Resources' mobile meals program in addition to hundreds of free meals on Thanksgiving Day and Christmas Day. He said that meals provided by the Lawndale Drive restaurant were moved to other locations months ago.
"Our service and delivery process has not been interrupted at all. They are an incredible community partner," Ellen Whitlock, executive director of Senior Resources of Guilford, said of GC Partners.
Gronewoller said he continues to work with Golden Corral to open a new franchise in north Greensboro.
"It'll be good when we get there because it will be the latest and greatest," he said.
(tncms-asset)af8bc980-c26e-11e8-85f3-00163ec2aa770 —(/tncms-asset)
Contact Carl Wilson at 336-373-7145.
Stay up-to-date on what's happening
Receive the latest in local entertainment news in your inbox weekly!