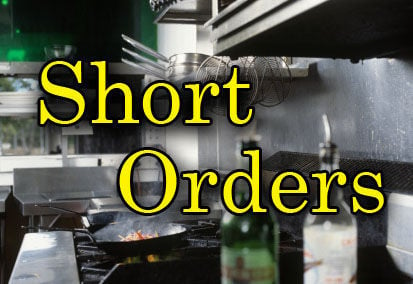 A former downtown night club owner has opened a restaurant and entertainment venue.
Mike Clark, a former partner in downtown's Greene Street Club which closed a year ago, has opened Box Office Kitchen and Cocktails at 2800 W. Gate City Blvd. in the former Alexander Devereux.
The restaurant offers dishes such as jerk salmon ($10), fried green beans ($8), chicken and waffles ($12), burgers and brunch items including French toast, pancakes, and oatmeal with toppings.
Or build your own breakfast for $10.
A release about the restaurant said it will also offer a bubble waffle cone ice cream bar.
The venue will also offer big screen TVs, pool tables and board games.
In the release, Clark said unlike his previous night club, his new venture is family-friendly.
"When I thought about it, I realized there were people just like me. Young families that didn't really want to be in the clubs but did want to step out and have fun," Clark said.
The venue created about 40 positions.
Clark is co-owner of Mogul Movement which operates The Silo Entertainment Complex, an event venue in a former flour mill on South Elm Street.
New concept
A longtime Triad restaurateur is opening a new concept in a former popular Greensboro restaurant space.
Timothy Bocholis, and his partner Cesar Varela, are opening a restaurant at 2415 Lawndale Drive, which was formerly Southern Lights Bistro.
Southern Lights temporarily closed in March under the state mandate to curb the spread of the coronavirus. Owner John Drees announced in July that he would not reopen the restaurant.
Bocholis announced that he is opening a Latin-fusion restaurant called Timos (pronounced Tee-moe-s in Spanish) in the space. It is targeted to open by November.
Bocholis formerly operated Bistro B in Kernersville and recently was a chef at Reel Seafood Grill.
Varela is a sommelier and has been in restaurants in Washington, D.C., for eight years, most recently as operations manager for GMDC.
Brewery closes
Gibb's Hundred Brewing Co. at 504 State St. in Greensboro has closed for good.
The brewery is another casualty of the coronavirus pandemic.
"We were shut down completely for two months. When the governor said we could reopen again, our revenue was never more than 30%," owner Mark Gibb said.
"We ran through everything we had. We just couldn't keep going."
Gibb said the brewery was trying to survive with revenue from its taproom after wholesale distribution through Caffey Distributing came to an end.
The brewery became a popular hub of events including music performances, artist markets, animal rescue adoptions and arm wrestling.
Gibb said even at 30% the 12,000-square-foot facility had space to hold plenty of people. He said customers didn't return once breweries were allowed to reopen under Phase Two of the state's reopening.
"People just aren't coming out," Gibb said. "Our primary market was our backyard."
Gibb said he had already begun selling off the brewing equipment and is not looking for a buyer for the brewery.
The brewery was founded in downtown Greensboro in late 2014 before moving to State Street two years ago.
Gibb is grateful for the run he had. "We were glad to be a part of the community," he said.
B&B opens for
Sunday brunch
Double Oaks B&B at 204 N. Mendenhall St. in Greensboro had just finished a kitchen renovation when the pandemic hit. After issuing refunds and with no new reservations, the inn was struggling.
So owners James and Amanda Keith pivoted to offer "weird pizzas" to go to non-guests.
The service was an organic extension of Wine Wednesdays, a weekly event of wine, entertainment and food that began three years ago.
Now the venue is offering Sunday brunch from 8 a.m. to 1 p.m.
Items such as frittatas, loaded biscuits, eggs and breakfast meat combo, even a breakfast pizza are available along with smoothies, beer and wine.
The Grinder Cafe coffee truck will be on hand for coffee and espresso drinks.
Limited capacity dine-in is on a first-come, first-serve basis or get your meal to go to have in the garden or to take home.
Steak house reopens
High-end steakhouse The Chop House at 4001 Meeting Way in High Point has reopened.
The restaurant is open for dinner 4 to 9 p.m. Monday-Saturday.
The Chop House offers certified Angus beef steaks, chops and fresh seafood.
The restaurant's phone is 336-841-7156. 
Cheesesteak joint has new hours
Until further notice, Monk's Cheesesteaks and Cheeseburgers at 2101 Pyramids Village Blvd. in Greensboro will be closed Mondays.
Monk's occupies a space at Pyramids Village shopping center on the site of the former Carolina Circle Mall where Monk's got its start on the mall's food court in the 1990s.
After the mall's demise, Monk's owner Tito Rodriquez later opened at Northwest Shopping Center before moving to Pyramids Village.
Monk's offers cheesesteak sandwiches, burgers, sandwiches, fries, fresh squeezed lemonade and orangeade, and beer.
Monk's is offering to-go orders only at its drive-thru window. It is open 11 a.m. to 8 p.m. Tuesday-Friday and 11 a.m. to 7 p.m. Saturday. See a menu at monkscheesesteaks.com and call orders in ahead at 336-763-8686.
Art competition
Ben & Jerry's in Greensboro is holding an art contest for some sweet prizes.
The competition is called Democracy Art Competition, and the theme is open to works of art that encourage voting, lowering the voting age to 16 or highlights historical or contemporary activists.
It is being done in partnership with Rejoice the Vote.
The nonpartisan contest is open to all ages and all forms of art.
There are five age categories.
Submissions will be accepted through Oct. 20. Winners will be announced in November, and grand prize winners will have their works displayed in the shop at The Shops at Friendly Center.
Entries are accepted via Facebook or Instagram with the #primobenjerry or can be emailed to anna@iccbenjerry.com.