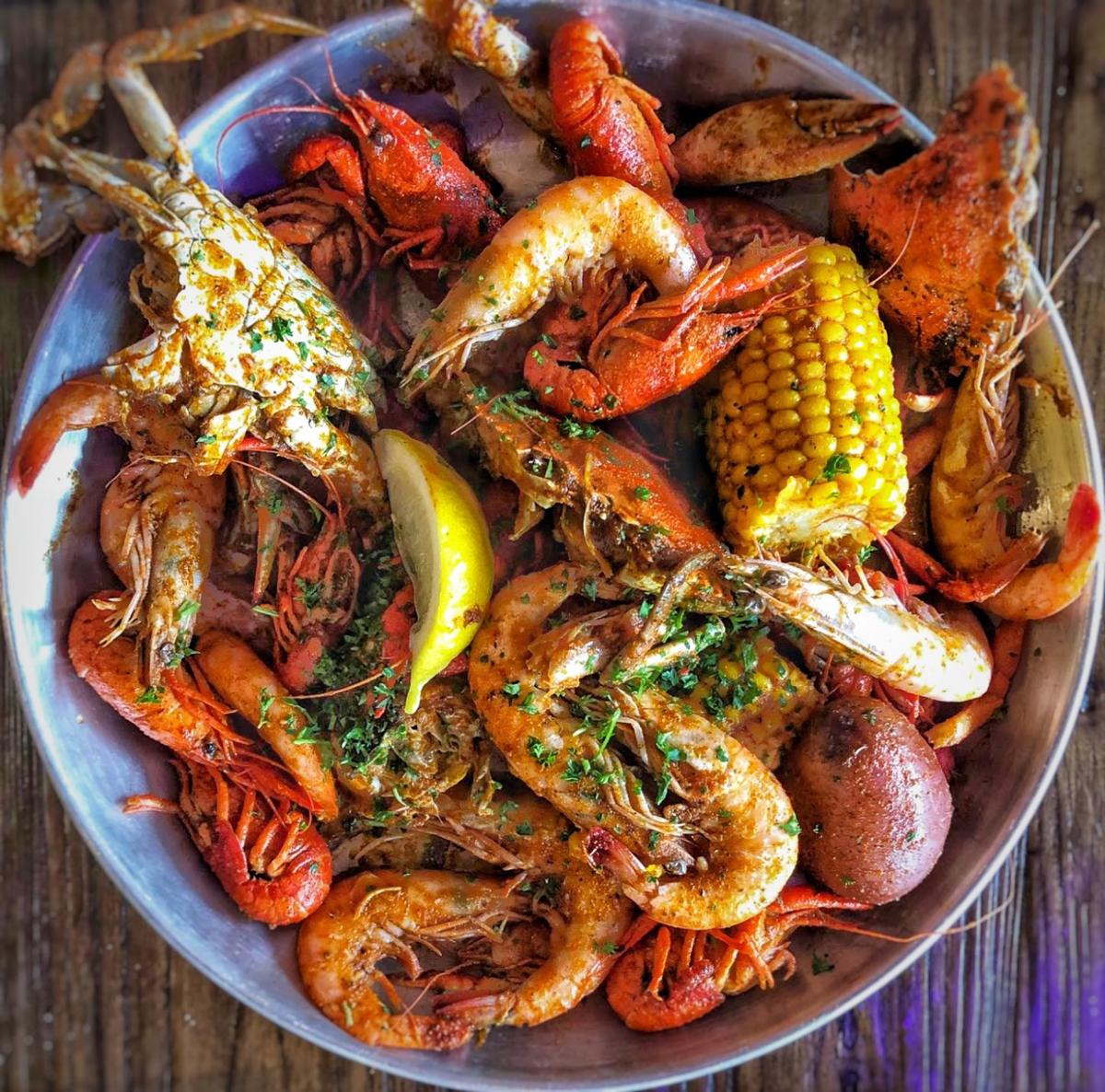 The Crazy Crab Seafood and Grill has opened at 4312 Big Tree Way in Greensboro.
It opened in the spot formerly New Orleans Bar and Grill.
It is a sister restaurant to another at 1375 Peters Creek Parkway in Winston-Salem.
A second Greensboro location is coming soon to New Garden Road.
The Crazy Crab offers create-your-own low country-style seafood boils with a choice of shellfish that changes each day.
Customers can choose a flavor, such as lemon pepper or Cajun, and spice level from mild to extra hot.
Boils come with corn and potatoes.
Like its predecessor, New Orleans-inspired dishes are offered including jambalaya ($13), shrimp and tilapia gumbo ($14), crawfish etouffee ($15), bourbon barbecue chicken ($12), and po'boy ($11) with a choice of shrimp, oysters or crab cake.
Other seafood includes blackened or grilled salmon ($14), catfish ($12), or blackened red fish ($16).
Sirloin ($14) and rib-eye steak ($25) are offered with a choice of side.
A variety of appetizers include peel-and-eat steamed shrimp ($9), Gator Bites ($13), fried green tomatoes ($6) and Thai chili calamari ($8).
Desserts include beignets ($7) and Bananas Foster cheesecake ($7).
Lunch specials are served until 3 p.m. daily, except Sunday, and include fried seafood baskets ($8), jambalaya ($10), smothered chicken ($9), blackened shrimp salad ($10) and burgers.
The restaurant has full ABC with cocktails, beer and wine.
Hours are 11 a.m. to 10 p.m. Monday-Saturday and noon to 10 p.m. Sunday.
Diner opens
Drew Lacklen thought he was done with restaurants when he sold his share of Reel Seafood Grill two years ago.
"Retirement got boring," Lacklen said.
So Lacklen, the former co-owner of Bert's Seafood Grille, is back with a more terra firma concept. He opened Oak Ridge Diner at 2205-L Oak Ridge Road in the former Kobe Japanese Restaurant in Oak Ridge Commons.
Why such a departure after 30-plus years in the seafood business? Lacklen said running a seafood restaurant became expensive.
"When I started in the seafood business, grouper was $2.65 a pound, now it's $18," Lacklen said.
He said rather than serve a $35 plate, he wanted to simplify things with a concept where the average plate is $10.
Opening a home-style diner seemed a good bet.
He opened the diner with Bert's and Reel veterans Brad Hendrix and Darold Dumond.
The diner offers meat-and-two plates such as country-style steak, meatloaf and an open-face rib-eye sandwich with sides including mashed potatoes and gravy, collards, coleslaw, black-eyed peas, and green beans.
Lacklen hasn't gotten completely away from seafood. You can find fish including mahi mahi or grilled tuna among other daily specials such as fried chicken.
The diner makes its own salad dressings and desserts such as coconut, chocolate or Key Lime pie.
The diner opens at 8 a.m. with plenty of breakfast plates and biscuits.
Hours are 8 a.m. to 8 p.m. Monday-Saturday and 8 a.m. to 3 p.m. Sunday.
Indian restaurant opens at High Point location
Salt & Pepper has opened at 3793 Samet Drive in High Point. The restaurant serves Indian cuisine.
Traditional entrees include Chicken Madras ($14), black pepper shrimp ($15), skewered goat Boti Kabab Masala ($17), Garlicky Vindaloo Curry ($14), butter chicken ($14) and a selection of rice-based biryani.
Vegetarian dishes include chickpea Chana Masala ($12), okra Bhindi Masala ($13), eggplant Baingan Bharta ($12), cauliflower and potato Gobhi Tawa Masala ($12) and cheese Shahi Paneer ($12).
Small bites include vegetable pakora or samosa ($4), crispy-fried chili chicken ($7) and an Indian street food called Dahi Puri ($4) which are fried bread shells stuffed with yogurt and chutney.
Traditional breads, such as batura and poori, and desserts, such as rice pudding or pastry balls in syrup, are offered.
Salt & Pepper is open daily serving lunch 11 a.m. to 3 p.m. and dinner 5 to 10 p.m.
Pop-up chocolate shop
Loco for Coco is back with a pop-up shop at 2939-A Battleground Ave.
It is next to the U.S. Postal Service at Battleground Village, a shopping center anchored by Earth Fare.
Loco for Coco specializes in imported chocolate truffles and other confections.
Previous owners Spencer and Susan Andrews operated a brick-and-mortar shop for six years before moving sales to an online store two years ago.
The Andrewses decided to get out of chocolate and recently sold the business to confectioner Lonnie Cockerham.
"The Andrewses thought my artisan chocolates were a great companion to what they were doing and contacted me," Cockerham said.
For two years, Cockerham has operated the e-commerce business called Boabab Chocolate Factory which specializes in his own chocolate creations.
The pop-up shop offers Loco for Coco's truffles, toffee, chocolate-covered strawberries and other fruit, chocolate and nut confections, and other favorites.
Items can be packaged in an array of heart boxes for Valentine's Day gifts.
Cockerham said he may offer some Baobab creations at the pop-up shop.
The shop is open noon to 7 p.m. daily through Feb. 18.
Follow Loco For Coco on Facebook and Twitter for updates on additional hours or call 336-333-0029.
Marketplace opens a cafe
Triad Marketplace at 109 W. Main St. in Jamestown has opened its own Marketplace Cafe in the space vacated by Guiltless Cafe, which closed at the end of last year.
Triad Marketplace owner Steven Beck said the counter-service café is larger with additional seating.
It offers light bites of pimento cheese and chicken salad, croissants, homemade crackers with dips, personal quiche, hand pies, muffins, and soup.
It also offers smoothies, coffee and desserts.
The cafe stocks locally-produced items including Old Mill of Guilford products, Foster Hobbs coffee, snacks from White Owl, gluten- and sugar-free desserts from Sweet Alternatives, and cheesecake from Cheesecakes by Alex.
Triad Marketplace opened last fall in the historic big yellow house in the heart of Jamestown. It sells furniture, home decor, jewelry, clothing, candles and more.
Hours are 10 a.m. to 6 p.m. Wednesday-Saturday.
Top drive-through
If you search Yelp for the best drive-through in Greensboro, you will come up with Monk's Cheesesteaks and Cheeseburgers. Which is curious because Monk's, at 2101 Pyramids Village Blvd. does not have a drive-through.
But Yelp lists the top 10 drive-throughs in the city and puts Monk's at the top.
What Monk's does have is a pick-up window. So you can call your order in and pick it up without getting out of your car.
Apples and oranges? Perhaps.
Monk's owner Tito Rodriquez said the pick-up window gets a lot of traffic.
Monk's offers hamburgers and six styles of cheesesteak sandwiches.
When the restaurant opened there in 2015, it was sort of a homecoming for Rodriquez.
Rodriquez' original eatery was in Carolina Circle Mall on the site where Pyramids Village is now.
Rodriquez left the declining mall in 1997. In 2006, he reopened briefly at Northeast Shopping Center before moving to Pyramids Village.
Farmers market remains at temporary location
Renovations continue at the Greensboro Farmers Curb Market, so the market's temporary location will remain at Revolution Mill.
It is in a free-standing building at 1601 Yanceyville St. just off Textile Drive near the restaurant Kau.
Hours are 7 a.m. to noon Saturday.
Triad wing chain gives back
East Coast Wings + Grill kicked off the year with $8,000 in donations to food banks.
The Winston-Salem-based company specializes in a variety of chicken wing flavors.
During the holiday season, the company pledged to donate 10% of net gift card sales from its 36 locations to community food banks.
With the majority of stores in North Carolina and Tennessee, the biggest benefactors were Second Harvest Food Bank of Metrolina, Second Harvest Food Bank of Northwest North Carolina and Food Bank of Central and Eastern North Carolina.
Other stores chose food banks in Philadelphia, Virginia and Texas.
With more than 60 nationwide locations, the franchise recently secured a top spot on Restaurant Business Magazine's "Future 50" list of fastest-growing, U.S. mid-sized restaurant chains for the second-consecutive year, a release said. The release also said Entrepreneur magazine named East Coast Wings + Grill one of the nation's top franchise investments.