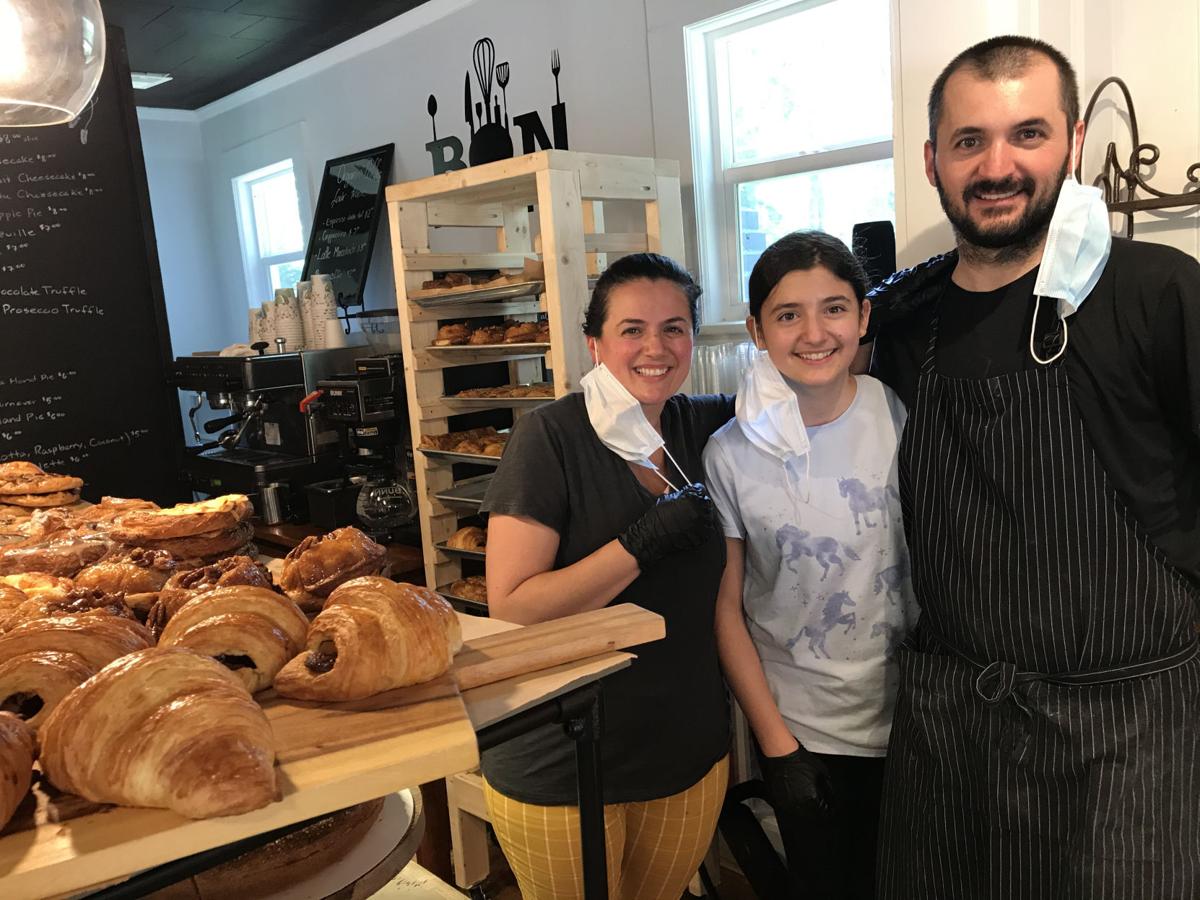 To step into Augustino Gusto bakery (2508 New Garden Road East, Greensboro) is like stepping into a small European shop.
And that is the intention.
"We always wanted something small, like in Europe — a neighborhood bakery," said Adriana Hasiu.
Hasiu opened the bakery this spring with her husband, Adrian Hasiu.
Loaves of fresh-baked European-style breads are piled on a shelf and cheesecakes, torts, quiche and dozens of pastries fill the display area. A smell of espresso greets customers.
"This truly is a hidden gem in Greensboro," said regular customer Pat Gibbons.
The Hasiu's, and their 12-year-old daughter, Yarina, have been familiar faces at the Greensboro Farmers Curb Market for nearly seven years where they sold their breads and pastries. They immigrated from Romania eight years ago. The couple walked away from careers as attorneys to give their daughter a new life in the United States. Inspired by his passion for cooking and baking, Adrian used his skills, learned from his family in Romania to start a bakery out of the couple's home.
Last year, they took over a small house behind a BP convenience store on Lawndale Drive and got it rezoned as commercial property. By January of this year, they had run out of money upfitting the new bakery. It was ready for production, but the furnishings would have to wait. After all, they had their table at the farm market where they did a brisk business selling Danishes, cinnamon rolls, lemon tarts, croissants filled with Nutella, and Romanian specialties such as a roll stuffed with sauerkraut and a seasonal treat called Baigli.
Adriana said one year they took a break near Christmas to visit New York City. She said they got so many calls while they were out of town that they decided never again to leave during the holidays.
But that all changed on March 21 when the Greensboro Farmers Curb Market closed because of the coronavirus pandemic. So, the Hasius moved quickly to open their brick-and-mortar bakery ahead of schedule.
"We couldn't let (customers) down. We had to do something. So we opened, and they came here," Adriana said.
Adriana worried only their regular customers would follow, but word of mouth, and a story in Our State Magazine, helped new customers find them and every Saturday people lined up outside for a pastry or a loaf of Adrian's sourdough bread made from his own starter.
"Everything we do, we put a lot of passion into it. This is how we grew up, to be passionate about everything. To do something, we have to do it right," Adriana said.
One of their most popular items is the bakery's homemade panna cotta, an Italian-style sweet thick cream.
"The panna cotta is the best in the world," Gibbons said. "I've had it all over the world, and it's the best."
Gibbons is such a fan that she bought some to share with some customers having pastries and coffee outside the bakery on a recent Saturday morning.
Adriana said she didn't want to be in a shopping center and feels breathing new life to a former private residence gives the bakery a sense of being part of a community.
The bakery is a family affair with Yarina taking customer requests and handing out to-go orders at the bakery's back door. Adrian is proud of the journey his family has made.
"We start in a garage, and we have a bakery now," he said.
Even though the Greensboro Farmers Curb Market has reopened as an outdoor market, the Hasius have not returned because many of their products are sensitive to heat. He said once the market moves back inside, he will consider returning.
The bakery's phone is 336-740-7005. Hours for Augustino Gusto are 8:30 a.m.-5 p.m. Saturday and 9:30 a.m.-6:30 p.m. Wednesday, but are subject to change. Follow Augustino Gusto LLC on Facebook.
Fire temporarily closes oyster bar
Full Moon Oyster Bar and Seafood Restaurant in Jamestown will reopen today after temporarily closing because of a fire. (Information has been updated since the story posted at midnight.)
A Facebook post last week said the restaurant at 103 W. Main St. had closed because of a "small kitchen fire."
Full Moon opened in 2015. It is part of a regional chain that specializes in seafood, particularly oysters that are raw, steamed or baked.
Check the restaurant's Facebook page for updates.
Brick oven pizza to go
Boxcar Bar and Arcade may be closed because of the pandemic, but that does not mean you still can't get the arcade's great brick oven pizza.
Boxcar has opened its outdoor pizza kitchen for take-out pizza such as the Pickle Pizza or the new the Bison Sausage, Slab Bacon and Roasted Garlic pie.
Soft pretzels and beer growlers are also available to go.
Crepes to go
Reto's Kitchen is again doing a pop-up curbside crepe stand.
It will be 9-11:30 a.m. Aug. 1 at Reto's at 600 S. Elam Ave. in Greensboro.
The made-to-order crepes stuffed with a choice of sweet or savory filling are $7.50 to $8. Payment is by credit or debit card only.
While there, consider grabbing a cup of coffee from Common Grounds next door. The nearby outdoor Corners Farmers Market at Elam and Walker avenues will also be open for some sensible socially-distanced shopping of seasonal produce and other items.
Cafeteria opens drive-through
J&S Cafeteria at 5835 Samet Drive in High Point now has a drive-through window.
For contact-free pickup, the cafeteria offers online order and pay through its website at www.jscafeteria.com.
The order will be filled within a few minutes of pulling into the pickup line.
The window is open during normal business hours of 11 a.m.-7 p.m. daily.
National Chicken Wing Day
July 29 is National Chicken Wing Day and some restaurants are offering some promotions.
Korean fried chicken chain Bonchon is offering Cucumber Wasabi Ranch dipping sauce.
It accompanies all fried chicken and chicken wing orders.
In Greensboro, find Bonchon at 607 S. Elm St.
Hooter's will offer all guests (dine-in only) 10 free Boneless Wings with the purchase of any 10 wings at participating locations nationwide.
Chain promotions
Wendy's now has a loyalty card program. The Dublin, Ohio-based burger brand is offering 10 points for every dollar spent on food. For a limited time, new members can get double points on their first order. For information, visit www.wendys.com.
Firehouse Subs is offering free delivery through Grubhub for a limited time. Loyalty members can also get double points on Fridays through August.