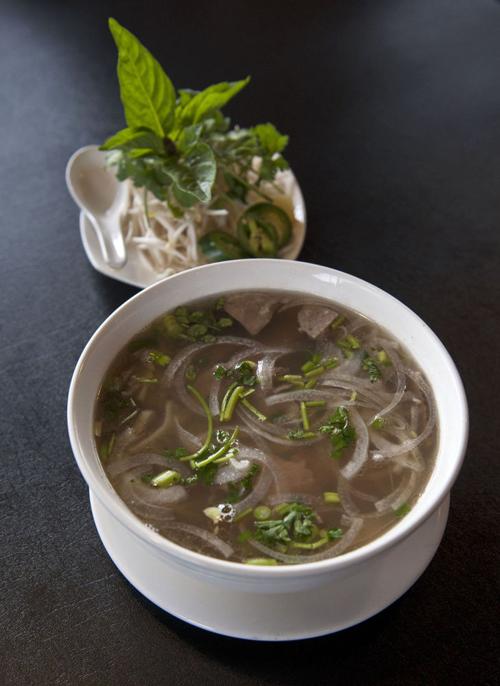 One of the really cool things about Greensboro is the diversity of authentic foods within its city limits — everything from Ethiopian and Korean to Salvadorian, Thai, and, in my opinion, fantastic Vietnamese. Perhaps we can attribute this wonderful luck to being halfway between Atlanta and Washington, D.C., or maybe it's because we enjoy a tremendous concentration of refugee aid agencies, disproportionate to the size of our metropolitan area. Regardless, the global eats in general, and the Vietnamese in particular, rival and often exceed that of any major city in the South.
These are a few of my favorites, and since Vietnamese cuisine constitutes a lot of different dishes, I'll focus primarily on the pho (noodle bowl), banh mi sandwiches, and summer rolls, also known as fresh spring rolls.
My introduction to pho was in the late 80s, a series of smoke-filled rooms situated in strip malls on the outskirts of New Orleans with tables of older men drinking Heineken and smoking Marlboro reds. There would be a one-page menu with about six different bowls of pho, based on which cuts of beef were found under the broth and noodles.
The original pho from North Vietnam is austere, but since most of the transplants to the Gulf coast were from the southern region, an order of pho was always accompanied by a plate of garnishes: cilantro, limes, jalapenos, bean sprouts, and Thai basil.
Mention pho and most folks around these parts will think of Pho Hien Vuong, what I consider the gateway Vietnamese restaurant in our city. The menu features many approachable versions of Vietnamese classics, as well as select Thai standards. Their pho dac biet, or house special beef noodle soup, doesn't seem as texturally diverse as others in town, with less of the honeycomb tripe and gelatinous cuts of beef, but they make up for it by offering a vegetarian pho that my daughter loves.
My personal favorite is Van Loi II — not only for the food, but because the décor and joie de vivre of the staff most remind me of my vibrant dining experiences back in New Orleans. Young servers having fun. Tables full of families. Chinese-style butcher shop at the entrance.
Summer rolls consist of a bundle of noodles, lettuce, shrimp, wood ear mushrooms, pork, and basil wrapped in rice paper and served with variations on peanut sauce. The summer rolls at Van Loi II are heavy on the noodles; the dipping sauce divine. Their pho is great, with lots of lovely bits of cow. They also use culantro, called rau ram, instead of cilantro, which is uber-authentic and a nice touch.
It's always too much food, but they're prepared to pack up what you don't eat, so don't be shy about asking. And here's the secret to heating up leftover pho: Strain out the solids, adding only the broth to your saucepot. Add a little water, and bring to a boil. Turn off the heat, and add the reserved noodles and chunks; stir until heated through.
When I don't have time for a proper meal but still need a fix of nostalgia and umami, I cruise to Saigon Sandwiches Bakery on Gate City Boulevard. The secret really is the bread baked on the premises: a modified baguette that includes rice flour to make it lighter and airy. There's no good substitute for this bread.
My go-to here is Sandwich #2, the banh mi Saigon dac biet, or house special Saigon-style sandwich. It's filled with cilantro, cucumber, white onions, head cheese, pork loaf, liver pudding, pickled daikon, carrot, and mayo. I ask for extra vegetables. You'll be amazed at the flavor that can be had for such a low price.
And don't forget to pick up an order of fresh spring rolls here. They are the best I've tasted in town. The greater proportion of lettuce-to-rice-noodles results in crunchier, juicier vegetables and a less starchy filling.
My greatest regret is not visiting Binh Minh on Market Street sooner. In operation for over 22 years, the hospitality is genuine, the atmosphere humble, and the food will definitely bring me back.
The pho dac biet is divine. All of the tasty bits (tripe and tendon) as well as sliced beef and meatballs are waiting under the noodles. The texture of a tendon is somewhere between a gummy bear and a jujube candy, and you will never forgive a cook who serves it undercooked. Mix Sriracha and hoisin sauce on a small side plate for dipping your beefy bits. Only a heathen would sully the impeccable broth that takes hours to achieve by adding bottled sauces. Spoon in one hand and chopsticks in the other, if your nose isn't running halfway through the serving, you're doing something wrong.
The fresh spring rolls must be rolled to order because the rice paper is supple and not dried out from sitting too long in a refrigerator, and the ingredients taste distinct from each other. I prefer their version of peanut dipping sauce since it's heavy on the hoisin sauce, unlike in Thai restaurants.
Wherever you go, wash down your meal with a da chanh (fresh-tasting lemonade), chanh muoi (made with salt-preserved lemons), or café sua da (espresso dripped into a cup of condensed milk, and poured over ice).
Trying a cuisine you aren't familiar with is the most inexpensive way to travel to another culture. I believe those youthful culinary excursions with my Vietnamese high school buddies lit the fuse for my passionate pursuit of food and culture. Plus, when I get homesick for the food of my youth, a steaming bowl of pho takes me back more quickly than a bowl of gumbo or a shrimp po'boy ever will.