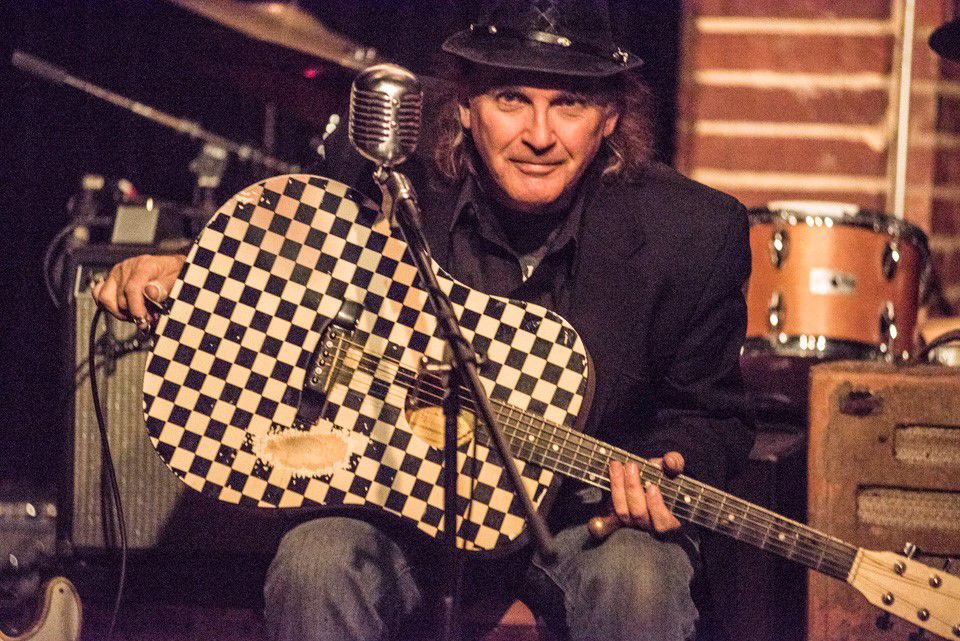 It's hard to believe Eric Sommer has only two hands. When he goes to work with his guitar, it sounds like an army of string pullers, quivers jammed with a jumble of genres unleashed in a rapid-fire volley.
Sommer has a resume that looks like a gypsy travelogue, a musical trail stretching from Bangkok to Boston and back. His dad, poet William A. Sommers, left his job as town manger in Middlebush, N.J., in the early '60s, moving the family to Thailand, taking a job as a foreign service officer with USAID, specializing in aiding local development around the globe. Eric had his first guitar awakening at the age of 5, when a serviceman friend of his dad's dropped by the house and showed him how to fingerpick. Sommer took to it right away, wanting to emulate Jorma Kaukonen's journeyman style.
"I always wanted to be good at everything I touched," Sommer said in a 2016 interview with Making A Scene.
Sommer showed he's good at blues this past October as he won the Piedmont Blues Preservation Society's 2017 Blues Challenge in the Solo/Duo category. Sommer and the other winners will now head to the International Blues Challenge in Memphis later in January. You can catch a performance by Sommer at Memphis or Bust, a PBPS fundraiser at The Blind Tiger to help the musicians with expenses on their trip.
But back to the beginning — Sommer bounced around Southeast Asia with his family, moving from Singapore to Bangkok to Jakarta to Hong Kong. By the age of 12, he had honed his guitar skills to a point where he was playing professionally in clubs in Bangkok. He was sent to India for schooling before returning to the United States to finish high school in Boston.
The guitarist says he had lived overseas for so long at that point, he didn't know anything about American culture, remedying that situation by familiarizing himself with the output of folkies including Dave Van Ronk, Spider John Koerner and David Bromberg. He also soaked up some blues along the way from up-close encounters with John Lee Hooker and the J. Geils Band, who put out some serious blues/rock records in the early '70s. His parents went back overseas, but Sommer stayed behind honing his musical education hanging around in Harvard square. After dropping out of college, he went back overseas to Bangkok working as a photographer with USAID while busking on the streets of Holland and playing two shows nightly for a year at clubs in Denmark. Returning to Boston, he was virtually homeless, at one point living in a closet.
But a chance encounter with a Boston band fronted by guitarist David Landau, the brother of Bruce Springsteen's manager, John Landau, changed his life. "David was playing Charlie Parker-style licks over blues and rock, and I just lost it," he told Making A Scene. Sommer ended up taking lessons from Landau as well as from prog-rocker Yes guitarist Steve Howe, holing up in his closet for the next couple of years honing his skills on his Telecaster.
Sommer added another dimension to his playing, going back to Europe in the early '80s for a couple of years, touring with Nick Lowe and Wreckless Eric. Although Lowe and Wreckless Eric were labeled punkers, their style wasn't as hard-edged as the Sex Pistols or the Clash. Lowe's early output was more pub rock, such as "I Knew the Bride When She Used To Rock and Roll" and "Let's Eat," bouncy, jump-up-and-down stuff with a stiff beat and tongue-in-cheek humor. Wreckless Eric was rougher, but not because of content. His late '70s era songs such as "Semaphore Signals" or ("I'd Go The) Whole Wide World" were love songs that sounded rough because of Eric's virtually indecipherable Cockney accent and love affair with the bottle, chronicled on the liner notes of the 1978 release "Live Stiff's Live" with Eric being a member in good standing of the 24-hour drinking club. But the simplistic melodies had plenty of room for a guitarist to put curlicues around.
Sommer put that experience to work with his '80s punk/new wave band the Atomics, and remnants of that new/wavey ethic still haunt his solo work.
But you can't put Sommers in a box. In addition to his flatpicking, string bending and slide techniques, the guitarist is adept at what he calls tuning on the fly, cranking the tuning pegs while playing to produce interesting tonal combinations.
His work is rooted in the blues, but it doesn't adhere to the "woke up this mornin' " variety. As he demonstrates on his 2016 release "Brooklyn Bolero," it can be something as simple as "Cereal Song," about eating a bowl of cereal, a harp-driven, front porch, sugar-rush, foot-pattin' blues.
For heavier fare, "Red Dress" is a bigfoot stomp with Sommer sliding frenetically up and down the fretboard on a backwoods Delta romp.
So strap yourself in and hang on tight. It's a wild ride, with a final destination up for grabs. The only guarantee is that it'll be a musical journey you won't soon forget.