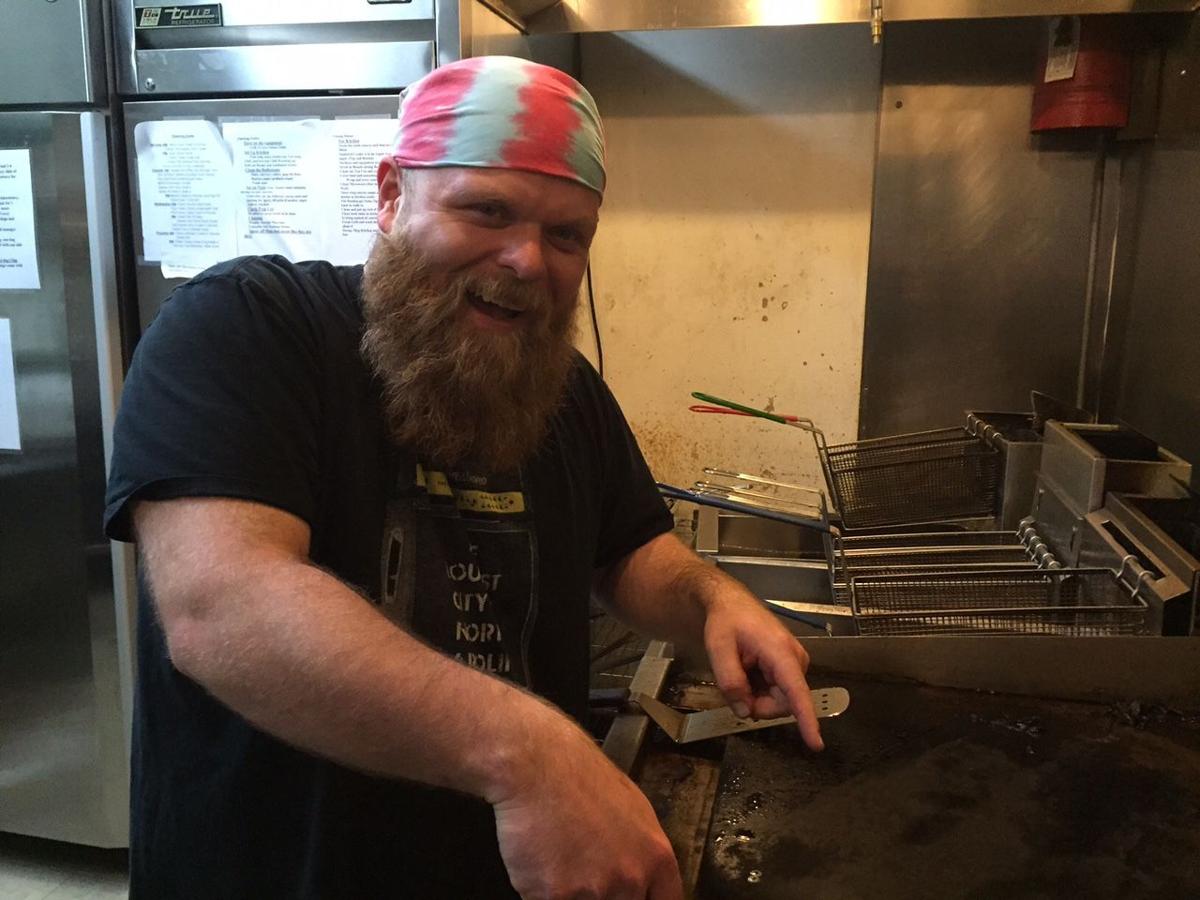 We asked five questions of Brandon Kasten, chef at Fat Dog's Grille and Pub. Here's what he had to say.
With menu items such as Oink and Moo and Chicken Bubba Sandwich, how is that you, a vegetarian, can prepare the carnivore-lovers menu Fat Dog's Grille and Pub offers? How do you know what you are cooking is good?
As far as preparation goes for making burgers and chicken sandwiches, I can confidently say that I have had over a decade of experience working in the back of the house in restaurants; it's become something I enjoy as an art form. From making sure that a customer's burger is cooked to their desired temperature to making sure the chicken I'm sending out isn't dried up, I take it seriously. I know the food I've cooked has met my customers expectations.
Besides the constant reassurance from my regulars that my food is "just the best," there is nothing like having a dining room full of customers who've become eerily quiet when I poke my head out of the kitchen to see why. I'm relieved and totally satisfied, because everyone is just too busy eating.
Why did you decide to become a vegetarian, and how long have you been one?
Before I decided to travel down this meatless path, I pretty much ate anything and everything that was put in front of me. But four years ago, I was given a challenge to forgo my beloved proteins and try this vegetarian lifestyle that I had heard so much about but didn't really care for; a struggle to maintain at first, because food can be a drug. And to ween yourself off of certain foods that you have been consuming since childhood can be most difficult.
But I'm happy to say that I have no regrets, no matter what my family, friends or even the occasional stranger has to say about it.
Are you ever tempted to the dark side, particularly after a few beers?
There is temptation everyday, and alcohol doesn't even have to be involved!
To me, it's not always about consumption but more about aromas. For instance, char-grilled steak rubbed with citrus butter, pan-seared scallops cooked to perfection, freaking bacon to this day still smells good enough to get my mouth watering.
However, due to my Southern roots and my affinity for chicken, I have slipped quite a few times over the years with fried poultry. Can a few drinks contribute to my backsliding? Absolutely! But I don't beat myself up too much about it. I just enjoy the indulgence every once in awhile and don't worry about the judgements, especially my own.
What would a vegetarian order at Fat Dog's? And what beer would be best paired with?
Fat Dogs provides several choices for those individuals requiring a meal solely for the vegetarian at heart. We have veggie burgers and veggie dogs. Fried items like black bean sticks or pepper jack pretzel bites are delicious morsels for a quick hunger fix.
For me, though, I enjoy a couple a veggie dogs, topped with sour kraut, slaw, onion, jalapeños, shredded cheddar, and of course, mustard. Add one small mixed green salad with some blue cheese dressing, and I have myself a scrumptious vegetarian meal. And if I'm having a beer to wash it all down, I always go for the laughing skull. An amber ale which is both full-bodied and smooth.
Any advice for those of us who aspire to a more animal-friendly diet?
Take the time to learn about what it is you're eating. I noticed a change after a time of not eating meat, and my body was feeling great. You have to remember to supplement your protein intake. There's beans, cheese, soy, yogurt and quinoa to name a few.
Know that eating healthier is sometimes more expensive, and you may find yourself looking at more nutrition labels when you go grocery shopping, but it's worth it.
Be creative. Buy some veggie cookbooks. I would suggest "Thug Kitchen," a personal favorite of mine. Try fruits and vegetables you've never thought about tasting before like jicama. It's like an apple and a potato had a baby. And it's so good!
Once you begin practicing this new lifestyle, it may seem difficult at first. Be patient and give it time. You'll do great!
Stay up-to-date on what's happening
Receive the latest in local entertainment news in your inbox weekly!