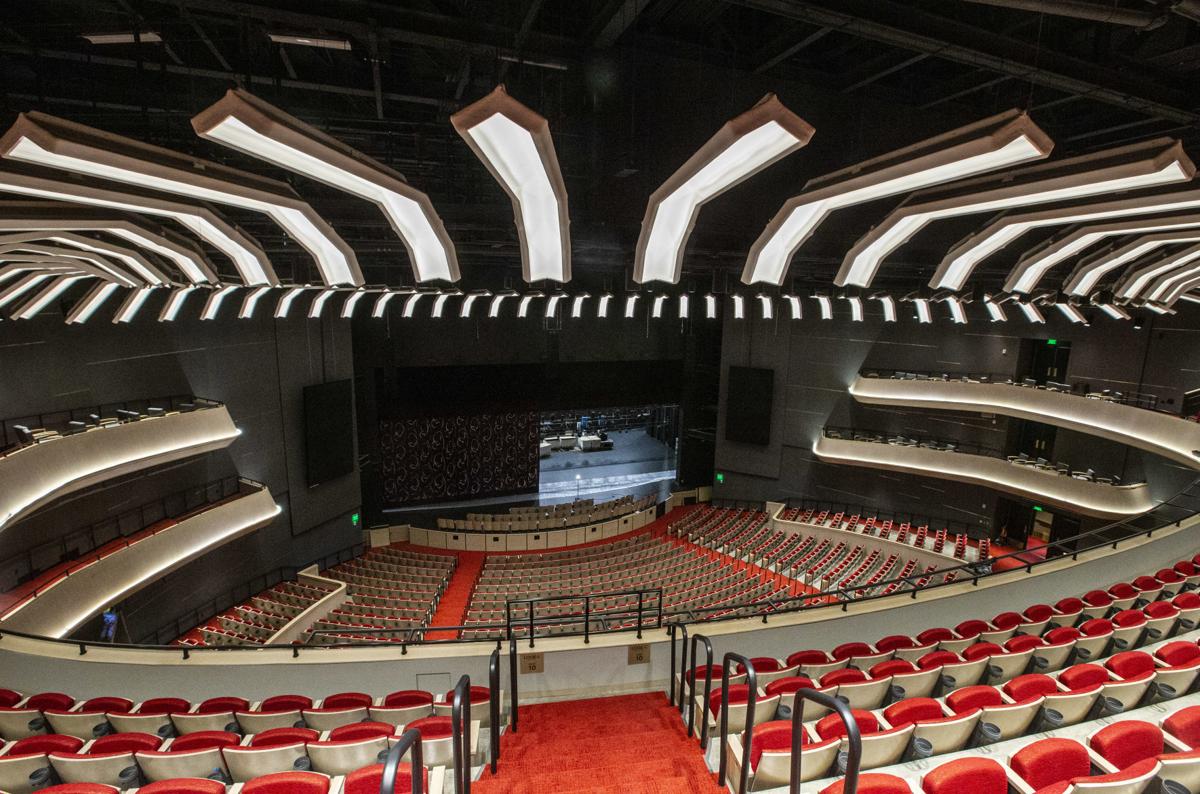 A year ago, officials and musicians at the Greensboro Symphony Orchestra were looking forward to the biggest season in company history. The Steven Tanger Center for the Performing Arts was set to open, and the symphony's calendar was filled with dates promising to bring a top-notch slate of live musical performances to the Triad.
The COVID-19 pandemic upended those plans, as it threw nearly every aspect of American life into tumult. The following months were difficult for the symphony, but Greensboro Symphony Orchestra President and CEO Lisa Crawford says the musicians are ready to move forward and perform for live audiences once again.
The Greensboro Symphony plans to open its 2021 season on April 29 with a Masterworks series concert titled "Maestros & Mendelssohn" with Gerard Schwarz, conductor, and Dmitry Sitkovetsky, violin and conductor. The symphony's opening weekend will include the highly anticipated performance of "Harry Potter and the Sorcerer's Stone" on May 1 and 2. "Harry Potter and the Sorcerer's Stone" is the first of the symphony's multi-year series of concerts based on music from the popular Harry Potter movie series.
"We've been wanting to do a family concert, and we wanted to do something big," Crawford said.
The 2021 Greensboro Symphony schedule also includes:
Music of Queen
Masterworks: Beethoven's 9th with the Greensboro Symphony Master Chorale
GSYO Side-by-Side Concert
POPS: The Texas Tenors. The popular singing trio will harmonize with the Symphony on a selection of American classics and Broadway hits
Masterworks: Discovery & Invention with Kelly Hall-Tompkins, violin. This performance will feature Beethoven's Symphony No. 7, plus selections by great American composers;
POPS: Queens of Soul. Vocalists Shayna Steele and Kelly LeVesque will join the Symphony to perform songs from soul and R&B legends such as Whitney Houston, Aretha Franklin, Gladys Knight, Alicia Keys, Patti LaBelle and more;
A Richard Smallwood Gospel Celebration. Gospel legend Richard Smallwood returns to Greensboro along with the Symphony (guest conductor Dr. Henry Panion) and the Gospel Community Choir, prepared by Corey Williams;
POPS: Rolling Stones Tribute. As Mick Jagger sang, "If you start me up, I'll never stop." The Symphony will present an unstoppable selection of Rolling Stones classics, including "Satisfaction," "Paint it Black," "Ruby Tuesday" and more.
In addition to marking the symphony's return to performing to spectators, it also will be the orchestra's debut at its new permanent home, the Tanger Center.
"The Tanger Center is going to be a game-changer for us," Crawford said. The downtown Greensboro venue will give the Greensboro Symphony a state-of-the-art home, she said, and with that location secured, symphony officials made a conscious decision to offer a broader spectrum of shows designed to appeal to a wider range of music fans.
And as big as Greensboro Symphony officials hope the 2021 season can be, they have even more ambitious plans for the 2021-22 season, which starts Aug. 29 with a POPS series concert, "Michael Cavanaugh: The Music of Billy Joel."
Other highlights of the 2021-22 schedule include an evening with "Glee" star Matthew Morrison on Nov. 6, a highly anticipated visit by rock legend Sting on Nov. 20, a tribute to John Denver on Dec. 18, and a night with Kenny G on May 21, 2022. The second Harry Potter concert, "Harry Potter and the Chamber of Secrets," is planned for June 4-5, 2022.
For Crawford, her staff and the symphony's musicians, April 29 hopefully marks the end of a difficult period. The pandemic shut down live performances just two days after musicians held their first rehearsal in the Tanger Center.
"This crisis has made us really value our subscribers, donors and board members," Crawford said. "Throughout it all, they've been supportive. It's humbling to think that we have that type of support."
The organization has been busy with a wide range of activities over the past year, but as Crawford said, for a performing arts organization, there is no substitute for performing in front of a live audience.
"It is going to be an incredibly emotional moment when we are able to get our full orchestra onstage in front of an audience," she said. "That feeling of community and being together — I think everybody is missing that."