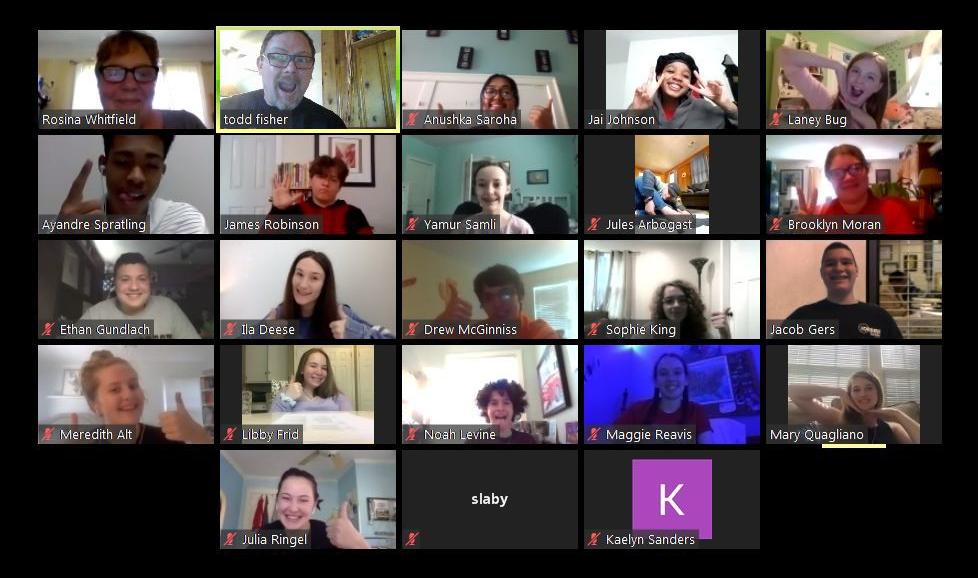 GREENSBORO — Three afternoons a week, 20 local teens gather online — but not for casual chat.
They are rehearsing a play.
Through late May, they will prepare to present Shakespeare's 17th-century tragedy, "Macbeth," in 2020's virtual world.
"This is a lot more fun than just sitting down and watching TV," said Laney Kaley, 13. "I get to see my friends, and I get to do something I love when I can't see them in person."
The coronavirus pandemic has closed schools and kept students at home, taking their classes online.
So the city's theater program — formerly known as The Drama Center, now part of Creative Greensboro — has kept them engaged with a virtual reader's theater experience.
Guided by play director Rosina Whitfield, the teens rehearse using the Zoom video-conferencing program.
Then at 7 p.m. May 27, they will present "Macbeth" using Zoom. The public can register to watch.
It's all free to the teen actors and the online audience.
In a reader's theater, actors perform seated, using only their voices as they read from the script.
No one has to memorize lines in this production, although they will know the play well by show time.
They won't wear costumes, or use props or scenery. But some likely will wear a baseball cap or a scarf to distinguish their character, Whitfield said.
"Macbeth" tells a story of ambition and a quest for power.
Scottish General Macbeth receives a prophecy from a trio of witches that one day he will become King of Scotland.
Consumed by ambition and spurred to action by his wife, Macbeth murders King Duncan and takes the Scottish throne for himself. But it wracks him with guilt and paranoia.
Forced to commit more murders to protect himself from suspicion, he soon becomes a tyrannical ruler. The bloodbath and consequent civil war lead Macbeth and Lady Macbeth to madness and death.
Whitfield works for Creative Greensboro, the city's newly-formed office of arts and culture. The office overseas the city's theater and music programs.
Each season, she aims for plays to include a Shakespeare piece with teens. They performed "Twelfth Night" in the fall.
But they hadn't yet performed a Shakespeare tragedy.
Not knowing how the COVID-19 pandemic would affect next season, Whitfield decided to proceed with a virtual reader's theater production of "Macbeth."
It attracted 20 actors ages 13 to 17, a few more girls than guys. Most are from Guilford County; one is from Lexington.
The teens appreciate Shakespeare, she said.
"They really enjoy exploring the characters and the language," Whitfield said. "They enjoy how bawdy and a jokester Shakespeare can be. And they like the stories."
Instead of the full 2½-hour play, she decided on an edited version that reduced its run time to 1¼ hours. "It's much more accessible and much easier to do online and with teenagers," she said.
It still has all the crucial elements, all the famous lines. Lady Macbeth still says "Out, damned spot," while washing invisible blood from her hands.
Whitfield asked each actor which parts and scenes they want.
She wants to give each actor enough lines. So most likely, more than one actor will read the parts of Macbeth and Lady Macbeth.
"I don't want one person to be Macbeth and have 80 gazillion lines and one person be Donalbain (Duncan's younger son) and have four," she said.
Girls also could play Macbeth, Whitfield said.
"They are all doing really well, and I want give everybody a chance," she said.
She will ask the actors to find things in their homes to represent the characters they portray. That likely will be a baseball cap for Macbeth, perhaps a scarf for Lady Macbeth.
She wants the audience to know who's who.
Whitfield tries to conduct each 90-minute practice like a normal rehearsal, even though the young actors all arrive through Zoom. They see each actor's picture on their computer screens. They make sure that his or her microphone is working.
They perform vocal warm-ups before getting started.
Sometimes, technological glitches get in the way. Todd Fisher of Creative Greensboro acts as stage manager, helping with the technology and fixing glitches.
The process offers the young actors new experiences: the experience of using Zoom, of rehearsing and performing a play completely online, of meeting new people who normally might be too busy to join a theatrical production.
Both Laney Kaley and Jacob Gers have acted with the city's theater program for years. They both serve on its teen board.
Kaley, who attends the Center for Advanced Academics at Brown Summit Middle School, also has acted with Community Theatre of Greensboro and Triad Stage.
"I felt this would be something fun to do in the middle of all this craziness," Kaley said.
For both Kaley and Gers, this is their first virtual play.
"It's strange but incredible, seeing how all the Zoom technology is bringing us all together," said Gers, 14, an eighth-grader at Kernodle Middle School. "We can work together and create from our own houses and stay safe, while still giving an amazing performance ..."
"It's something that I don't want to miss out on, an experience that will be valuable to me as an actor and theater lover," Gers said.
It's a learning experience for Whitfield, too.
She can see uses for the virtual technology in the future, even when play rehearsals and productions again can take place in person.
"If you have a kid who's sick and at home or who has had an operation and wants to participate, I think it would open up opportunities like that, that we can reach out to kids who can't physically come in for whatever reason," she said.
"The idea is to keep creativity alive, keep the kids engaged in theater, give them opportunities to participate even though they are stuck at home," she said. "But it's not the same as having kids in the room."
Contact Dawn DeCwikiel-Kane
at 336-373-5204 and follow
@dawndkaneNR on Twitter.