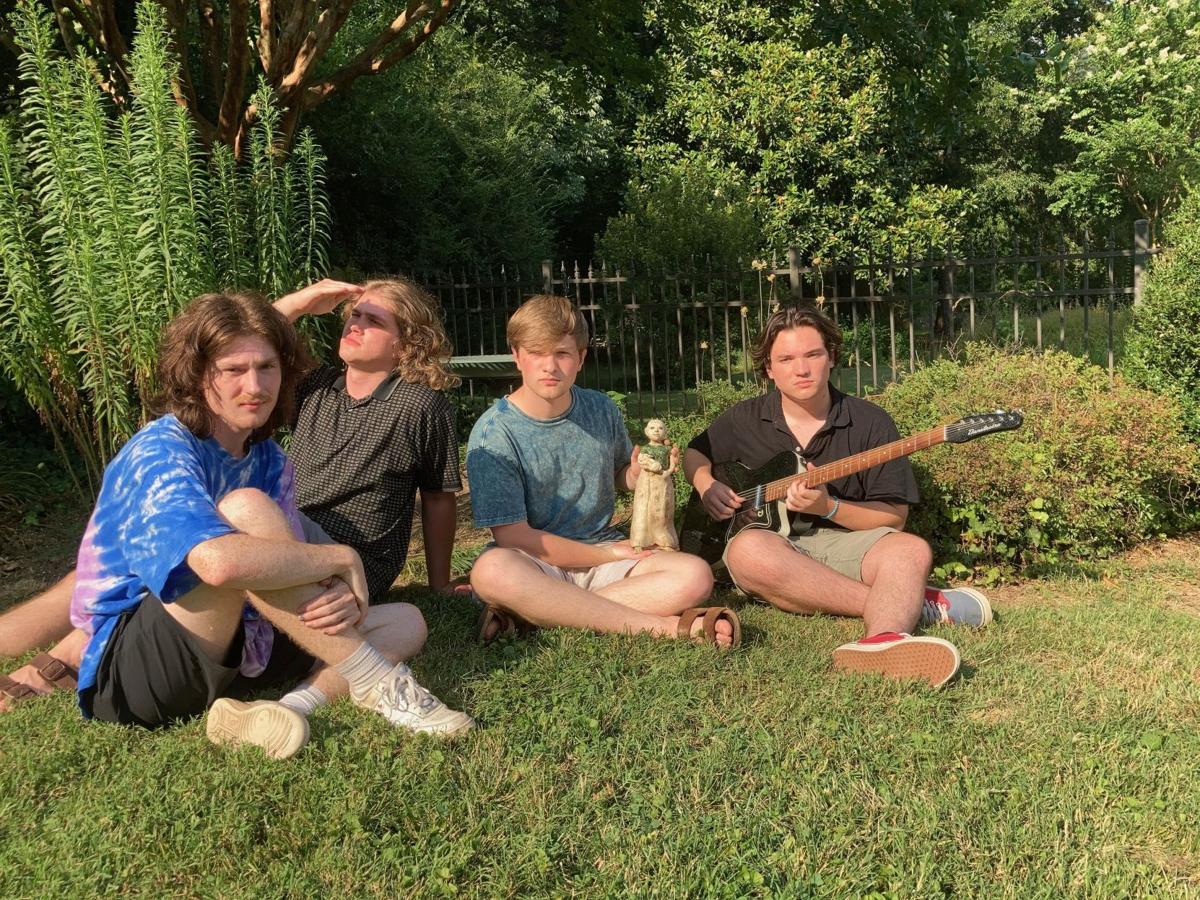 Musician Spencer Underwood finds creative inspiration in the likes of the Black Keys, Wilco and "Star Wars."
His band, The Dune Sea, takes its name from the desert which served as the stomping grounds for Jabba the Hutt, the crime boss first seen in the sci-fi franchise's "Return of the Jedi."
The alternative rock group, which is based in Greensboro, is made up of Underwood (vocals), Jake Kremer (guitar, keyboards, drums), Aiden Foley (bass) and Pierce Felt (keyboards).
The band has its roots at Weaver Academy, where Underwood and Kremer met. They have put out four singles this summer, with an album and a few EPs on the horizon.
I started the band almost two years ago with Jake. We started recording as a duo, and then we had other people from our school join, and we had different people play drums. Jake and Aiden and Pierce were all part of the music production program at Weaver.
Right now, Aiden goes to GTCC and Felt still goes to Weaver — he's a little younger. Jake and I go to Appalachian State, and we're studying music production there.
Who are some of your inspirations?
Jake said King Gizzard & The Lizard Wizard. Aiden said Tame Impala. Pierce said Emerson, Lake and Palmer particularly influences his style of playing keys. My songwriting is particularly inspired by Julian Casablancas of the strokes and Jeff Tweedy from Wilco, as well as Dan Auerbach from the Black Keys.
How would you describe your music?
We sort of experiment with a lot of sounds and styles. It mostly falls in the indie rock category. But we make a lot of songs that are electronic. We do psychedelic rock. We also take some inspiration from bands like Pink Floyd.
Are you guys big "Star Wars" fans?
We are. A few years ago, Jake and I took a trip to the beach with a group of friends and we were playing a lot of "Star Wars: Battlefront" on the PS2. And so, from that came the band name. It's kind of funny. Last year when "The Mandalorian" came out, it became a lot more obvious that we took our name from "Star Wars," because they say it so much on the show.
What's your creative process like?
A lot of times we start songs on our own, all four of us, and we have a collection of ideas, an album folder that we use on Bandcamp. So we all just sign in and can sort of see everything we're working on. We'll all listen through, and find songs that each of us have made and that we think are particularly good, and we'll work on them together.
Lots of times, I'll just write a song on my guitar, and write lyrics on a sheet of paper, and we'll get together and record. We sort of write individually and then get together and jam, and think of things we like and turn them into full songs.
If you could open a show for any artist, who would it be and why?
Obviously, opening for a band that all of us are inspired by, like Tame Impala, would be cool. Really, though, any band with a good sound and a good audience would be great. I remember seeing Arctic Monkeys, who had a band from Boone called The Nude Party open for them. They're a small band, and we've met them a bunch of times.
But having an opportunity like that would mean a lot to us — a huge band getting a small local band to open for them. That's sort of been a goal in the back of my mind.
Do you sing karaoke or sing in the shower, and if so, what do you sing?
I don't really do karaoke, but I do sing in the shower. It really depends on what I listen to. All of us listen to all types of music. I'll sing songs by the Black Keys, or maybe something by Kanye West or David Bowie.
What would you say is the funniest or weirdest thing that has happened at one of your shows?
One time we did a show in downtown Greensboro for Sofar, which sets up secret shows that they announce the day of. So we played at this store that sells high-end glasses, and we all dressed up like cowboys. And whoever set up the stage for the show put up a big cardboard cutout of Snoop Dogg on the left of us, and a big cardboard cutout of Danny Devito on the right. So we were just playing with Snoop Dogg and Danny Devito.
What's your favorite song to perform?
I think it's probably our song "Magnetized." We made it a few years ago, and at the time, we didn't have as much experience as we do now. But it's just always been a song that gets a good reaction from the crowd, and it's catchy and has a good energy. And we actually rerecorded a new version of it. We play it at pretty much every show, and it still hasn't gotten old for me.
Well, we've been working on our fifth album (as yet untitled). We have 12 songs, and they're all recorded. We just have to go back to work on the mixing. And we have a few EPs and some smaller projects. We did singles recently, "Isolation" and "Forever Ago," and those are more electronic based than most of our songs. But our main priority is just finishing up our album.