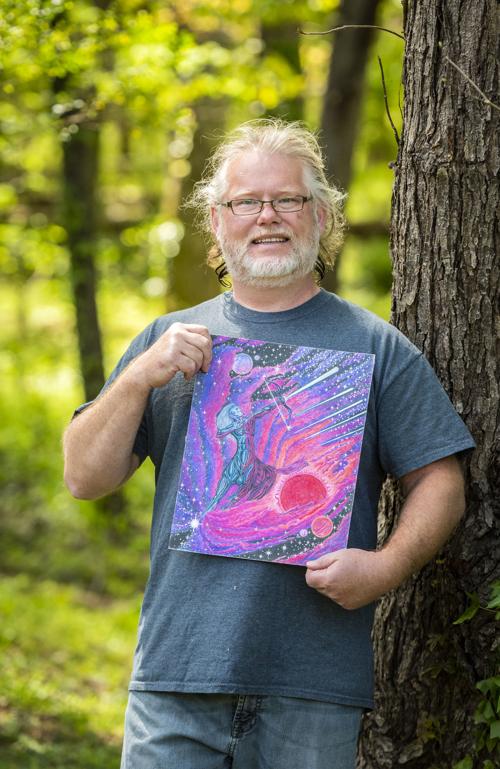 Paper grocery bags were Alton Rumfelt's go-to sketch paper when he was a young boy growing up in Walkertown.
His mother would save her bags, then say to him, "I want you to draw me a trash bag."
"She'd bring out one of the old bags and get my crayons and let me color it," Rumfelt said. "Of course, nothing was ever saved, because then it went in the trash can."
He always drew "comic book stuff."
At 50, Rumfelt now lives in Kernersville and focuses on colored-pencil drawings.
Some of his favorite art pieces include "Jewels of the Autumn Forest," a nature drawing that highlights a creek in the woods, rocks, a small waterfall and brilliant colors of the foliage; and "Midnight Dance," which features the Greek god Pan sitting in the crook of a huge, ancient oak tree, playing his flute, as several nymphs dance around the tree.
He recently finished a series of 12 pictures based on the 12 signs of the Zodiac.
Rumfelt said he never tries to convey a message through his artwork.
"I just try to come up with the coolest image in my mind," he said. "Some things mean something to me, but the beautiful thing about art is it is only completed in the minds of the viewer. It doesn't matter what I intended."
He also said he tries to never get too attached to or invested in things.
"It's only partially mine. ... It's meant to be shared with the world," he said of his art.
How would you describe your art?
I do mainly colored-pencil work. It runs the gamut from wildlife art to landscapes, both imagined and real. Throw in some fantasy art, and you pretty much have it. I do some pen and ink also, and I'm looking to also start to do some watercolors. I work with some pastel also. That's all landscape and looser work than I usually do. But for most of my work, I would say it is somewhere between old Marvel comics and Disney animation.
How have you evolved as an artist?
I have tried to move beyond a focus on photo reference and realism, mainly because I'm just not good at it. Plus it bores me. I try now to use just enough reference to get the basic idea down, to help fill out the shapes. Then I try to fill those shapes with as much color and texture as I can, to breathe life into them. It's there that I find my passion.
Who has influenced your art?
Who hasn't. I say my biggest influences are comics. It's what I grew up reading, and it's what inspired me to pick up a pencil. My biggest influence in comics would be John Buscema (a comic book artist who was one of the mainstays of Marvel Comics during the 1960s and 1970s). I love his ability to bring a certain amount of believability to the fantastic imagery he created. Also, animation. Old Disney and anime are favorites. But I love it all — everything from cave art to modern day. I try to soak it all in. Oh, and Bob Ross. Love me some Bob Ross.
What is your biggest challenge?
Artistically, it has been trying to start to paint more. I don't have a comfort level with liquid medium yet. It's always a struggle. But that's the beauty of this thing. There's always room for growth and exploration. Be it different mediums or subjects.
What does art do for you?
Keeps me sane. I can't stand not having something on the art table. I get all anxious. When I'm drawing, the world goes away for a little while. It's just shapes and color and textures.
Any advice for other artists?
Draw, draw, draw. There is no substitute for being able to draw well. And create what you want. Nobody else can say exactly what you can say. Even if you're an illustrator or take commissions mostly, make time for your projects. They're worth it.
Fran Daniel writes about artists — visual, musical, literary and more — weekly for the Winston-Salem Journal's Relish section. Contact her at fdaniel@wsjournal.com or 336-727-7366.
Stay up-to-date on what's happening
Receive the latest in local entertainment news in your inbox weekly!