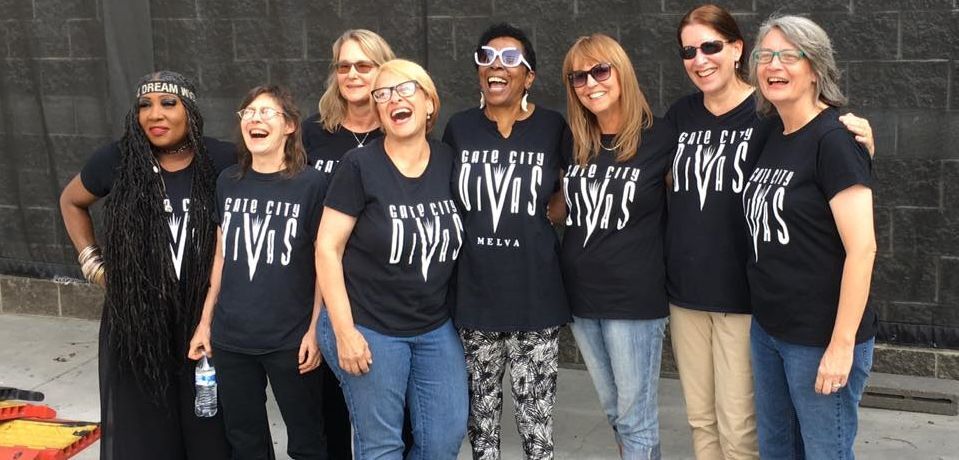 "Diva Revolution" by Gate City Divas (self release)
Shiela Klinefelter said recently that nobody wants CDs anymore. But they might change their minds when they hear this one. "Diva Revolution" was recorded locally at Benjy Johnson's Earthtones Recording and produced by Klinefelter.
The Gate City Divas' second release is in the spirit of their 2015 debut, "Goin' to Town," but it gives the Divas a chance to stretch out their writing muscle a bit more. Diva Kristy Jackson wrote 10 of the 15 tracks on their previous disc, but the new one spreads the songwriting around, with bassist Shiela Klinefelter and Kristy Jackson getting two, and one apiece from Melva Houston and the husband-and-wife team of Allison King-Jordan and Bill Jordan.
Klinefelter made the comment about nobody wanting CDs in a recent interview, mentioning that she thought this year's virtual presentation of the North Carolina Folk Festival/Carolina Blues Fest using mini-movies of the participants was a good way for local artists to promote themselves.
"I've found the last year or so people like you to send them social media and they prefer to actually watch a video of the band playing somewhere," Klinefelter said. "It's changed."
But what hasn't changed is the quality in the audible department of the eight lady Divas: Robin Doby Easter, Virginia Masius, Julie Bean, Allison King-Jordan, Kristy Jackson, Melva Houston, Shiela Klinefelter and Lauren Myers. And even though The Divas are impressive live and on video, their latest offering makes a strong argument for a mobile package you can immerse yourself in wherever your travels take you or just bask in the afterglow at home.
Klinefelter penned the opening track, "Let Love Lead the Way," sung by King-Jordan; slinky, funky jazz with former Unknown Hinson bassist Roger Kohrs providing a stutter-stepping second-line undercurrent seasoned with a burst of Django-ish fiddle by Emanuel Wynter.
Bobby Blue Bland, Walter Wolfman Washington, Maggie Bell, Crystal Gayle and the Allman Brothers all took a swing at Michael Price and Dan Walsh's 1974 "Ain't No Love In the Heart of the City," but Melva Houston's rendition is a standout. Unfortunately, Houston passed away before the CD release party could be held. It's as impressive as Bland's masterful take, a fitting tribute to her power and glory. Bland was the first artist to cut it, but Houston might be the last. It's a tough act to follow.
Houston steps up again on Rev. Gary Davis' "I Heard The Angels Singing," delivering a soulful sermon backed by a choir of heavenly Divas.
Her original, "Hot Flash Hotel," with a double dose of husband and wife Klinefelters, Bubba on harp and Shiela on bass proving backing, is a growing old disgracefully take on Elvis' "Heartbreak Hotel," a bluesy lament about the sweaty perils of menopause.
Covering Screamin' Jay Hawkins is always a risky business. Hawkins popped out of a closed coffin to open his act, and his otherworldly screams and guttural moans are hard to top. But Robin Doby spreads plenty of high-pitched, low down hoodoo around on "I Put A Spell On You," as Bubba Klinefelter and Benjy Johnson offer up their guitar-piercing services for acolytes.
Shiela Klinefelter's up again for her original, "Me And My Friends," singing lead on the Divas theme song, a proud strut proclaiming that "playing the blues won't ever get old."
Kristy Jackson's "Beautiful Rain" is reminiscent of Lorna Bennett's '72 reggae-flavored take on Eddie Hinton's "Breakfast In Bed," and features a rare appearance by Bobby Kelly on bass.
"Part Of Me" is gospel-flavored country suitable for a Reba McEntire outing with Wynter's violin taking the place of weepy pedal steel.
Besides sharing in the glory of the sounds, part of the joy of getting a CD, or a vinyl album before that, was reading the liner notes, seeing who did what on which and what the musicians had to say about the process, as well as having a tangible object you can wrap your hands and your ears around.
"And I think that still exists. I hope so," Klinefelter says, laughing. "I've got a bunch of Divas CDs I've got to sell."
She shouldn't worry. With a product this good, it's practically a done deal.
Stay up-to-date on what's happening
Receive the latest in local entertainment news in your inbox weekly!