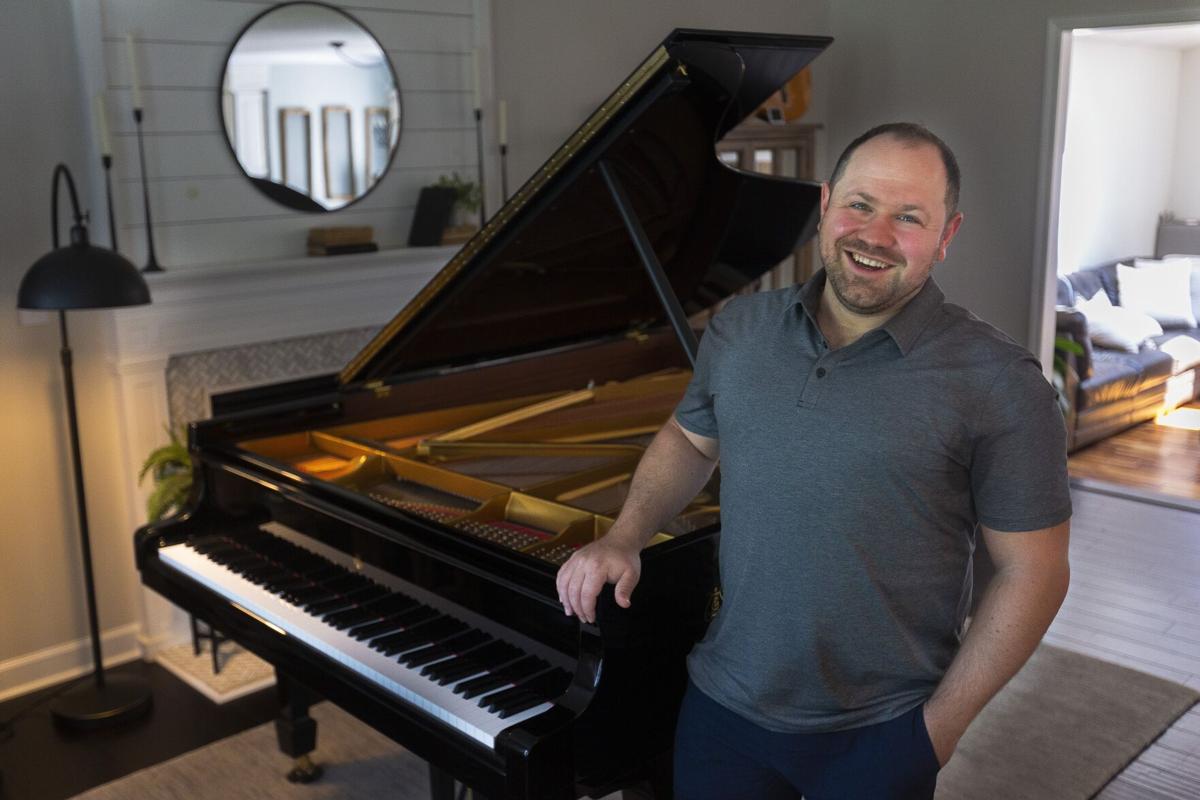 GREENSBORO — Brian Campanella sought a pleasant and creative way to relieve stress during the COVID-19 pandemic.
He found it with his dream piano.
In January, Campanella bought a new Steinway & Sons 7-foot grand from the local Steinway Piano Gallery.
During brief breaks running his company remotely from his Liberty home, Campanella practices at lunchtime and at night.
"It's one of the happiest things I ever did for myself," Campanella said of buying the piano.
He joined the growing number of people nationally who have bought pianos during the pandemic. Stuck at home with fewer distractions, they started or resumed playing, perhaps pursuing an unfulfilled dream to learn the instrument.
While concerts were canceled, pianos still sold.
Mark Love, who co-owns Steinway Carolinas with his wife, Katherine, says sales are brisk. People are going out more now, he acknowledged, and "I feel that it slowed down, but the numbers haven't yet showed that."
Piano sales track the mushrooming home sales market as well, Love said. When people buy homes, they look for something to put in them.
In the Carolinas, many piano dealers are having a good 2021, Love said.
For the Loves' business in 2021: "We are up almost 40% year-to-date over last year," Love said. "It's the strangest thing I have ever seen."
Love said he hopes that more customers will join that trend during Eastern Music Festival's annual piano sale this weekend.
Steinway Carolinas provides pianos for the five-week classical music festival, which ends Saturday night. Steinway then sells the pianos to the public at reduced prices.
When comparing post-festival sales appointments to years past, "I can't measure it yet," Love said. "My instinct is that it's going to be better. All signs point to it being a good year for Eastern Music Festival and for the Eastern Music Festival piano sale."
With its Greensboro gallery located less than two miles from EMF's home base at Guilford College, Steinway Carolinas rents 21 pianos to the festival. Love estimates their value at easily $750,000.
They range from the 9-foot concert grand on the Dana Auditorium stage to less expensive pianos in practice rooms.
In addition to the flagship Steinway piano line, Steinway markets two other, lower-priced brands sold under the names Boston and Essex. They come in grand and upright pianos.
Steinway provides all three to EMF.
When the festival ends, Steinway offers each piano for sale at prices ranging from $7,000 to $170,000, said Leeanna Spellman, who manages the Steinway Piano Gallery in the Jefferson Village Shopping Center.
Although the upper range might sound pricey, that's less expensive than a new one. A handcrafted Steinway baby grand piano starts at $80,000, Love said.
At EMF, they get test driven during high-quality concerts.
And if they sell the pianos at the festival, Steinway doesn't have to shoulder the expense of moving them back to galleries.
Steinway Carolinas typically sells 10 to 14 pianos during the EMF event each year, Spellman said.
Don Bastin of Greensboro said he plans to visit the sale. It wasn't the piano sales trend that attracted him, but a flier in the mail.
He and his wife, Kathy, are looking for an upright for their two grandchildren to play at their grandparents' home.
"The older is five years old and is getting to the age where music lessons might make sense," Bastin said. "We want to give our grandkids the opportunity to be able to learn an instrument, see if they have an interest, see if they have talent and give them a fair opportunity to try out playing a musical instrument."
Now 38, Campanella has played music since he was 10. He considered attending school for classical piano performance, and later taught piano.
But after Campanella started the Digital Loft 3-D rendering firm, he worked more than 100 hours a week.
He had keyboards at his home, but not a piano.
"With concerts not being around for us, how do you get those magical moments in life?" he asked. "I missed that magic."
So he spent more than $100,000 on his new spruce and maple Steinway B.
Campanella spends his work breaks playing romantic and classical compositions by Mozart, Chopin and Rachmaninoff.
He's thrilled with his purchase.
"It's really delightful to play," Campanella said. "The sound is so round and rich."
Contact Dawn DeCwikiel-Kane at 336-373-5204 and follow @dawndkaneNR on Twitter.