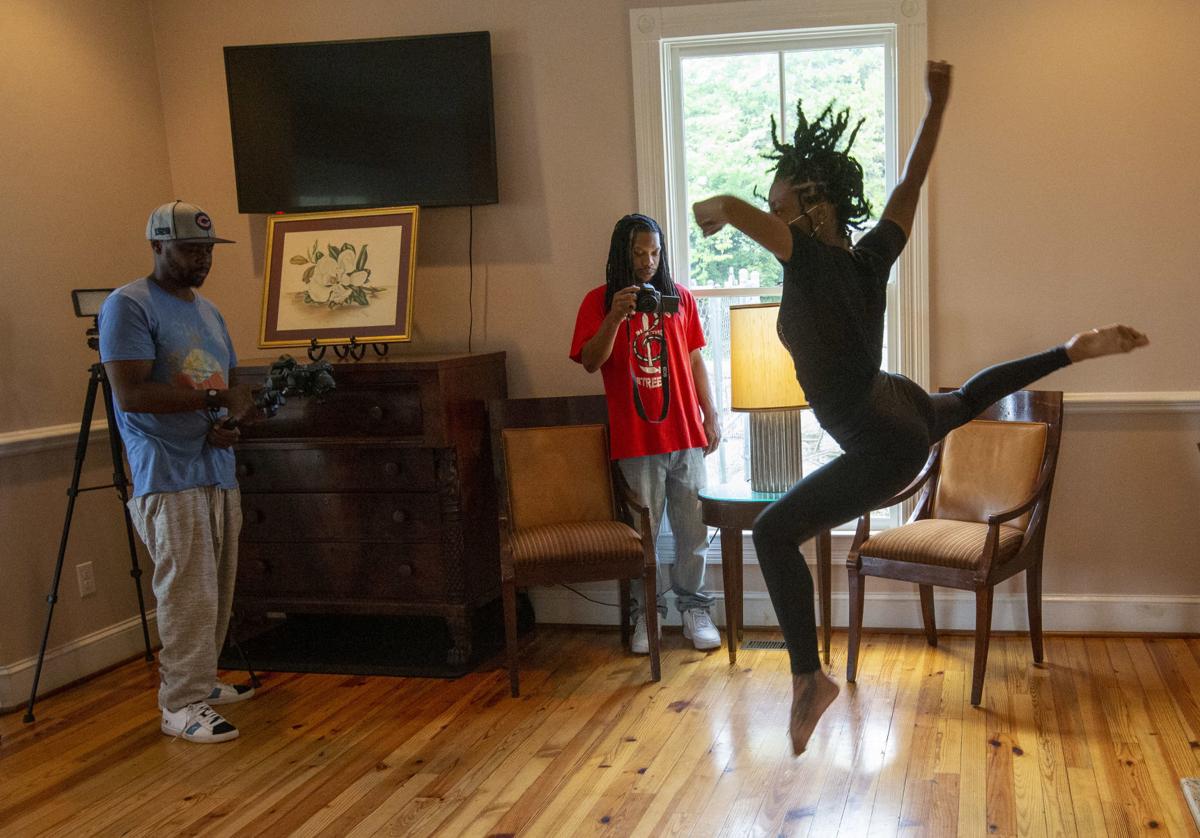 GREENSBORO — The coronavirus pandemic prompted Royal Expressions Contemporary Ballet to initially cancel its Juneteeth arts celebration of the day that slaves were freed.
But the brutal death of George Floyd at the hands of Minneapolis police and the Black Lives Matter movement have prompted dance company founder Princess Johnson to revive those plans — virtually.
On June 19, the black-led local professional dance company will present its Juneteenth Arts Celebration as a film on social media.
The violence against black people has left Johnson feeling hurt, frustrated and angry. The arts offer a healthier way for artists to express those emotions, she said.
"I really wanted to bring the Juneteenth festival back as a way for us to respond to what's going on," Johnson said.  
The film will include the stories of Juneteenth and the city's historic Magnolia House, along with dance, music and spoken word by black artists and an introspective on what freedom means in 2020.
"The entire Greensboro community will benefit from watching it as we all seek healing and reconciliation in our varying ways," Johnson said.
Johnson and other artists filmed this week at the Magnolia House.
Famous entertainers such as Ike and Tina Turner, Ray Charles and Lena Horne stayed at the Magnolia House, a segregation-era motel for African Americans traveling the East Coast. Restored by the Pass family, it has hosted Sunday jazz brunches and private events in recent years.
"It was the perfect setting for us to do this," Johnson said.
Royal Expressions operates a professional dance company, along with a school of dance and outreach dance programs for the community.
The Juneteenth holiday commemorates June 19, 1865, the day that the Emancipation Proclamation was read to slaves in Texas. The proclamation was issued Jan. 1, 1863, but it took more than two years and the end of the Civil War for slaves to be freed in that state.
Royal Expressions originally had planned an up-close-and-personal Juneteenth Arts Celebration. It had received $3,000 from ArtsGreensboro to support it, to highlight and showcase black artists in the city and surrounding areas.
"We felt like black artists were underfunded and underrepresented in the city of Greensboro," Johnson said. "The project was a way for us to highlight, advance, set a stage, give black artists an opportunity to perform in a space that is central to Greensboro."
She planned to hold it at the Van Dyke Performance Space in the downtown Greensboro Cultural Center and adjacent LeBauer Park.
"It was not just about black people coming to see black artists, but about all people coming to see black artists to see how our artistry looks and feels and engages with audiences," Johnson said.
The pandemic and stay-at-home orders prompted Royal Expressions to postpone the celebration until 2021.
Now, with so much unrest, Johnson felt a need to revive the Juneteenth celebration. But with COVID-19 still a threat, the company instead will produce a short film to educate and entertain the community, she said.
The local Open Eyes Project will produce the film, which will run from 18 to 30 minutes. 
Willie Hinton has choreographed the dance work, "Generations Five," featuring Royal Expressions' professional company.
Other performers include Vanessa Ferguson — a 2017 finalist on the NBC singing competition "The Voice" — and Zitty Nxumalo, who will perform spoken word.
Ferguson performed her original song, "Cries To The Heavens," as she accompanied herself on acoustic guitar.
She wrote it from the perspective of the many women affected by the murders of black men at the hands of police officers. It mentions the deaths of Michael Brown and Eric Garner. 
The film will be shown on Royal Expressions' Facebook, Instagram and YouTube sites.
The dance portion also will be included as part of Creative Greensboro's GSO Summer Online initiative at gsosummeronline.com, which will showcase black artists on Juneteenth.
The film will end with the famous poem of the late Maya Angelou, "Still I Rise."
"After we share our stories and our grievances and we share our hurt, at the end, our goal is to rise," Johnson said. "It's so uplifting and empowering, and something our community needs right now."
Photos: Juneteenth presentation
Greensboro's Royal Expressions Contemporary Ballet records its Juneteenth Arts Celebration film, which will include the stories of Juneteenth and the city's historic Magnolia House, along with dance, music and spoken word by black artists and an introspective on what freedom means in 2020.
Contact Dawn DeCwikiel-Kane at 336-373-5204 and follow @dawndkaneNR on Twitter.
Stay up-to-date on what's happening
Receive the latest in local entertainment news in your inbox weekly!