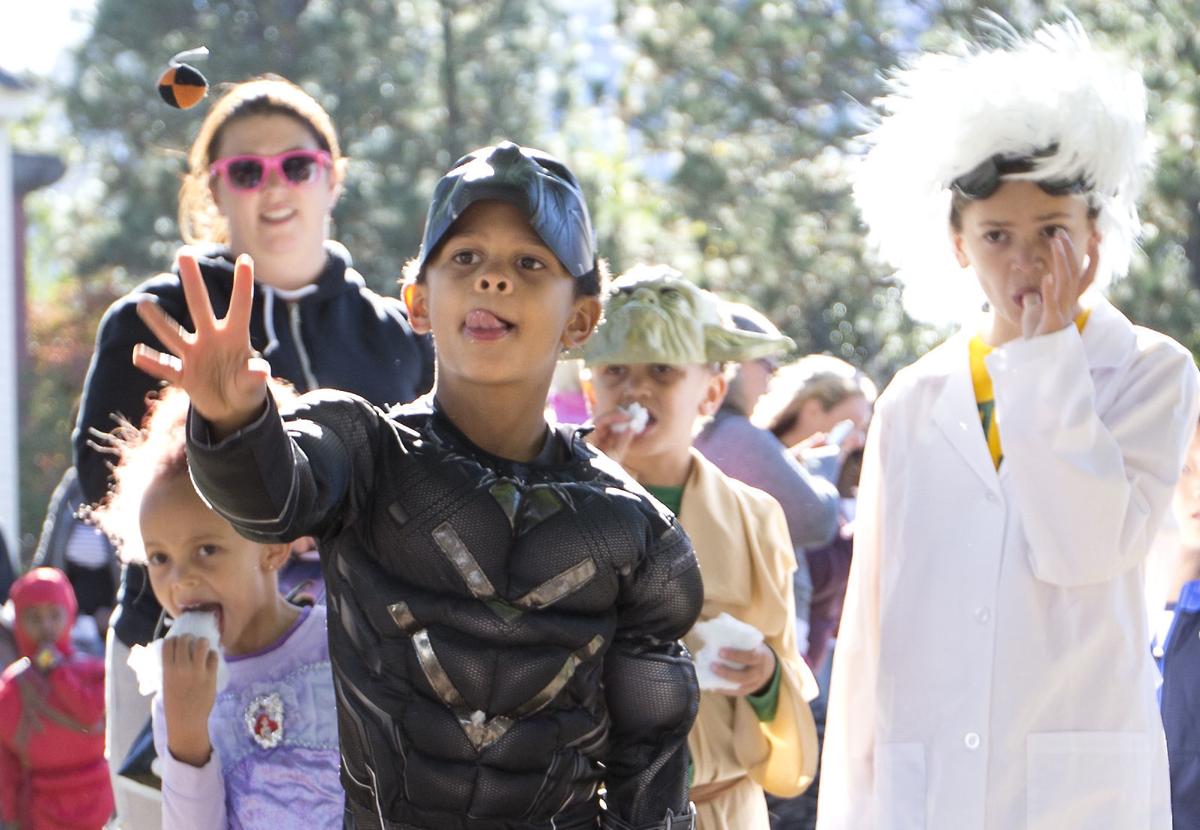 Greensboro Symphony's Pop-Up Series will perform outdoor concerts this weekend.
7 p.m. Oct. 16: A string quartet at Grove Winery and Vineyards, 7360 Brooks Bridge Road, Gibsonville. Lawn seating is $15 at grovewinery.com. Bring chairs or blankets. Or reserve a table for $29 for two, $50 for four or $70 for five. Social distancing will be observed.
3 p.m. Oct. 17: A string quartet at Greensboro Science Center, 4301 Lawndale Drive, Greensboro. Free. Will feature Disney music, Halloween melodies and more.
Halloween events
The city of Greensboro is once again sponsoring events for Halloween.
The events are free unless otherwise noted.
4 p.m. Tuesdays in October at facebook.com/GSOParksandRec: Halloween Hoopla, featuring DIY projects, games, crafts and treats. Look at the Facebook page for a list of supplies.
Through Oct. 23: GYC will host a virtual costume contest. Categories will be kids, teens, adults, groups and pets. Costumes will be judged on creativity, appearance and originality. Winners will be announced Oct. 30 via Parks and Recreation's Facebook page.
3 p.m. Oct. 15 at facebook.com/GSOLibrary: Book Talk with a Twist. Hear Halloween books and get a candy mug cake recipe.
10:30 a.m. Oct. 17 at at facebook.com/GSOLibrary: Field Trip with Miss Brandon featuring "The Little Old Lady Who Wasn't Afraid of Anything."
Oct. 17, 24 and 31 at cpfradiohour.podbean.com: The Greensboro Playwrights' Forum and Cary Playwrights' Forum will host the North Carolina Radio Play Festival featuring new Halloween-themed radio plays. Listen for free, but a donation of $5 is suggested. Every script has elements of fantasy, horror or the supernatural.
3 p. m. Oct. 20 at at facebook.com/GSOLibrary: Make your own pumpkin spice lip balm.
10:30 a.m. Oct. 21 at facebook.com/GSOLibrary: Hear the spooky story "Go Away Big Green Monster."
7 p.m. Oct. 24 at Greensboro Coliseum, 1921 W. Gate City Blvd.: Watch a free Halloween drive-in movie. Vote for your choice at facebook.com/GSOParksandRec.
10:30 a.m. Oct. 28 at facebook.com/GSOLibrary: Pumpkin Story and Counting Rhyme."
Oct. 30 at facebook.com/GHMuseum: Storyteller Cynthia Moore Brown will share ghost stories. Brown has published several volumes of spooky tales and appeared on TV and radio.
Noon Oct. 30 at facebook.com/GHMuseum: The Greensboro History Museum's weekly History Lunch Break takes a look at some of Greensboro's haunted spots and spooky stories.
Ghost stories
Watch as High Point Museum staff share a few eerie tales of local history haunts and creepy experiences for the young and old. To make the event more interactive the museum staff will be posting on Facebook fun crafts and recipes to add to the enjoyment.
Comics event
Mask Con, a local, outdoor, socially distant comic show will be from 10 a.m. to 2 p.m. and 2 to 6 p.m. Oct. 17 at Lexington Cinemas on 235 Talbert Drive in Lexington.
More than 50 artists and vendors will sell comic books and collectibles at the event, hosted by Ssalefish Comics and Lexington Cinemas. Safety guidelines will include spacing between vendor and artist tables and limits on attendance to prevent overcrowding. Buy tickets at ssalefish.net/events.
'Wizard of Oz'
Community Theatre of Greensboro won't be able to stage its annual production of "Wizard of Oz" because of the coronavirus pandemic. Instead, several "Wizard"-themed events have been planned.
10 a.m.-3 p.m. Oct. 17-18 and 24-25: "Wizard of Oz" Family Friendly Trail at Crossmill Road, McLeansville. Meet characters on a self-guided tour through Oz. Wear a mask. Tickets are $7.
6 p.m. Oct. 30: "Wizard of Oz" Movie Night at LeBauer Park, 208 N. Davie St., Greensboro. The 1939 musical film is 1 hour, 52 minutes and rated G (for some scary moments). Wear a mask. Tickets are $7 and include a Chick-fil-A sandwich.
Online concert
Music for a Great Space will host a virtual concert featuring Schwarz/Bournaki Duo & EMF Friends at 7:30 p.m. Oct. 17. The concert link will remain active for 24 hours.
Musicians will be Julian Schwarz (cello) and Marika Bournaki (piano) and will include Fabian Lopez (violin), Chauncey Patterson (viola) and Anthony Taylor (clarinet).
The event is free, but a suggested donation of $5 to $22, the cost of one usual ticket, would be appreciated.
Live concerts
The Blind Tiger will host two concerts this weekend at 1819 Spring Garden St. in Greensboro:
8 p.m. Oct. 16: Shotgun Saints (classic rock, hard rock)
8 p.m. Oct. 17: Radio Revolver (rock, dance)
Tickets are $10 in advance with a hot dog basket or $15 in advance with a ham or turkey sub basket at theblindtiger.com.
Opera show
As part of its "Pivotal Season," Piedmont Opera will present "Echoes from Carolina," two one-act productions at 8 p.m. Oct. 16 and 2 p.m. Oct. 18 live-streamed from the Stevens Center.
Act I will be "Slow Dusk" by Carlisle Floyd of South Carolina.
Act II will be "From Appalachia" by Winston-Salem's Kenneth Frazelle.
Tickets to the livestream are $20 for adults or $5 for students at piedmontopera.org or 336-725-7101. Opera personnel can advise the technologically challenged.
College play
UNCG's School of Theatre will present "Marisol" by José Rivera in on-demand streaming Oct. 15-17 at vpa.uncg.edu/theatre.
The play centers on a young Puerto Rican woman who struggles to switch between working in her cushy Manhattan job as a copy editor and going home to her rough neighborhood in the Bronx.
Country show
Liberty Showcase Theater will host country singer Tracy Byrd in concert at 8 p.m. Oct. 15 at Maplewood Hills Event Center at 6701 S. N.C. Hwy 49 in Burlington.
Rock the Vote
A Rock the Vote Concert will be from 6:30 to 8 p.m. Oct. 18 at votenc.org/party.
The event will be hosted by N.C. musicians and groups that encourage early voting.
Performers will include: hosts singer/songwriter Joe Troop of Che Apalache and cellist/singer-songwriter Shana Tucker; and musicians The Hamiltones, Alexa Rose, Lakota John, Vivica C. Coxx, Diali Keba Cissokho and Javier Montano.
Festival discussion
The N.C. Folk Festival will host the free Facebook event "Story Circle: What Must Be Done Now — Folklife Festivals, Community Commitments, and Re-Envisioned Futures" at 7 p.m. Oct. 15.
The conversation will be about the impact of the pandemic on folklife festivals hosted by the Smithsonian Center for Folklife and Cultural Heritage.
Pumpkin Patch
Starworks in Star is hosting its annual Pumpkin Patch through Oct. 31, from 9 a.m. to 5 p.m., at its website, starworksnc.org.
More than 3,000 handblown glass pumpkins and gourds in various sizes, shapes and colors will be on display and for sale.
Purchases can be shipped or picked up in person by appointment.
Stay up-to-date on what's happening
Receive the latest in local entertainment news in your inbox weekly!