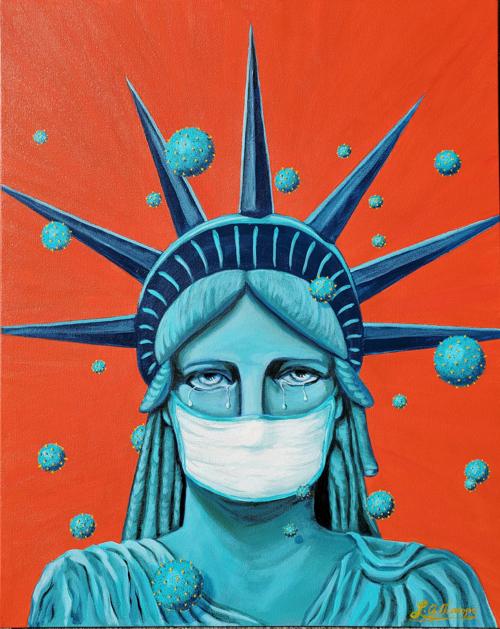 Earlier this year, Lisa Ocampo and her sister, Tiffany O'Brien, were working on an art exhibition entitled "Scary Things" that they planned to hold in July in Winston-Salem.
Then the novel coronavirus hit, and their show was put on hold.
While on furlough from her job at Telfair Museums in Savannah, Ga., Ocampo switched from working on her themed show to art pieces that expressed her concerns and fears about the pandemic.
One of them is entitled "Under Siege."
In the oil painting on canvas, the Statue of Liberty is wearing a mask with tears rolling down her face as 3-D images of the novel coronavirus float around the statue.
Ocampo said her painting has many symbolic meanings.
"The mask represents not only the need to wear a mask to protect ourselves and others but the feeling of not having much say in how our cities, states and country are handling this crisis," Ocampo said. "It feels like a gag. The statue is crying, which conveys our fears of the virus itself and the fear of what is to come and not having control of our daily lives."
Ocampo was born in Winston-Salem and still has family here, but she now lives in Savannah.
How would you describe your art?
This is a reoccurring question that I have been asked over the years, and since my art doesn't fit solely into a preset genre, I have made up my own name for the style. I call it "Pop Surreal/Southern Gothic/Narrative" which takes a few known genres and adds a Southern twist to it. There are cartoon elements to my work mixed with realism which supplies the surreal "maybe I'm in a dream" feel to it. A lot of my paintings have snippets of my dreams in them. The narrative part comes from the story that unveils itself to me as I spend hours and hours working on a piece. Almost all of my work starts with a character(s), and as I create them on the canvas their ongoing story streams through my mind. The single painting becomes one snapshot of a bigger tale, and while viewing you sense that there is more to the plot. Almost like opening a fairy tale book to a middle page and not quite knowing what happened before or what will come next. A lot of my inspiration comes from my childhood while growing up in the South. The color palette, the adventures, and the idiosyncrasies of my characters can be traced back to that place and time of make-believe with a tension between real and super natural … Southern Gothic.
How have you evolved as an artist?
Being from a very creative family I have always dabbled in many forms of art, but pertaining to painting I started out tole and folk art painting in the '80s and '90s on small hand-built furniture and accessories and then selling them at regional art fairs. I then did several murals on armoires and larger pieces and eventually was asked to do some murals on clients' walls. I think I did my first real canvas painting after seeing the subject matter of one of my sister's paintings. The style was called low-brow at that time and it opened my mind to an entirely different outlet of expression. I entered a few paintings into an art fair, and at the end of the show I had an offer from a local gallery owner to do a solo show. I have been fortunate enough to continue doing solo and group shows since then.
Who has influenced your art?
I have to give that credit to my family and more-so my dad. He was always working on art projects. We would sit at the kitchen table at night and make art. Even my mom supported the creative process with her crafty endeavors that she included me in. That was the "norm" that I grew up with so that is what I still do to this day. Other people who have inspired me in painting would be other artists — Amedeo Modigliani, Hieronymus Bosch, Marc Chagall, Mark Ryden and Joe Sorren are a few of my favorites.
What is your biggest challenge?
My biggest challenge haunts me daily. Too many ideas! I would need to live 10 lifetimes to create them all; but, of course, the ideas would keep coming, so I would need to live forever.
What does art do for you?
Literally everything. I work at a museum where supporting, advocating and helping showcase other artists' works not only gives me so much enjoyment but a paycheck. My art community and friends are like my second family. Art also gives me sanity and a way to escape everyday issues. It gives me a voice to express my inner-self and at times a voice to express my concerns about the world I live in whether it be political, environmental, racial or anything else that I feel the need to say.
Any advice for other artists?
Do what you love and do it anyway you want to. To younger or upcoming artists: Learn everything you can from whoever you can, but never ask, "Can I do it this way?" Yes, you can! To the established artists out there, I say: Keep filling our world with your beautiful art! Without it everything is ugly.
Fran Daniel writes about
artists for the Winston-Salem Journal. Contact her at
336-727-7366.
Concerned about COVID-19?
Sign up now to get the most recent coronavirus headlines and other important local and national news sent to your email inbox daily.