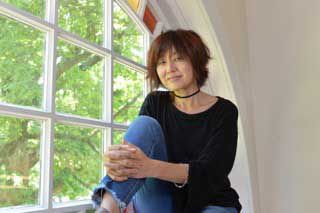 GREENSBORO — The phone call last summer took HyeKyung Lee by surprise.
Gerard Schwarz, former conductor of the Seattle Symphony and music director of the Eastern Music Festival, wanted to commission her to create a new musical work.
"I couldn't believe it," said Lee, a composer and pianist at Denison University in Ohio. "I kept telling myself, 'Don't get high hopes. It might not get through.'"
She feels fortunate and honored that it did.
HyeKyung (pronounced Hay-kyoong) Lee has composed a work titled "Climbing Tomorrow," through EMF's Bonnie McElveen-Hunter Commissioning Project.
The 16-minute composition will premiere Saturday at the faculty's Eastern Festival Orchestra concert in Dana Auditorium at Guilford College.
"The piece is wonderful," Schwarz said. "I think the audience is going to be really knocked out with it."
It will open a concert that also will feature Kun-Woo Paik performing the Rachmaninoff Piano Concerto No. 2, Grammy Award-winning guitarist Jason Vieaux performing Castelnuovo-Tedesco's Guitar Concerto No. 1, and the orchestra playing Hindemith's "Symphonic Metamorphosis of Themes by Carl Maria von Weber.
McElveen-Hunter, a former U.S. ambassador to Finland and the founder and chief executive officer of Greensboro's Pace Communications, financed the 10-year commitment to the creation of new works.
"Climbing Tomorrow" is the fifth composed and performed at EMF as part of the project. Past years have included compositions by Andre Previn, Richard Danielpour, John Corigliano and Lowell Liebermann.
"I am honored to be able to contribute to the continuing support of brilliant young artists and am particularly delighted for Greensboro to play such an important role in the music world, through the Eastern Music Festival under the direction of Maestro Gerard Schwarz," McElveen-Hunter said via email.
McElveen-Hunter has dedicated each piece commissioned through the project to family and friends.
She dedicated this work to Michele Kang. Kang is a leader in the field of health information technology and founder and chief executive officer of Cognosante, a Virginia health information technology company. She mentors women and girls in promoting science, technology, engineering and math studies.
Kang "has achieved extraordinary personal and professional accomplishments," McElveen-Hunter said. "But perhaps more importantly, Michele is a woman of integrity and compassion who has enriched my life in so many ways, as well as the lives of anyone with whom she engages."
McElveen-Hunter had asked Schwarz to find a Korean American composer for the commission, Schwarz said.
He sought advice and ideas from major organizations such as the American Society of Composers, Authors and Publishers (ASCAP) and Broadcast Music Inc. (BMI).
He discovered Lee's music, particularly a saxophone quartet titled "A-ri-a-rang."
"It was fantastic music," Schwarz said.
When he spoke with Lee about the commission, "She was thrilled to be part of it," Schwarz said. And McElveen-Hunter was thrilled with Lee's selection.
The inspiration for "Climbing Tomorrow," Lee said, "came from these two amazing women, Bonnie and Michele, the most influential leader and mentor in the country who have been working so hard to make the world different and better."
As with all of Lee's music, the piece "uses minimal musical materials to capture contrasting emotions in various textures and forms," Lee wrote in program notes.
It begins, she wrote, "with a calm melody over a shimmer of strings and harp. The aspiration between driving repeated 16th notes and tension between quarter notes continually grows and changes shape. ... The perpetual motion between harp, piano and percussion keeps the piece constantly moving forward until it reaches an outburst of unison rhythm, only to conclude with more yearning."
Lee, who spoke with McElveen-Hunter and Kang briefly by phone, looks forward to meeting them and Schwarz this week in person at EMF.
She admits that she's nervous about the premiere, and hopes that performers and the audience will enjoy it.
"I am so lucky to get this incredible opportunity to write a big orchestra piece and be performed by such a distinguished conductor and musicians from across the nation," Lee said.
McElveen-Hunter will attend the concert with Kang and Kang's family.
"I always prefer to share the premiere with the person being honored," McElveen-Hunter said. "So I have not heard a sneak preview at all but have heard it's spectacular."
Contact Dawn DeCwikiel-Kane at 336-373-5204 and follow @dawndkaneNR on Twitter.
Be the first to know
Get local news delivered to your inbox!