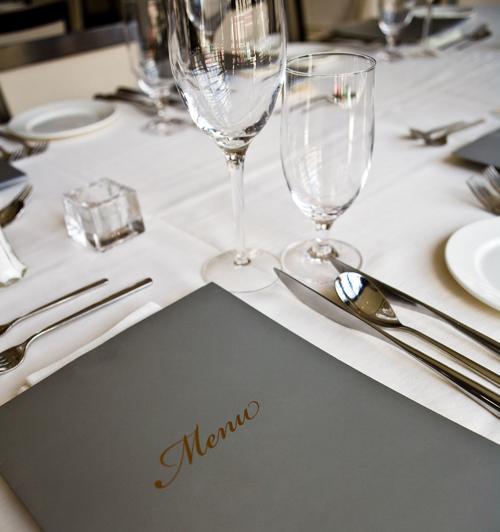 Imagine sitting at an L-shaped lunch counter on a tufted blue stool, and you slowly spin around to face the rest of the seating area.
A cluster of square tables and folding chairs are spaced out across the floor; the drugstore is just beyond a lattice partition. Beside you, two small children twirl on the spinning stools, swinging their legs with merriment. A young man donning a business suit sits solo at a table, crunching on potato chips from an open bag. A hot dog cradled in a crinkled paper napkin, loaded with coleslaw and chili sits beside him.
A bevy of teenage girls are seated at another table, laughing and pointing at a media device while intermittently sipping from large Styrofoam cups. Couples, parents with their children and ladies who lunch all were having conversations among themselves between bites and sips.
You don't have to imagine this scene because you can experience it at Brown-Gardiner Drug Store with its pharmacy, soda fountain and lunch counter. The store has been an institution over 50 years. Customers can enjoy the legendary fresh-squeezed lemonade or orangeade, grilled cheeses, fresh salads, hot dogs and a number of specialty items that bring back memories and a piece of nostalgia for many who cross its threshold.
People from all stages of life go to Brown-Gardiner to pick up prescriptions and sundries and to spend time with one another at the lunch counter. I'd heard talk of "the old drugstore" that sells fresh-squeezed orangeade" for years. My first job was at a local ice cream and soda shop, not unlike this one. I have fond memories of using a hand-cranked juicer to squeeze lemons for fresh lemonade and ladling simple syrup in glasses for milkshakes, cream sodas and other citrus drinks.
I went solo to experience the store in all its glory. My server, who was new on the job (it was her first day), was kind, didn't know the answers to any of my questions, but quickly found the answers by asking some of the more seasoned crew.
I asked my server for more time to peruse the menu. As she turned her back to assist someone else, I noticed her shirt and several others. All of the staff behind the counter had on T-shirts that read "Brown-Gardiner: Home of the Nanny Special" I was told it's the signature sandwich, named after Imogene "Nanny" Sells, who ran the soda fountain for 23 years until she passed away in 2008.
I was a little hesitant about ordering it because the description for the sandwich is "grilled steak, grilled onions, Swiss cheese, special sauce on a hoagie." I asked about the special sauce: Is it mayonnaise based? Mustard based? An older lady turned to me and said, "I don't know, but I believe it's ketchup-based."
When asked how it tastes, she replied, "kinda sweet" and went back to her duties. I'd never felt more sorry for asking about the house special than on this day. I elected not to get the special and stick to tried and true: grilled cheese and chicken salad on wheat with a small bag of original Lay's potato chips.
My sandwiches were run-of-the-mill with toasted bread. The chicken salad had mayonnaise and celery folded into it. I did not know I could have added tomato, lettuce, pickles or even cheese to the otherwise plain sandwich. Maybe this is why so many like this place. It definitely reminded me of something I'd make at home for myself. My grilled cheese was simple, too, with a buttery exterior and two slices of melted American cheese.
A pile of hollowed out lemons sat on the counter next to the hand-operated juicer. I hoped I'd see a fresh drink being made, but my 'ade was assembled with premixed parts and that was a huge disappointment. I ordered an orangeade first, thinking I could sip on it and take my time ordering my lunch. My server needed assistance and an older lady took a Styrofoam cup, filled it with ice and poured what looked like simple syrup over the ice, nearly half the cup, and then poured thick orange juice from a large container that probably had a former life as a mayonnaise jar. It arrived with a lid and a straw.
I have to admit, it was not the best drink I'd ever sipped. It was not refreshing. It did not evoke memories. If anything, it made me think I might have needed to visit the drugstore for a digestive remedy. It was more sugar syrup than 'ade, and I was too chicken to ask for a redo as the counter had started to get busy and phone was ringing incessantly.
The fact that a place like this has existed this far into the age of automated soda dispensers and big-box pharmacies is refreshment in itself. If you want a piece of nostalgia, a toasty sandwich or a handcrafted drink, this is the place for you.
Oh, and they have the good ice, y'all.
Casual Dining features local restaurants for diners on a budget. It runs the second and fourth Thursday of the month. Contact Nikki Miller-Ka at nicolettemiller.ka@gmail.com.