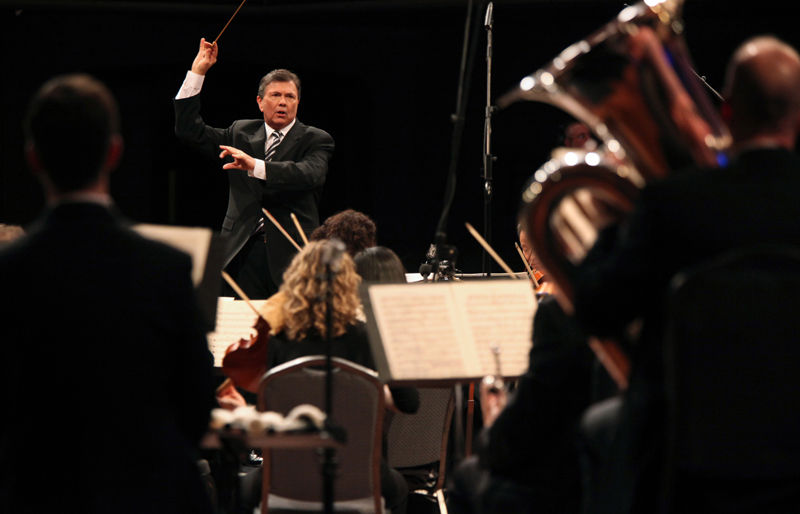 GREENSBORO — With the Eastern Music Festival over for another summer, its maestro has focused his baton on another orchestra.
On Aug. 26 and 27, Gerard Schwarz will conduct his All-Star Orchestra in New York state to record a second season of the Emmy Award-winning PBS program that features the orchestra.
"The All-Star Orchestra" four hour-long concerts are expected to air next spring on PBS television stations around the country, including UNC-TV.
The series teaches children and adults more about classical music through free public television, with the aim of expanding the audience for live concerts.
"For me, it's the greatest experience on a musical level," Schwarz said.
An internationally known conductor, Schwarz spends his summers as music director at EMF, the music school and concert series on the Guilford College campus. Faculty members come from across the country to teach and perform.
In 2012, in his home city of New York, Schwarz hand-picked top classical musicians from orchestras nationwide — including EMF — to form The All-Star Orchestra.
Cameras filmed as they performed symphonic masterpieces and contemporary works, mixing in commentary from Schwarz, musicians and experts.
The first season aired in 2013, winning honors for special event coverage and audio post-production at the 2014 New York Emmy Awards.
The series also won the ASCAP Foundation's Deems Taylor Television Broadcast Award.
The project extended beyond television.
Classical music distributor Naxos of America released the series on DVD.
The website at www.allstarorchestra.org has become an interactive educational resource for children and adults who want to learn more.
In addition to the TV episodes, it includes lessons on composers and music fundamentals, interviews with musicians — even a conducting lesson from Schwarz.
Materials also are available on the website of the Khan Academy at www.khanacademy.org, a nonprofit organization that provides free online classes and education resources.
"There is so much we are able to do because we have these wonderful shows, this great music and these great players to make music education really vibrant," Schwarz said.
Now, Schwarz prepares to record the second season.
He has raised about $1.2 million from donors to make it happen.
He has recruited about 100 players from major orchestras such as the New York Philharmonic, Boston Symphony, Philadelphia Orchestra and two that Schwarz led for major parts of his career — the Seattle Symphony in Washington state and New York's Mostly Mozart Festival Orchestra.
The 11 EMF faculty members who will perform include concertmaster Jeffrey Multer of the Florida Orchestra and Leonid Finkelshteyn, principal bassist for the North Carolina Symphony.
The second season will feature the world premiere of a violin concerto by composer Samuel Jones.
The orchestra also will perform Mozart's "Posthorn" serenade, Richard Strauss' tone poem "Ein Heldenleben" and Rimsky-Korsakov's "Scheherazade."
The final concert will feature a jazz-influenced program of George Gershwin's "Rhapsody in Blue" and Aaron Copland's "Music for the Theatre."
"For me, it's a dream come true," Schwarz said. "It's what I have been working toward all my life — a series with great performances and great artists, with a serious educational connection to help grow the audience for classical music."
Contact Dawn DeCwikiel-Kane at (336) 373-5204, and follow @dawndkaneNR on Twitter.
Be the first to know
Get local news delivered to your inbox!