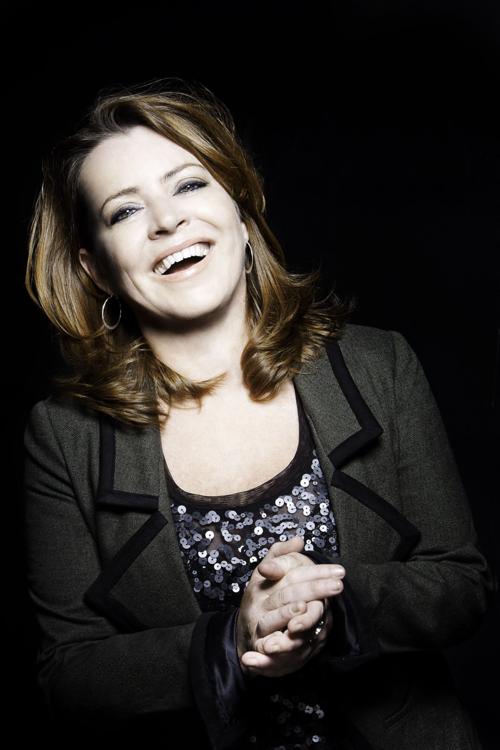 Comedian Kathleen Madigan calls Los Angeles home, but since she performs 300 shows a year, her real home is the road. She happened to be in Nashville when she spoke by phone about her upcoming show in Greensboro.
During the call, she is packing for a flight to the Pacific Northwest, where she'll be performing in Seattle and Spokane. Her current round of dates, dubbed "The Mermaid Lady Tour," is based on a routine inspired by the mermaid-themed airport in Norfolk, Va.
Madigan is one of America's most popular comics, having guested on every TV show over the past quarter-century that a comic might appear. She made 25 appearances on "The Tonight Show With Jay Leno" and seven on "The Late Show With David Letterman."
She has filmed comedy specials for HBO, Comedy Central and Netflix. She's also turned up on fellow comic Ron White's annual "Salute to the Troops" five years in a row and traveled to Iraq and Afghanistan on USO tours.
Madigan has an earthy, plain-spoken sense of humor. She doesn't tiptoe delicately around subjects but tackles them head-on. She is also refreshingly unpretentious about what she does.
"I just like to tell jokes for an hour or so and laugh," she says.
Are you still keeping up a 300-night-a-year pace?
Pretty much, yeah. That's why I like it when they say, "How long's your tour?" I say, "So far, 27 years. I'll let you know when it lets up."
Are there days when you wake up and think "I don't feel funny today. How am I going to do this?"
It's not that I don't feel funny. It's more like I don't feel like going anywhere. I'm fine feeling funny. That's not the hard part. It's like packing, which I'm doing right now. I'm just sick of it! And I've got it down to a science, for the most part. I've done everything you can to make it painless, and it can still be painful.
How did you happen to get into comedy? I read that early on, you were more into music.
I didn't know you could be a comedian. I didn't know that was a job. I thought those people on Johnny Carson were just funny people who just came there. (laughs) I didn't know they made a living doing that. So I initially wanted to be a rock star, like Heart, who I just saw the other night. But I didn't do anything about that.
At one point a few decades back a lot of comics suddenly got very popular and people were saying, "Comedy is the rock of the 1980s." Has the job ever made you feel like a rock star?
Yeah, maybe as far as what I'm doing onstage. But offstage, no. There are a few, like Carrot Top, who's a friend of mine, who always made comedy rock star-ish. But the rest of us, we're just standing there talking, so you can only look so cool. It's not like rock 'n' roll. As far as the lifestyle, the glamour, we really don't have any of that. We are so boring, for the most part. We do a show, we have a glass of wine afterward, and we go to bed.
So you don't have groupies?
(laughs) No! There's no groupies that I'm aware of.
What's your take on the political climate in this awful year? Is that something you address in your shows?
I do. I don't go as deep as someone like Lewis Black would go. Mine's more pointing out the absurd. Like the Libertarian guy, Gary Johnson. I feel that most Libertarians are named Gary, smoke a lot of weed, and hike a lot. Which is wonderful, but I don't know if that is enough to run a country. The Libertarian thing to me is like acupuncture. It might work, but we really need some Advil. Our situation is too big a problem to say, "Let's just shut down some government stuff and everybody roll on your own, OK?"
Presidential candidate Donald Trump must seem like a gift to comedians.
I do stuff in my act about him and about Hillary Clinton and the media. I've never seen anyone manipulate the media as well as Trump has done. That's what he should teach at his fake university! "How to Manipulate the Media in Five Easy Steps."
You're coming to a state that's been in the news for all the wrong reasons, as you're no doubt aware.
I am because (comedian) Lewis Black is my (best friend). He went to Chapel Hill, and I tease him a lot because he's all Mr. North Carolina during the basketball season.
And then when I see these crazy things in the news, I'm like, "That's your thing, Lew. You'd better get down there and talk to your people!"
You talk a lot about family and growing up in St. Louis.
The Rams are the newest thing. Oy. We're the only city in American that's lost a team twice. Sports radio is going: "How are we gonna get another team?" And I say, you know what? If you've been married and divorced twice, then maybe you shouldn't get married again. Maybe we shouldn't get another team. Maybe we should get cats. That's what people who can't seem to manage a relationship do.
So who's your team? Who do you root for?
Anybody that's playing the Rams or the Cardinals. My Sundays are filled with hate! (laughs) At least I can admit that with a smile on my face.
You've been on so many TV shows. Of all the talk show and variety show hosts you've encountered, who has most impressed you as a wit or intellect or whatever?
They're better at different things. David Letterman was the best at being quiet at the right times when interviewing people. Jay Leno was the best at consistency. You knew exactly what you were gonna get, and he gave it to you every night. Craig Ferguson, I liked because I felt he didn't even care if the cameras were on, he just wanted to have a conversation with you. As far as clicking with somebody's intellect, I'd say Larry Wilmore would be my favorite to hang out with. If I was just sitting at home in my pajamas watching the news, I'd probably have the most fun with Larry.
I saw a very funny skit you did about golf. Do you golf?
Lewis and I golf together, and Ron White is my other golf buddy. I have little golf buddies everywhere. During your first 10 years in comedy you're in a city for five days and you have 23 hours a day off. You need to figure out something to do. There was always some local public course where we could play for like 20 bucks, so it wasn't expensive or fancy, but it was something to do, and it's fun, and you're outside, so you're at least getting some exercise.