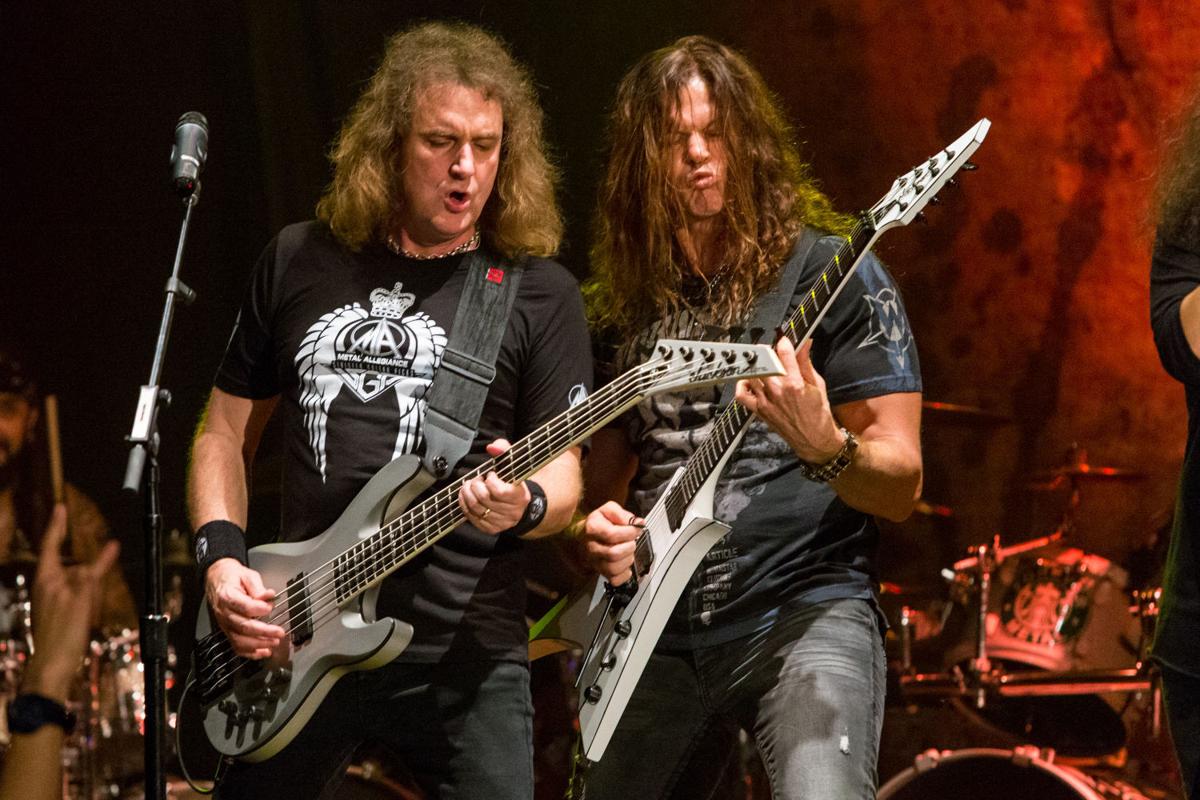 When Megadeth bassist Dave Ellefson talks about the beginning of his musical career playing the bass guitar, he doesn't believe that it was up to him.
"People ask me why I chose the bass, I'm like: 'I didn't. The bass chose me.' " he says. "I was 11 years old living in Jackson, Minn., and I heard rock 'n roll on WLF-AM out of Chicago every morning on the school bus. And that's what got me into bands like Styx, KISS, Sweet, Foreigner and all kinds of other up-and-coming bands at that time. I don't know why the bass called to me, but for some reason, it did."
Megadeth, which will perform in early May at Carolina Rebellion in Concord, has had a long and storied career, standing as one of the most revered heavy metal thrash bands in the heavy metal community. After being fired from Metallica for his alcohol and substance abuse, lead singer Dave Mustaine moved to Los Angeles from San Francisco determined to start fresh when he met up with Ellefson. From there, Megadeth began its thunderous birth the way many rock bands do: through friendship and a love of unhealthy vices.
"In 1983, I moved from Minnesota out to Los Angeles," Ellefson says. "I actually moved into an apartment right underneath Dave Mustaine. I went up and knocked on his door, and first asked him if he knew where to buy cigarettes. Which was followed by a second knock on the door, which was 'Hey, do you also know where to buy some beer?' And that's where it started! Every good metal band drinks beer and crushes riffs. He was 21, I was 18, and he had just moved on from Metallica, so it was a perfect storm. And that was the beginning of Megadeth."
During Megadeth's 30-plus year career, Ellefson and Mustaine have been the band's primary members, creating genre-defining heavy metal classics, such as 1986's "Peace Sells ... But Who's Buying?" and 1992's "Countdown to Extinction."
The group's newest release, this year's "Dystopia," is being heralded as new classic in the Megadeth catalog, displaying catchy riffs and dizzying musical craftsmanship. But before they began recording what would ultimately become "Dystopia," Megadeth had been struggling to move past the legacy of what many long time fans consider to be their musical apex, 1990's "Rust in Peace."
"There was always this calling from our fans to revisit the 'Rust In Peace' lineup, which we had all moved on from, including those former members," he says. "So, we all had a meeting. Had a discussion. We even did a little bit of playing together. And we realized that it would be better to remain friends and leave that legacy sit as the heroic memory that it is in the minds of so many of our fans. It was clear — the past is the past. We're going to let that truly rest in peace, if you will. No pun intended."
With the decision put firmly in place to sail into new musical waters, Ellefson and Mustaine quickly recruited former Angra guitarist, Kiko Loureiro and the current Lamb of God drummer, Chris Adler, who has been a dedicated, lifelong fan of Megadeth.
"He got to have his fan boy moment, saying, 'Man, I listened to the ('So Far, So Good ... So What!') cassette so much, I wore it out!'" Ellefson relates with a chuckle. "And I think a lot of fans are thinking Chris might come in and bring his Lamb of God sensibilities into Megadeth ... and that's not easy, because artists always bring with them their own signature sound. And I think what you hear on 'Dystopia' is you hear Chris Adler being a phenomenal Megadeth drummer."
Now, with the universal acclaim being heaped upon "Dystopia" by both fans and critics alike, Ellefson says he believes the Megadeth sound will continue to steadily grow and evolve.
"What's really cool about 'Dystopia' is that fans used to always clamor for things of the past," Ellefson says. "Those days seem to be over. I think we finally transitioned past that. Megadeth has been reborn."