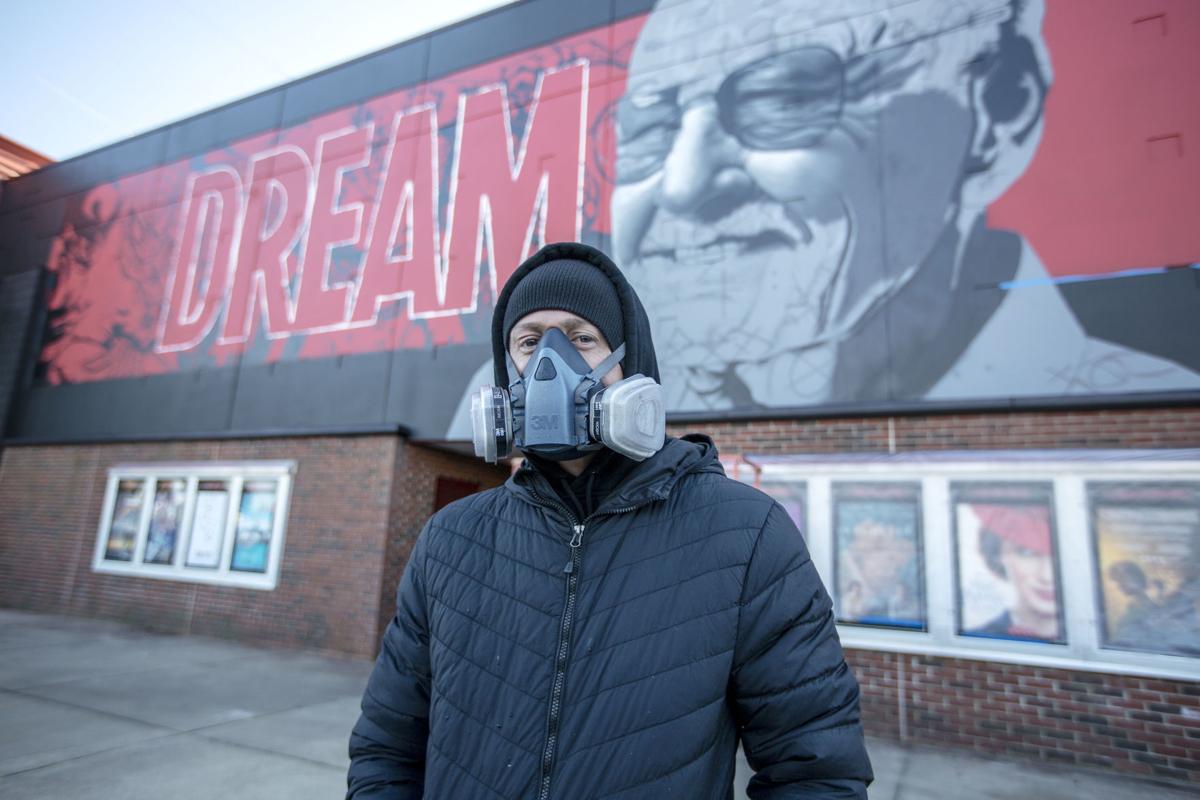 GREENSBORO — Drive south on Battleground Avenue and encounter a 30-foot Wonder Woman.
Walk behind The Forge and Greensboro Project Space along railroad tracks off West Lewis Street, and look for the late rapper Mac Miller, far larger than life.
Travel by train through downtown and glimpse a 130-foot nude woman. 
Nearby on East Washington Street, find a portrait of late civil rights icon J. Kenneth Lee.
Peak inside Pig Pounder Brewery's Pavilion for three different visual perspectives of President Donald Trump.
The past few years have brought a bounty of bright and bold murals — from artists local and international — to enliven blank walls in center city and beyond.
"There's a lot more than I anticipated, and the standard is really high," said an artist from Ireland who goes by the names of Aches, brought here this month to paint the portrait of local civil rights attorney J. Kenneth Lee on Studio 503 on East Washington Street. "For a small city, I think the scene is pretty good."
Much street art can be found downtown and in Midtown, the heavily-traveled district of restaurants and entertainment along the Battleground Avenue corridor. Some pieces are conspicuous; a few are tucked away.
Most decorate private buildings, particularly those owned by developer Marty Kotis in downtown and Midtown. 
Seeing is believing: Walk behind The Forge along railroad tracks off West Lewis Street and look for the late rapper Mac Miller, far larger than life.
His Tracks Bazaar and Tracks Beer Garden projects, on eight acres near West Gate City Boulevard and South Eugene Street, resemble an outdoor gallery of art.
A few murals cover government-owned structures, such as parking decks and the domed tank at the Mitchell Water Treatment Plant.
Photos of the Mac Miller mural, created in September by Greensboro-based street artist Brian Lewis, aka JEKS, have gone viral on social media around the country and abroad. Visitors from other states have stopped by.
Credit much of that scene not only to mural artists, but to street-art advocates such as creators of No Blank Walls and the Greensboro Mural Project, developers Kotis and Andy Zimmerman and local artist Phillip Marsh.
Marsh, who owns Rockers Print Shop, has a passion for public art and for bringing more creative projects to the city's eastern section.
He arranged the Mac Miller and Kenneth Lee portraits on two Zimmerman-owned buildings.
Marsh gave creative freedom to and covered costs for Virginia artist Nils Westergard, who painted the nude woman stretched out on the back wall of AWOL Fitness on East Washington Street.
Murals have sparked curiosity and conversation — and, with the nude woman, both compliments and a few complaints. 
Michele Lee appreciates the portrait of her grandfather, J. Kenneth Lee, who died in July at age 94.
Eye of the beholder: Artist Matt Adnate takes a break from painting a large mural of a Lumbee Indian on an overpass in Greensboro.
"When I drove up, I was very happy to see my grandfather's eyes," she said as she watched Aches paint. 
Then she was off to see another portrait of her grandfather that Aches painted at Tracks.
Cheryl Stewart, a consultant for the Public Art Endowment of the Community Foundation of Greater Greensboro, expresses enthusiasm for the national and international trend that has gone local.
The endowment focuses more on financing three-dimensional, more permanent sculpture, rather than on murals that will last 10 to 15 years.
"But we want to encourage public art in all forms," Stewart said. "We think this mural movement is fun and exciting."
"Some people think, 'Oh my gosh, another mural,'" Stewart added. "But anything that opens up an opportunity for people to have dialogue about art or about a mural, is what it's all about. That means it's a success."
One of the city's first downtown murals appeared in 1981, when local artist Wendy Wallace painted a giant scene of old Greensboro on a wall at West Washington and South Elm streets, now the location of Liberty Oak restaurant.
It lasted 18 years with repairs, until replaced by a building renovation project.
Other murals appeared over the years. 
In 2011, Alyzza May founded the Greensboro Mural Project with Katrina Siladi.
Its first mural covers a wall bordering the Edible Schoolyard at the Greensboro Children's Museum.
The Mural Project brought a whimsical monster, painted by artist Jeff Beck, to the wall on Friendly Avenue near Mendenhall Street. Artist Justin Poe designed the wall scene outside the Interactive Resource Center, the East Washington Street center serving people experiencing homelessness.
View from here: The artist "Jeks" used his own baby picture to paint this mural on the back of the Westover Gallery of Shops.
Beck created No Blank Walls with Ryan Saunders to bring more murals downtown.
Mural output accelerated when Kotis entered the scene.
Kotis developed his interest in street art on visits to Berlin and the United Kingdom. 
In the last three years, Kotis has commissioned more than 50 street art installations here.
Most are in Midtown, as well as downtown and his Tracks projects.
Many lie along the developing Atlantic & Yadkin Greenway.
Kotis aims for more than 100.
They reflect his desire to turn the city into a street art destination that will retain millennials and give the city a reputation for being cool.
"I have the walls, I have the wherewithal, and I have the interest," he said. "This is another tool in my tool box to improve the building and the area."
In summer 2017, Kotis recruited renowned Australian artist Matt Adnate, to create large murals on two of his commercial properties.
Adnate and his wife, artist Jessica Crema, painted portraits of Lumbee Indians in full regalia.
One covers an expansive concrete wall in Tracks.
Drivers heading south on Battleground Avenue see the other on the Midtown Financial Advisors building.
Nearby on Battleground, Adnate and other local and international artists have added massive images to the exterior of Red Cinemas.
A glimpse of history: An artist from Ireland called Aches paints a portrait of late Greensboro attorney J. Kenneth Lee on East Washington Street.
Britist artist Dan Kitchener, aka DANK, created a "Blade Runner"-inspired painting. 
JEKS depicted Ryan Gosling's character from "Blade Runner 2049." 
Adnate painted the mutant Wolverine and antihero Deadpool engaging in combat.
Spanish artist Miguel Ángel Belilchón Bujes, aka "Belin," painted Wonder Woman. When he posted a photo on the online photo-sharing site Instagram, it quickly gained over 10,000 likes and nearly 300 comments.
Joos "Does" van Barnevel, who came from The Netherlands, created the design for the theater's north-facing wall.
Last week, JEKS added to Red Cinemas' exterior art with his large mural of Marvel Comics legend Stan Lee, who died earlier this month at 95.
Aches was impressed with other international artists who have left their mark in the city.
"It blew me away to see the likes of Adnate and Belin having two portrait murals a couple of feet away from each other," Aches said. "They are two of the best photo-realistic muralists in the world at the moment."
Across Battleground Avenue, find one of Kotis' newest additions: a more controversial, Trump-themed mural inside his Pig Pounder Pavilion. 
"No Filter" was conceived by the Greek artist Insane 51. Through the red filter, viewers see an image of Trump. Through the blue filter, they see an image of President Trump ... as a pig. With the naked eye, they see both.
JEKS savored meeting international artists such as Insane 51. 
"I love the fact that there's artists from around the world that I probably never would have crossed paths with; they are here and doing some of the best murals in the world in little Greensboro in North Carolina," JEKS said during a break from painting Stan Lee.
"I know even people in Atlanta are like, 'Greensboro's got a crazy arts scene.' It's got some awesome curators, is what it has," JEKS said, referring to Kotis and Marsh.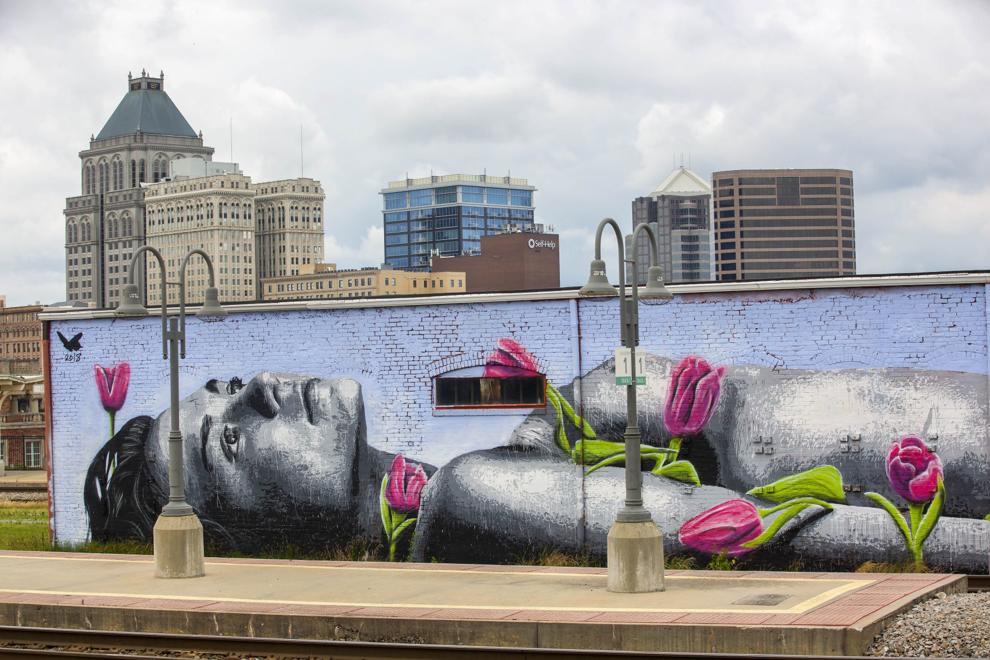 Marsh, who recruits mural artists such as Aches from at home and abroad, expresses frustration about the lack of a central public fund to pay them.
"When artists come in, I have to kind of run around like a chicken with my head cut off to try to find money," Marsh said.
He received a Spark Grant from Downtown Greensboro Inc. and Action Greensboro — matched by Zimmerman — to finance Arches' work, expenses and equipment, which all totaled $5,000.
He helped to secure $30,000 for two 80-foot murals murals on the Bellemeade parking deck, painted by the artist DAAS in 2017. They were among the Participatory Budgeting Cycle One projects approved by District 3 residents. 
Marsh also helped develop the project in which David "Mr. June" Louf, an artist from Rotterdam in the Netherlands, turned the water tank at Mitchell Water Treatment Plant into a canvas for his art. Water and sewer revenue financed the $19,750 project. 
But aside from that, "A city public art program of over 250,000 people is being funded basically by two people," Marsh said, referring to Kotis and himself.
Down the road, a proposed master plan for the local arts scene could address the funding issue.
It calls for the City Council to enact a percent-for-art ordinance — typically 1 percent to 2 percent of capital budgets — to finance inclusion of art in municipal projects.
Under the proposal, the requirement would be extended to new private commercial, industrial and residential (excluding single-family) development to encourage art in public places.
It also would allow for options ranging from installation of public art in and around those projects; inclusion of an arts-related venue within the development and the option of giving the city a fee in lieu of public art. That money could be used for other projects.
Other areas of the plan also could make grants available.
Charlotte, Raleigh and Winston-Salem are among cities with percent-for-art ordinances, Marsh pointed out. Greensboro needs more funding not just for murals, but for all creative projects, he said.
"We need immediate action," he said, "not a five-year plan."
Contact Dawn DeCwikiel-Kane at 336-373-5204 and follow @dawndkaneNR on Twitter.