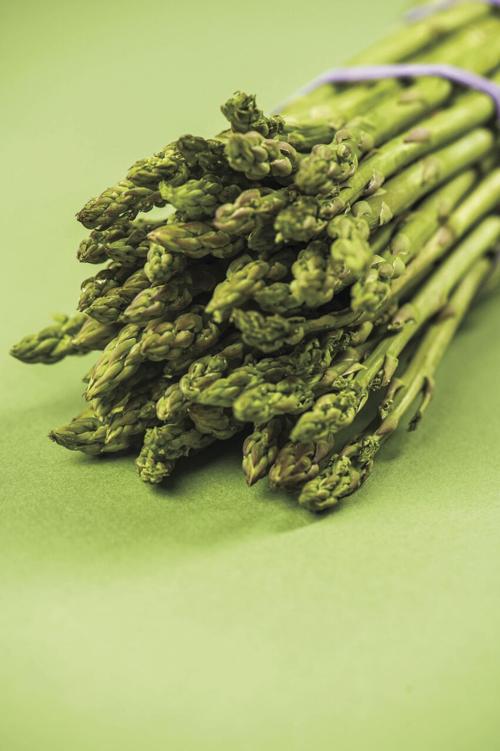 One of the greatest joys of my home garden is my asparagus bed. Planted for about seven years now, this patch of perennial goodness just keeps getting better every spring.
I've written a few times about my infatuation with growing asparagus, but only in regard to establishment and cultivation. Granted, the hardest part of installing an asparagus bed is the initial trenching and planting — but there's more to be said about the care of the crop after the spring harvest. Early summer is a great time to learn how to put the asparagus bed to bed.
In North Carolina, our asparagus season runs six to eight weeks, starting in April. It was a great spring for my asparagus harvest, as the mild temperatures led to a prolonged season. Hot weather slows down the crop, which is only now starting to happen in my garden.
Knowing when to stop harvesting is the first step in putting your asparagus bed to bed. When the heat sets in, the spears will slow down and get smaller. As a general rule, when the diameter of spears are the size of a pencil or smaller, stop harvesting. Although there will still be a few perfect sized spears to come, you should avoid harvesting them, and just let them go to fern.
When you stop harvesting asparagus, the spears will begin to form ferns, many of which will grow tall and bush out. This is important for the health of the plant, which helps to rejuvenate the crowns, providing nutrients for next year's crop.
Once your asparagus bed starts to fern out, continue to keep a watchful eye out for weeds. Weeds are an asparagus bed's worst enemy, so don't let them get ahead of you. Incorporate a weekly weeding of your asparagus, the same as you would for the rest of your garden. Just because the crop is dormant, doesn't mean that you should ignore it.
Early summer is also a good time to fertilize your asparagus bed. Feeding it now will give added vigor to the ferns, which in turn feeds next year's spears. Asparagus loves organic matter, especially cow manure. Spreading an even layer of manure or compost around the ferns will be enough to feed. An organic granular fertilizer will also work well, such as Plant-tone. I've also read that adding a fertilizer high in nitrogen is good for the asparagus bed, as it boosts the green growth of the ferns.
It's imperative to let the asparagus ferns grow the remainder of the season undisturbed. In late fall after several hard freezes, the foliage will brown and deteriorate, at which point it can be pruned to the ground. It's actually a good practice to remove the foliage in early winter, as it cuts down on overwintering pests. Larvae of asparagus beetles is common in asparagus foliage, so once pruned the plant material should be removed and destroyed.
I've also talked to fellow gardeners who choose to burn off their asparagus beds. Although I've never tried it, it makes a lot of sense — killing two birds with one stone. Instead of pruning back freeze-burned foliage and transporting it away from the garden, burning annihilates the plant material and destroys all traces of asparagus beetles. I'm not condoning the practice, though, as intentionally setting fires can have consequences.
The last thing to do when putting the asparagus bed to bed, is a new layer of mulch. After you've removed the foliage, a fresh layer of mulch helps to insulate the crowns and add a little organic material into the soil. For years, I used straw, but I have switched to shredded hardwood mulch. It tends to keep moisture better and really cuts down on weeds.
So even though these asparagus bed chores are spread out over the season, they are all important to ensure a healthy crop will grow again the following spring. I feel a little sad this time of year when I have to stop cutting spears, but I know it's for the best.
Watching my small asparagus bed get stronger and more productive every year has been extremely rewarding. And if I continue to care for it like I should, I'll have at least another decade of harvests ahead of me.
Amy Dixon is an assistant horticulturist at Reynolda Gardens of Wake Forest University. Gardening questions or story ideas can be sent to her at www.facebook.com/WSJAmyDixon or news@wsjournal.com, with "gardening" in the subject line.