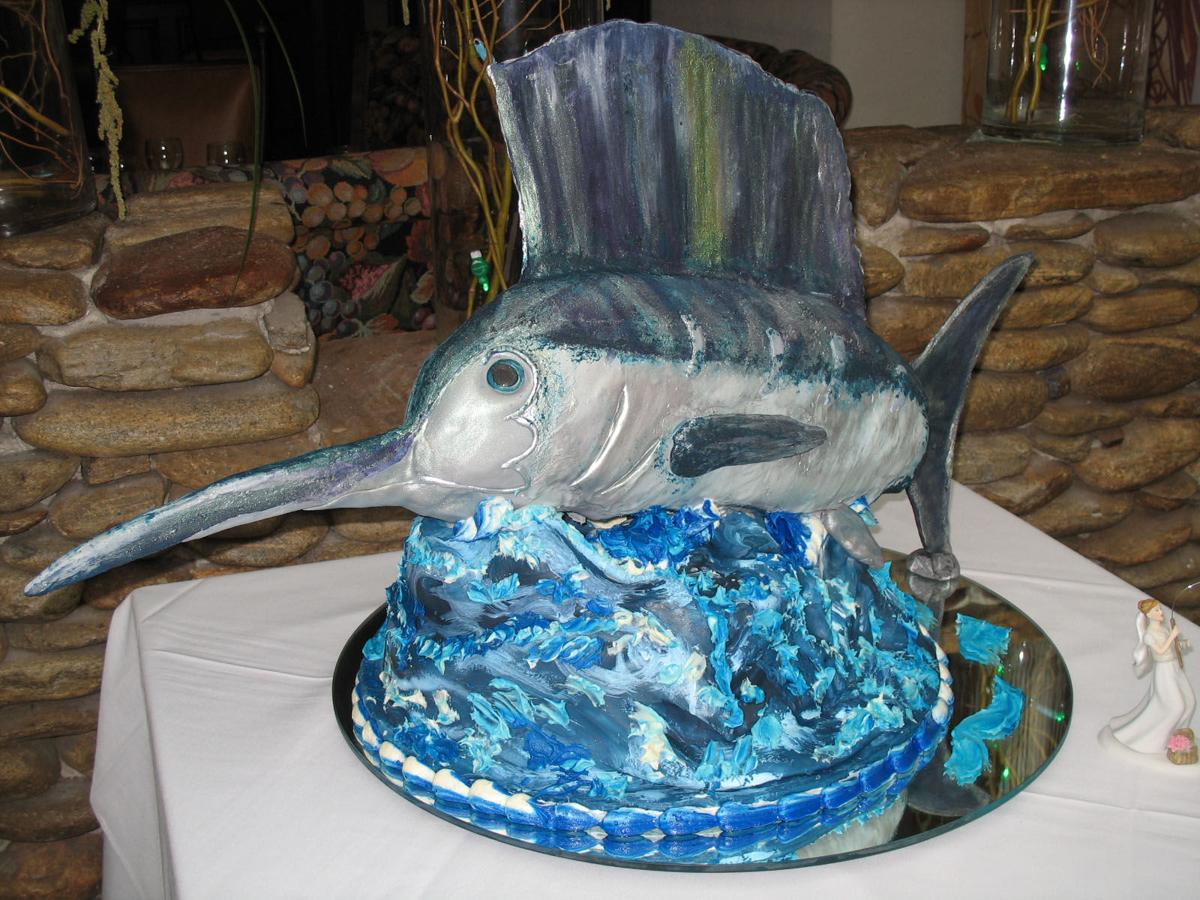 The whole process can take up to 20 hours of carving, sculpting and decorating. Burlington resident Jennifer Nichols has carefully crafted by hand sculptures such as an ice bucket, a treasure chest and a skateboard. Just adding color and texture to a state trooper hat took nine hours.
But Nichols' sculptures aren't artwork, at least not in the traditional sense. Her creations are made entirely out of cake.
"I like art, but I'm not a pencil and paper artist," said Nichols, who runs a custom cake business called Buy Me Cake. "I can't draw. But with sugar, I can do that. I can look at something and make it what I want it to be."
Programs such as Food Network's "Ace of Cakes" and TLC's "Cake Boss" have popularized the art of hand-sculpted cakes, but these custom culinary creations aren't found only on television. The Triad boasts several cake bosses of its own.
Like Nichols, Teresa Crawford of Crawford's Creations has mastered the art of cake sculpting. She began her business about 12 years ago, but she still isn't sure exactly how she's able to transform cake batter, icing and fondant into a Coca-Cola can, a fire truck or a record player.
"Someone told me that's how potters work," Crawford said. "They look at the clay and they just do it. It's the same thing with me and cake."
Crawford recently lost her store when tornadoes hit High Point in March. Though she describes the loss as devastating, she'll soon be selling cakes of all shapes — such as castles and hamburgers — in a new location on North Spring Street in Greensboro.
Another Greensboro bakery, Maxie B's, has seen a rise in the popularity of hand-sculpted cakes as more people have started watching the Food Network and TLC shows.
"About 70 percent of the special cake orders are something custom because of those shows," said Shannon Barbee, event coordinator at Maxie B's.
Some of the bakery's most notable cakes include a bust of Yoda, a stack of waffles and an acoustic guitar made for the famous Petty family.
Nichols has also seen the positive effects of popular cake shows on her business, but she said she wishes the programs would let viewers know how much custom cakes cost.
"('Ace of Cakes') has a $1,000 minimum," Nichols said. "People look at it, and they don't realize how expensive the cakes are."
Cost varies based on serving size, but Nichols' cakes aren't quite as pricey as those of her TV counterparts. A Chevy Tahoe cake that served 90 people, for example, cost about $500. Nichols said part of the cost is the hours of labor that 30-minute programs don't have time to show.
The process of making one of her hand-sculpted cakes involves baking the cake, cutting it, carving it, sculpting the details, covering it with fondant, creating texture, airbrushing color and adding intricate decoration. Nichols also makes flowers out of gumpaste that require rolling, shaping and adding texture to individual wired petals.
Barbee said she agrees that the shows leave out some information, but she thinks they are accurate in other respects.
"You don't see a lot of the behind-the-scenes stuff or the labor that goes into it, but I think for the most part, the decoration is pretty accurate," Barbee said.
The Food Network and TLC shows also capture some of the challenges involved with transporting a sculpted cake. Barbee remembers a cake Maxie B's once made in the shape of a marlin (a fish with a long pointed nose) that proved difficult to get into and out of an elevator.
Some episodes of popular cake shows feature unusual requests, and Crawford has received her own fair share. She created her most unusual cake three years ago for Greensboro's Brady Trane company, which wanted a cake in the shape of a specific air conditioning part it sells.
"It's the ugliest cake I have ever done," Crawford said. "(The woman who ordered it) said she knew it would be the ugliest cake I'd ever done. The bigger challenge was that she wanted it to serve 350 people."
Some of the few cake requests Crawford and Nichols turn down are for body parts. Both have told bridesmaids seeking bachelorette party cakes they'll have to find the cakes they want elsewhere.
Nichols said she thinks custom requests such as Crawford's air conditioning cake are so popular because they are a novel way of adding a personal touch to a celebration.
"I think people are just amazed you can make that out of something edible," Nichols said. "It's kind of a way to personalize things and show they're really special."
Barbee hopes hand-sculpted cakes remain popular because they're so fun and interesting for the Maxie B's team to make.
"I think the shows are great," Barbee said. "It gets people to where they're getting more creative with the cakes and they can see there's something aside from just a basic round cake with writing on it."