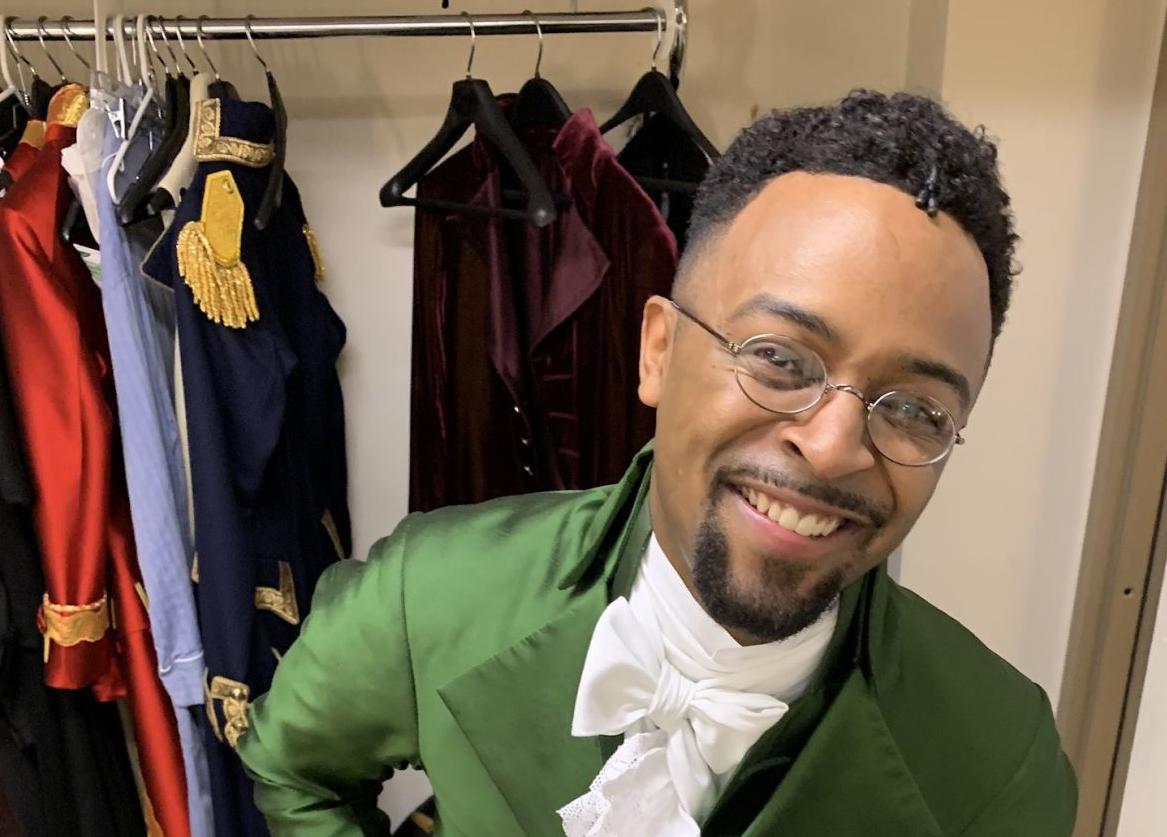 Isaac Powell. Jimmie "JJ" Jeter. Brion Watson. Jared Grimes. Christopher Brasfield. Gerald Caesar.
What do these Broadway actors have in common?
They all performed and/or taught for Community Theatre of Greensboro as young men. Most of them grew up in CTG starting as kids or teens.
And all of them are men of color.
They are outstanding men inside and out, with humility, big hearts, overflowing with lots of love to give and a deep appreciation for what CTG did for them in giving them the solid foundation to prepare them for this incredible moment in their lives.
I got to see JJ Jeter, Isaac Powell and Jared Grimes on a recent trip to New York.
Brion Watson is in the San Francisco company of the musical, "Hamilton," so I traveled there to watch him perform earlier this year.
Christopher Brasfield is on the national tour with "Book of Mormon." Gerald Caesar will be appearing in "Tina," a new Tina Turner musical coming to Broadway this fall.
A week before I headed up to the Big Apple, I heard that Jimmie "JJ" Jeter, who was in CTG's "The Wizard of Oz," "High School Musical" and more, was the new standby for Broadway's "Hamilton" and would be making his Broadway debut as Hamilton the weekend I would be there.
JJ sent me a message on Facebook to let me know that he would be thrilled to have me see the show.
I also reached out to Isaac Powell, who literally grew up in CTG, having been in countless shows, fundraisers and programs, including his memorable performance as the Scarecrow in "The Wizard of Oz."
Isaac scored incredible success as Daniel in the recent Tony Award-winning Broadway revival of "Once On This Island." I saw him in it during its Broadway run. Isaac was so amazing — handsome, beautiful singing and acting. He seemed so at home up there. It was a theatrical experience that my daughter, Devon, and I will never forget.
Now he was getting ready to start rehearsals for "West Side Story," an innovative revival expected to hit Broadway in January. Isaac is biracial and a phenomenal dancer, where in previous productions Tony is more "white bread" and does not dance at all. I have high expectations that Isaac will blow audiences away with a totally different approach to this iconic role. When Isaac danced as the Scarecrow in CTG's "Wizard," he literally floated across the stage as if he were flying.
On the way to meet Isaac I stopped by the Richard Rodgers Theatre, where "Hamilton" was playing. The matinee performance had just let out and there were swarms of people at the stage door. I asked one of the guys if JJ was around and he quickly pointed to this guy surrounded by fans and signing autographs.
The stage hand says to me, "He had to go on today for 'Hamilton.' "
It was a day earlier than was planned, and he had not known until he got a call at 9 a.m. that day.
JJ worked his way through a sea of theater fans and gave me a big hug. Dozens of autographs later, he took me onstage and introduced me to everyone in the "Hamilton" company as his first director, the man who gave him his first job, the CTG guy that opened the world of theater to him. I told him that I just had to get a seat to see him tomorrow.
So off for dinner with Isaac, his charming fiancé Wesley Taylor (a Broadway star in his own right — "Rock of Ages," "Addams Family," "SpongeBob SquarePants") and Isaac's proud mom, Terri, who was visiting for a few days. Isaac could not stop thanking me and CTG for believing in him.
In the middle of that night, I get a message from JJ telling me he was able to secure a Standing Room Only at the back for $40. The next day, as I stood there overflowing with joy before the show started, I mentioned to the usher that I saw an empty seat, second row center, and wondered if I could sit there if nobody claimed it by intermission. He winked and said, "Man, your guy is Hamilton. Go for it!"
I was in awe during Act I as JJ masterfully took the stage as Hamilton. What an actor! I will never know how he learned all those words, but he learned all 20,000 of them. As soon as intermission came, I bee-lined to the second row.
Can you imagine what it felt like to see one of your former students playing the hottest role in the hottest show on Broadway in the second row? Sometimes JJ was standing so close to me on that stage, I had to resist holding back and not jumping up there and giving him a big hug.
My last day in New York, I had lunch with Jared Grimes. I have the longest and deepest connection with Jared. My son, Erik, went to Southwest Guilford elementary, middle and high schools with Jared. I have visions of Erik and Jared playing Nintendo and scheming God knows what for hours. If they weren't in my house, I was dropping the boys off at Jared's for more Nintendo and shenanigans.
One day at my house, Jared said, "Mr. Mitchel, I hear you are having a talent contest at Carolina Circle Mall. I might come."
"Really?" I asked. "What do you do?"
Jared showed up at the mall, dapper and ready to go. Although he had the incredible challenge of dancing on a slippery grouted tile floor, he tapped his heart out with a free-style mixed with technique that blew me away.
For the next five years, I dragged Jared everywhere. I gave him the solo tap lead in "The Merry 'Ol Land of Oz" and people cheered when he was done. I purchased a piece of plywood at Lowe's and would book Jared for every civic club, every fundraiser, every event. I threw that plywood on the floor, got out of the way and let Jared do his thing. By the time he was done, people were throwing money at CTG.
He went on to do commercials, regional theater and Broadway productions, including his Fred Astaire Award-winning performance in "After Midnight." He was featured in Radio City Music Hall's New York Spring Spectacular and is currently a regular character on NBC's "Manifest."
Throughout lunch, he constantly reminded me that he owes so much of his work ethic to what he learned at CTG and how he will never forget how CTG helped him.
You see, CTG was unknowingly on the cutting edge of theater when we became proactive years ago in embracing and enacting policies and concepts such as non-traditional casting and making a commitment to inclusiveness and diversity.
We didn't do it because of pressure from the city or any particular community. We did it because it was the right thing to do. Otherwise, we would have been cheating our audiences and our theater out of so many talented people on stage and off.
Our "The Wizard of Oz" had special needs performers who were in wheelchairs, long before Broadway's recent revival of "Oklahoma" cast an actress who uses a wheelchair.
Broadway, too, is making great strides to have the stage reflect the color of our world.
Like Broadway today, CTG purposely picked shows in the past such as "A Raisin in the Sun" and "Fences" that made us transition from the safe and easy, "Let's put on 'The Sound of Music,' and our doors are open to everyone," to picking people of color for leadership positions and picking shows with casts that had to be made up of different ethnicities.
I remember going to the results of an arts study a couple of years back and was caught off guard to discover what a difficult time the arts agencies were having attracting diversity to their programs. At CTG, we solved that years ago. You walk into any audition or attend any show at CTG, and you will see a rainbow of talent from every neighborhood and walk of life.
Broadway now produces shows where a black man such as JJ takes center stage as one of the country's historical leaders as Hamilton, and Isaac portrays Tony in the iconic "West Side Story."
By the time these young men grew up and started auditioning as adults, the professional theater world was frantically searching for them. They not only were looking for talented men of color, but men with a strong work ethic to be able to handle the pressure, commitment and stamina needed to pull off eight shows a week and all that goes with being a Broadway performer or star.
All of these guys reminded me of how seriously CTG approached its classes, camps, rehearsals and performances. Be on time! Be prepared! Dress appropriately! Work as a team! Be respectful! Learn to work with all people with dignity and compassion! Practice! Eat well! Get rest! Take pride in your work! Be generous to your colleagues on and off the stage! Be appreciative! Enjoy your work! Work hard and play hard! Be grateful for your God-given gifts! Give back for all you have been blessed with!
As I reflect on my weekend with these guys, I can't help but wonder what a theater opportunity might have done for some others who never had a mentor, were never given any training, were never offered an opportunity, were never embraced at an organization like CTG.
During my 27 years of fundraising at CTG, I was so frustrated when potential donors and grantors saw us as a bunch of people just singing and dancing. We always knew that CTG provided young people with an enriching outlet, a safe place to express themselves, an opportunity to shine, and a place to learn not only the lessons of the stage, but also the lessons of life.
These young men took all the tools we gave them and bravely went out into the world to pursue their dreams. They are inspirations for young actors at CTG. They are gems in Greensboro's crown, people for the Triad to be proud of, and role models for other young men of color who want to pursue their dreams.
In the spring, these guys will support CTG and Victoria's House/Shirley Frye YWCA with a local gala that will include performances and tickets to their Broadway shows.
As CTG celebrates its 70th birthday and its 25th anniversary production of "The Wizard of Oz," I encourage you to support CTG this year. Our new executive director, Rozalynn Fulton, has been with CTG for 20 years and knows the organization inside and out. Her passion is unrivaled and her talents abound.
Roz worked closely with these young men and has been instrumental in fulfilling CTG's mission of inclusiveness and diversity. Her unparalleled work with young people in programs such as the Junior Theatre Festival and the partnership with Guilford County Schools and its Ignite Summer Camp offers hundreds of children the opportunity to find their way to shine just like Jared, JJ, Brion, Isaac, Gerald and Christopher.
This is why we have the arts. This is why we must open our door to all. This is why we should be so proud of these men and grateful to CTG for helping them.
This is why you have to come see a CTG show soon, before today's actors become tomorrow's stars.
Mitchel Sommers spent 27 years as executive director of Community Theatre of Greensboro. He retired from that post, but serves as theater consultant and continues to direct "The Wizard of Oz" and "On Stage and Inclusive."
Be the first to know
Get local news delivered to your inbox!