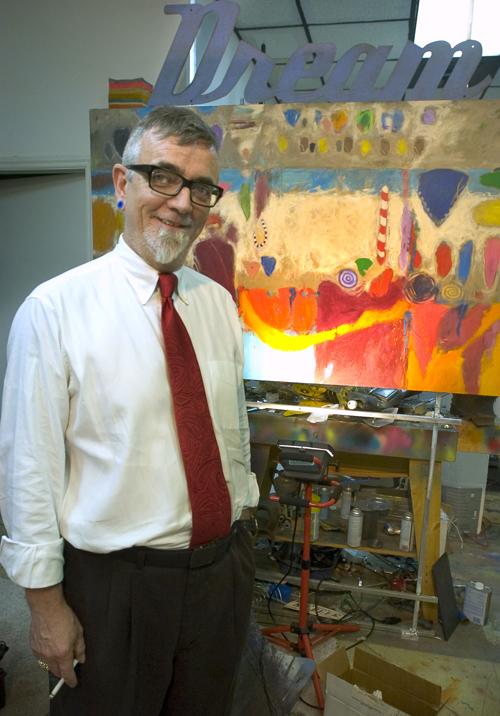 I live in a river of materials now. They flow by me and come at me from unimagined sources. There are a couple of ladies out on the Outer Banks and Nags Head who run some junk stores. They bring me a pickup truck load twice a year, and it is literally a quarter ton each time. It's hundreds of fruitcake tins, small appliances, cell phones, bowling pins, just about anything you can think of.
People hear about what I do, and rather than put things they don't want out on the street or in the trash can, they'll call me. I'll come into the gallery some mornings, and there are materials at the front door right there, dropped off anonymously.
And, I'm not above Dumpster diving.
I have been making things out of found materials since I was a child. If something came with instructions on how to assemble it, I would throw the instructions out the window and make something else.
I've been a painter for 35 years. The strongest paintings to me are where the paint shows as a material. I started experimenting more and more with surface and texture (in my paintings), and it started getting dimensional.
Any musical instrument. From clarinets to bongos, any instrument automatically says 'Make something else out of me, I'm not done yet.' A musical instrument typically has a history of sweetness, creative endeavor, love. I think that gives it some sort of intrinsic value that you can take to the next level.
I've recycled close to nine tons of material in as many years. It's not heavy stuff, it's not smelting big things down to make other big things; it's soda cans, cooking utensils, aluminum guttering, those kinds of things.
The most significant thing that happened to me in my career as an artist is I got sober. I got off drugs and alcohol, which I thought were opening horizons for creativity. I went through an anonymous 12-step program and had to change my lifestyle completely. Despite the fact that I thought I would be limited by my new lifestyle, I came to found out I was expanded in all directions.
The idea of looking at things, especially things that are considered to be useless, worthless, discarded, and trying to imagine what else they can be. I started figuring that out by working in 12-step programs. You go through a process of rediscovering, trying to see what the other possibilities are, trying to see beauty in the rebirthing of things.
Almost nothing has to be wasted. We can reuse and repurpose aspects of ourselves, as well as the materials around us. I hope people can see there can be beauty almost anywhere you look.
I had my own studio for 25 years. I didn't belong to any arts organizations or anything like that. I ended up getting involved with the Greensboro Artists League before they went away and got a taste of working shoulder to shoulder with other artists. Then we opened Artmongerz . Now there's a solid collective here, a family of artists. We are essentially a very modern stable of artists. We work in very cutting edge, abstract, nonobjective works. We're about mutual support, encouragement, growing and learning how to be more open about our work and art in general. Now I can't imagine ever going back to being a solo artist.