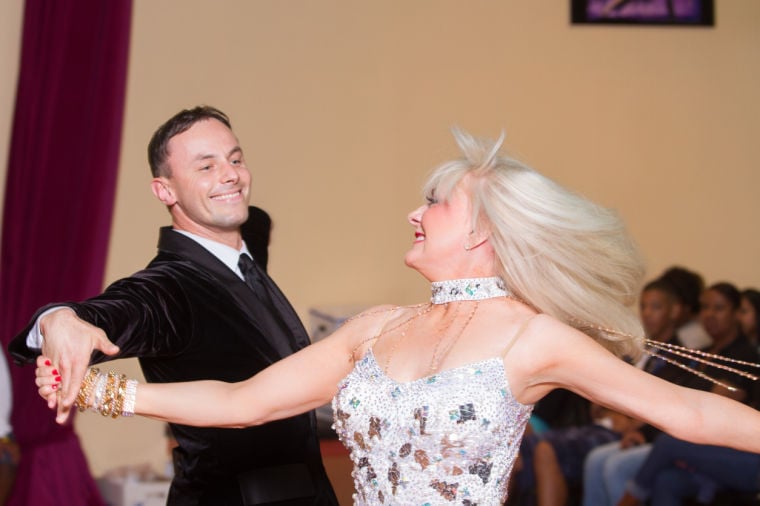 Greensboro attorney Carolyn Woodruff has balanced ballroom dancing, participating in numerous competitions and practicing law for more than eight years, but now she has added something new to her resume: becoming a reality TV star.
Woodruff and her dance partner, Alosha Anatoliy, are starring in TLC's new reality program "Ballroom Blitz," which airs from 1 to 7 p.m. Wednesday. Ham's restaurant in downtown Greensboro will host a viewing of the show, featuring the episode starring Woodruff, her husband, Dwight Ensley, and Anatoliy from 12:45 to 2 p.m. Wednesday on the second floor. Four large-screen TVs will play "Ballroom Blitz."
The series recently debuted in several European, Asian and Russian markets. The show takes a look at the competitive world of ballroom dancing. Each episode of "Ballroom Blitz" features three passionate dancers, paired with a ballroom dance pro, striving to achieve perfection in the pursuit of the coveted first-place medal in a high-pressured national competition, according to TLC's website.
Woodruff was approached two years ago by producers who had seen her in a few competitions and asked her to participate in the reality show.
"Before I knew it, people were calling me the 'Dancing Divorce Attorney,' and not too long after that I had a Hollywood crew in my home and at the Fred Astaire Dance Studio in Greensboro where my dance partner, Alosha, and I practice almost every evening after work," she said.
Anatoliy is co-owner and co-operator of the Greensboro Fred Astaire Studio.
Woodruff, owner of Woodruff Family Law Group, practices as a North Carolina family law specialist. She also is a certified public accountant and business valuator.
Woodruff's interest in dance came after an emotional divorce several years ago from her first husband. In 2002, she began dance lessons, and dance became her recovery program.
"I feel indebted to the ballroom dance industry that really helped me recover physically, socially and emotionally from my divorce," Woodruff said. "I was a blob when I encountered this life-changing subculture of ballroom dance."
Woodruff and Anatoliy are Pro-Am Open Smooth competitors who began dancing together in 2006. Open Smooth dancing includes the foxtrot, waltz, tango and Viennese waltz. For the past three years, the pair performed at Dance Legends in New York City, a performance featuring past and present dance champions. The duo are current and three-time Fred Astaire National Dance Champions in Open Smooth and are the current National Fred Astaire Pro Am Cabaret Champions.
Woodruff said she has enjoyed meeting people from Hollywood. The production company for "Ballroom Blitz" is a joint venture of Simon Fuller, producer of "So You Think You Can Dance" and "The Bachelor."
"I remember the first time I met Simon Fuller at a Hollywood party, and he was just like everyone else," Woodruff said. "I have gotten to know lots of people who make the television industry rock."
Depending on ratings, Woodruff said, there could be a second season of "Ballroom Blitz," and she said she is open to participating as long as it doesn't take too much time away from her law practice.
"The learning curve on television makeup, hair and clothing that pops on television was fun and something I really find helpful in everyday life," Woodruff said. "I am a true believer in lifelong learning and embracing change and new information."
Contact Jennifer Atkins Brown at (336) 574-5582.