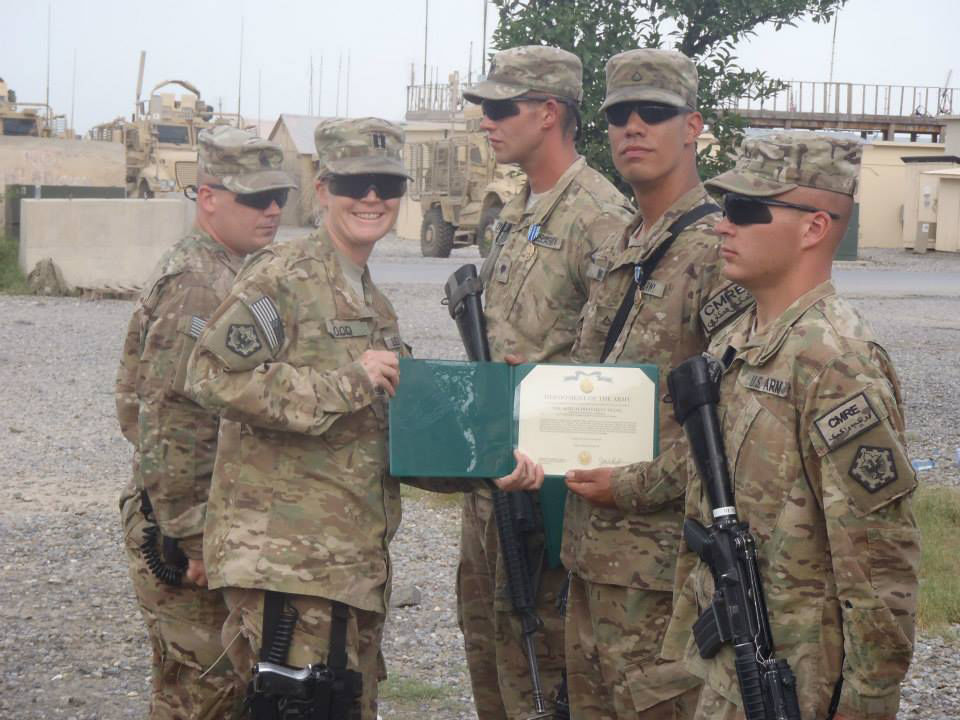 Athletes at Northwest Guilford High School during Karoline Hood's era knew her as a member of the school's indoor, outdoor and cross-country track teams. They knew she had a part-time job at the Great Harvest Bread Company in Greensboro. And that she was an honor student and member of the National Honor Society.
They weren't surprised that Hood was offered both congressional and senatorial appointments to the U.S. Military Academy at West Point.
But who would have suspected Hood to run the football for West Point — especially at the Army-Navy game? Nonetheless — it happened — witnessed by thousands and a national television audience. As captain of the Army marathon team her senior year, Hood ran the game ball into the stadium at Philadelphia and handed it off to officials.
Her West Point degree in 2006 was in environmental engineering. She earned a master's degree in the same field from the University of Missouri Science and Technology in 2011. She received a master's degree in applied mathematics in 2016 from the Naval Postgraduate School in Monterrey, Calif.
Scholarly pursuits aside, Hood has always been driven to be a leader. During a deployment to Iraq and one to Afghanistan, Hood served as a platoon leader and company commander.
Hood will be the featured speaker at Monday's Memorial Day ceremony at the Carolina Field of Honor in Kernersville.
Hood's West Point Class of 2006 was the first class to enroll after the Sept. 11 terror attacks. In the interim, she has made two tours in combat — one with an infantry Stryker brigade and another with an engineer brigade in the war against terror.
Her service has been recognized by two Bronze Stars, two Meritorious Service medals, Army Commendation Medal, four Army Achievement Medals, Afghanistan Campaign Medal and Iraq Campaign Medal with two campaign stars.
Hood returned to West Point in 2016, this time as a mathematics instructor. A sampling of courses she taught includes multivariable calculus and introduction to differential equations. She was the course director for engineering math and multivariable and vector calculus.
It appears she did it in style — she was awarded the U.S. Military Academy 2018 Dean's Award for Scholarship Excellence.
How does this stint at West Point compare with her time as a student?
"Oh, the second time around was much more fun — by far," she says.
As a child, Hood "liked almost any activity, as long as it was out-of-doors," says her mother, Gisela Hood.
Being a career soldier and licensed professional engineer hasn't changed that.
"I enjoy hiking and running and try to run five or six times a week," she says. "I recently ran a 50K trail race with 4,500 feet elevation gain; that was pretty challenging."
Last winter, Hood served as ski instructor for the West Point Ski Instructor Team.
Hood will soon report to NASA in Houston shortly to begin a new phase of her Army career.
"The Army is very good at guiding you to the proper assignment," she says.
Hood's family has a rich military tradition. Her grandfather, Burton Hood Jr. is a 1943 graduate of West Point. Her brother, Daniel, graduated the year she started. Her great-grandfather, Burton Hood Sr., served in the Army in World War I. Her father, Dan Hood, a Citadel graduate, was an Army helicopter pilot during the Cold War.
Dan Hood will introduce his daughter at the Carolina Field of Honor ceremony. It will be a double honor for him — his HICAPs Construction Management Co. served as general contractor for the memorial.
Harry Thetford is a retired Sears store manager who enjoys writing about veterans. Contact him at htolharry@gmail.com.