WENTWORTH — "That's it!" Carol Highsmith says as she points to two rustic log cabins along a rural roadside.
The scene takes Highsmith back.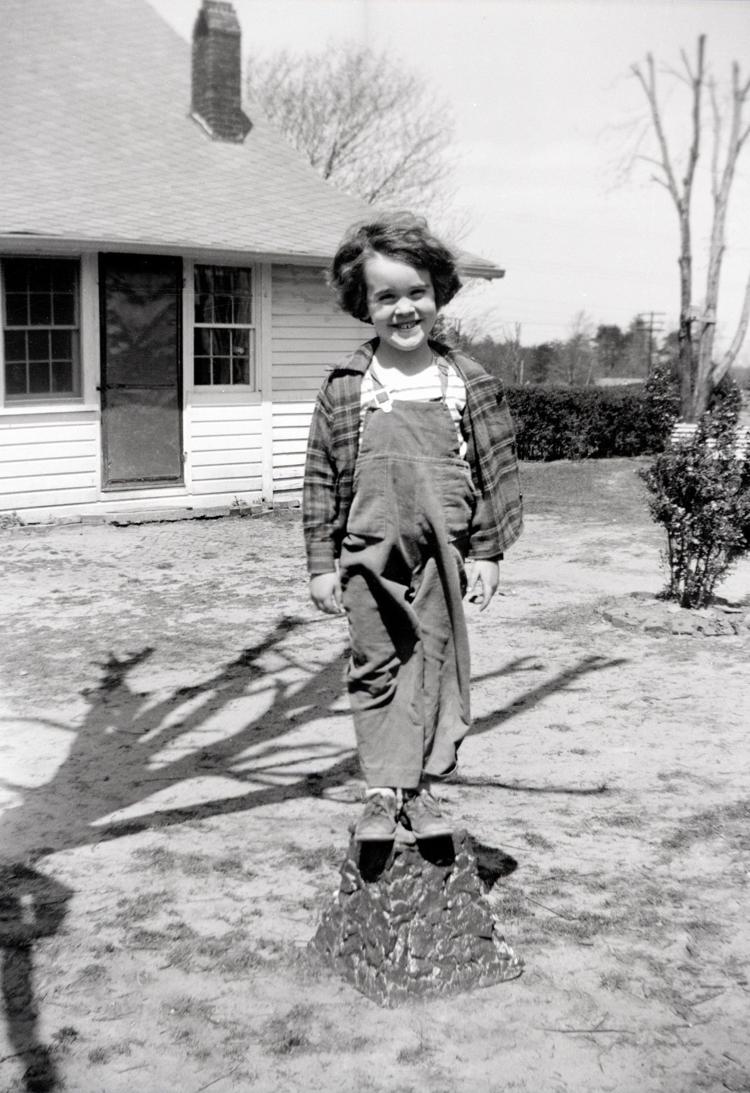 Back to childhood summers spent in Rockingham County at the Madison farm of her granny, Betty Carter.
Back to the expansive Carter family reunions, long held at these cabins near Wentworth where her grandfather and great-grandfather were born in the 1800s.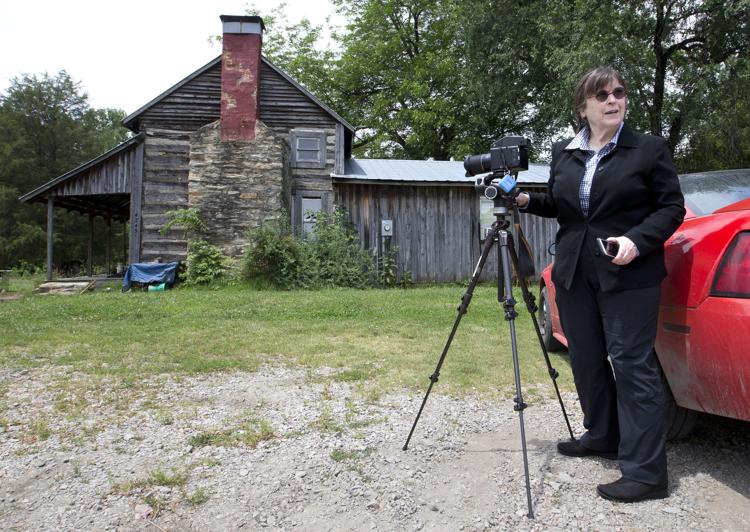 "And now I'm back, photographing it again," Highsmith says as she totes cameras from the car.
She feels fortunate — and sad.
Fortunate that the cabins still stand after nearly 200 years, even though the family sold them years ago.
Sad that they have been altered over time.
"I thought they would last forever, but they didn't," she says. "Things don't."
Highsmith, 71, makes it her mission to capture such 21st-century scenes that likely won't look the same years from now — if they exist at all.
For 37 years, she has photographed America's architecture, landscapes, and rural and urban places and people.
"I love all of it," she said. "Big-city neighborhoods, teeny-tiny towns, our national parks, quirky roadside attractions, Route 66, Old U.S. Route 11 from Canada to New Orleans, Lincoln Highway, the Atlantic and Pacific Ocean beaches, the Great Lakes, state parks. ... I consider myself the luckiest person on Earth to travel our country eight months of the year."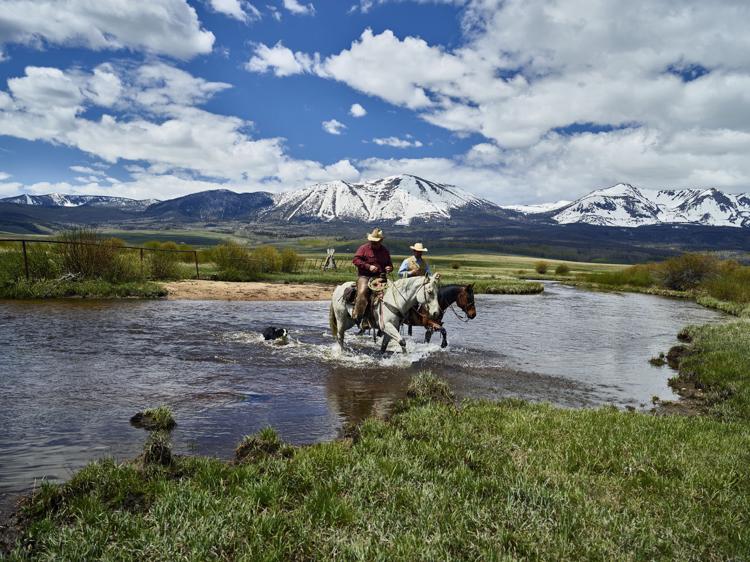 She photographs ranches, rodeos and cowboys, parades and particularly people at work — scenes that make each state unique.
She donates her images to the Carol M. Highsmith Archive at the Library of Congress, the country's national library in Washington.
Anyone can download them from the library website, free of charge and without copyright.
Shot with top equipment, her photos have been featured in more than 50 coffee-table books, many created in collaboration with award-winning writer Ted Landphair, her husband of 29 years. They have sold more than 1.5 million copies.
They have been published by a division of Random House, by her own Chelsea Publishing and by Preservation Press, the publishing arm of the National Trust for Historic Preservation.
She has been featured on "CBS This Morning" and in The Washington Post.
Over the years, Highsmith has photographed in every state.
Now she is on a more intensive state-by-state study as a time stamp of early 21st-century America. She has completed nearly half of them.
"I wouldn't use the word 'job' with her," Landphair said. "It's a calling. Carol's record of late 20th- and early 21st-century America will be the reference point for future generations to study life in our times."
Landphair plans trips and writes meticulous documentation that the Library of Congress will need.
They drive their SUV about 40,000 miles each year, Ted at the wheel and Carol working on images in the back seat.
"There's a lot of America out there," Highsmith said. "Why would I want to fly over it, unless I'm doing aerials?"
She did just that when she photographed the World Trade Center from the air, two months before the Sept. 11, 2001, terrorist attacks.
Their travels this summer brought her to Greensboro and home to Rockingham County. From here, they left for photo shoots in South Carolina, Georgia, Mississippi, Arizona, Nevada, Utah, Iowa, Minnesota, Illinois, Michigan and Wisconsin.
After a brief stop at home in Takoma Park, Md., they will head to New Jersey, New England and back down south by fall.
To finance their travels and work, she obtains private and public grants and commissions with Library of Congress help.
The U.S. General Services Administration commissions her to photograph the nation's federal courthouses.
She formed the This is America! Foundation to accept tax-deductible contributions.
So far, Highsmith has donated about 42,000 photographs to the Library of Congress. She aims to donate 100,000 images before she's done.
"It's my legacy," she said. "But it's our legacy."
The library's prints and photographs division houses more than 15 million photographs, prints, drawings and posters. It has been called the most historic collection of American images because of its quantity, range of time periods and subjects, and types of photography.
Because they are frequently sought by the public, Highsmith's photographs join six collections featured at the top of the division's online catalog — along with Dorothea Lange's photos of the Great Depression and her famous "Migrant Mother," Civil War photographs, posters from the Works Projects Administration and photos by Frances Benjamin Johnston, the late pioneering photographer whose footsteps Highsmith follows.
Division Chief Helena Zinkham praises Highsmith for her talent and her energy.
A neon cowboy in Las Vegas, the Mardi Gras in New Orleans, the costumed mummers in Philadelphia and national park scenes are among Highsmith's most popular photographs, Zinkham said.
Classroom teachers download her photos for lessons in history, science, photography and critical thinking.
"She has a great ability to work with people from all backgrounds and circumstances," Zinkham said. "It's a very wide-ranging look at everyday American life. She has a special fondness for historic sites, and her love for America comes through."
Back in 1946, Ruth Ragsdale Carter McKinney and Luther Carlton McKinney lived in Fort Worth, Texas.
But when it came time to deliver their second daughter, Ruth McKinney traveled back home to the Rockingham County town of Madison. She wanted to be close to her mother and her 13 siblings.
On May 18, 1946, she gave birth to daughter Carol at what was then Leaksville Hospital.
The McKinneys moved to Black Mountain, then to Minneapolis.
But each summer, Ruth McKinney drove daughters Sara and Carol to Rockingham County and Atlanta, where her mother-in-law lived.
"I saw America out the back window for years," Highsmith recalled.
She remembers fondly the Rockingham County relatives, the fun — and the food.
"Granny would make fried pies and blueberry cobbler," Highsmith said. "I remember her churning butter. ... We couldn't wait to have our first Dr Pepper."
Among the cousins she joined in play was Benny Carter, who would become one of the nation's hottest folk artists.
Paul Carter of Greensboro, who grew up in Madison, remembers his cousin Carol from childhood.
"She was a live wire, a very vivacious, fun-loving girl," said Carter, now 67 and a commercial real estate appraiser.
"There were lots of cousins around there," Paul Carter said. "We climbed trees, rode bicycles, played with cats and dogs. Sometimes we would ride a pony. It was a fun-loving, worry-free summer."
Now her cousins follow her career.
Jane Manley of Greensboro, whose grandmother was Highsmith's great aunt, has collected several of Highsmith's books. "What I like about what she does is that she is preserving history," Manley said.
"She has found her calling," Paul Carter said.
Highsmith didn't find that calling until her mid-30s, after years in broadcast sales and marketing in New York, Philadelphia and Washington.
She attended college in Iowa, where she met artist and future husband Mark Highsmith. After he enlisted in the Army and went to Vietnam, Carol moved to New York.
When her husband returned, they moved to Philadelphia. But Mark Highsmith suffered from post-traumatic stress disorder. In 1969, he committed suicide.
Carol Highsmith moved to Washington, where she worked in radio advertising.
Through the station, she won a trip to China and the Soviet Union. A client gave her a camera to photograph her travels.
"I came home, and I was so hooked on how fascinating all of it was that I thought, I need to do this," she said.
She took night classes in photography at Corcoran College of the Arts and Design, then decided to pursue a photography degree at American University.
One assignment at Corcoran in 1980 took her to the historic but then-dilapidated Willard Hotel, which a friend was restoring.
The project led her to the photographs of Frances Benjamin Johnston in the Library of Congress. Johnston had photographed the hotel during a 1901 expansion project.
Johnston had become known for her portraits of Washington's elite, images of Southern architecture and photographs of African-Americans and Native Americans at the turn of the century.
"I told them that day that I was going to do what she did in my lifetime," Highsmith recalled. "The Library of Congress didn't know whether I was serious or not. But I was very serious."
Highsmith documented the restoration of the Willard and other Pennsylvania Avenue structures. Building owners and the Pennsylvania Avenue Development Corp. paid her.
She quit her radio job for her dream career.
Random House wanted to publish books on American cities, states and regions, and asked whether she and Landphair would be interested. From 1984 to 1987, they traveled the country for the New York publisher. It opened doors to more travel assignments and to their own publishing business.
Her career path hasn't been without bumps.
Last year, Highsmith filed a $1.35 billion lawsuit against two stock photography organizations, Getty Images and Alamy, and their agents.
According to news accounts, she sued over their attempts to assert copyright over — and charge fees for the use of — 18,755 of her images. Getty had billed her for one of the images, which she used on her own website.
A judge dismissed much of her case on grounds that she had relinquished her copyright claim when she donated much of her work to the Library of Congress.
The rest of the lawsuit was settled out of court, and Highsmith declines to discuss it.
In March, Highsmith and Landphair packed their Lincoln Navigator with photographic equipment and suitcases at their Maryland home and hit the road.
By summer, they had arrived in North Carolina.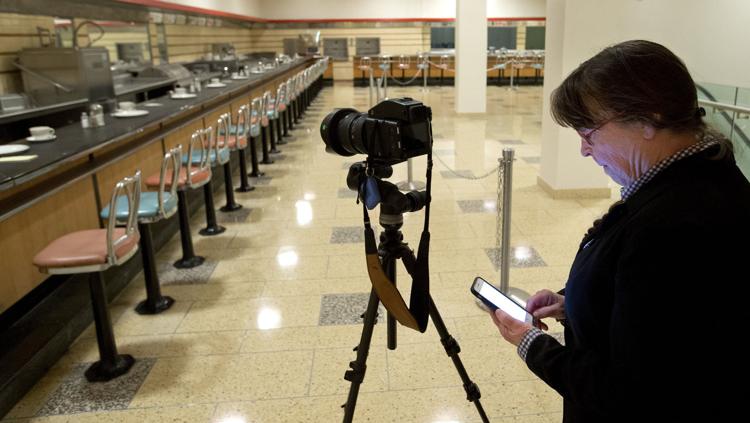 Her first stop in Greensboro: the downtown International Civil Rights Center & Museum, former home to the F.W. Woolworth store.
Highsmith wants to photograph the lunch counter where the sit-in on Feb. 1, 1960, garnered national attention and spread across the South.
"I can't get over this," she says as she contemplates its significance. "I am floored."
She walks a block down South Elm Street to photograph the Kress Building.
Then it's off to Rockingham County.
The car pulls in front of the Towne Apartments on Henry Street in Eden.
In 1946, this was Leaksville Hospital, before Leaksville, Spray and Draper consolidated into Eden.
"It's another journey in my life, to go back in time," she says as she snaps photos.
She suggests heading to the old log cabins 20 minutes away.
She remembers the family reunion photograph she took decades ago. It appeared in a 1986 issue of Mid-Atlantic County magazine.
Now those reunions are held at a park.
She recalls photographing her Aunt Kate Carter on her 90th birthday in one cabin, sitting on the side of a brass bed.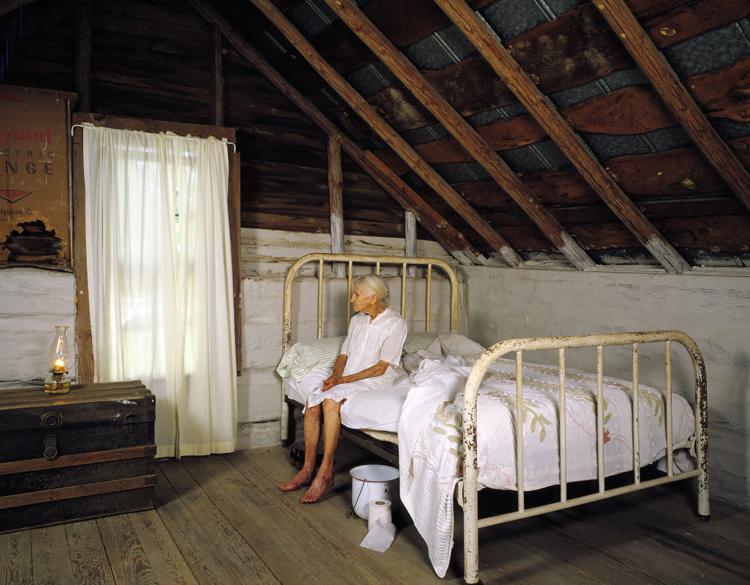 That photograph will be among Library of Congress images displayed next year at the Annenberg Space for Photography in Los Angeles.
Back in the town of Wentworth, she views an exhibit about her family at the Museum & Archives of Rockingham County. Highsmith donated images and tells her story in the accompanying film.
She walks across the road, to photograph the Wright Tavern that dates from 1816.
Johnston took this very same shot in the 1930s.
"She put her feet where I just put mine," Highsmith said. "Wow!"
Contact Dawn DeCwikiel-Kane at 336-373-5204 and follow @dawndkaneNR on Twitter.
Be the first to know
Get local news delivered to your inbox!