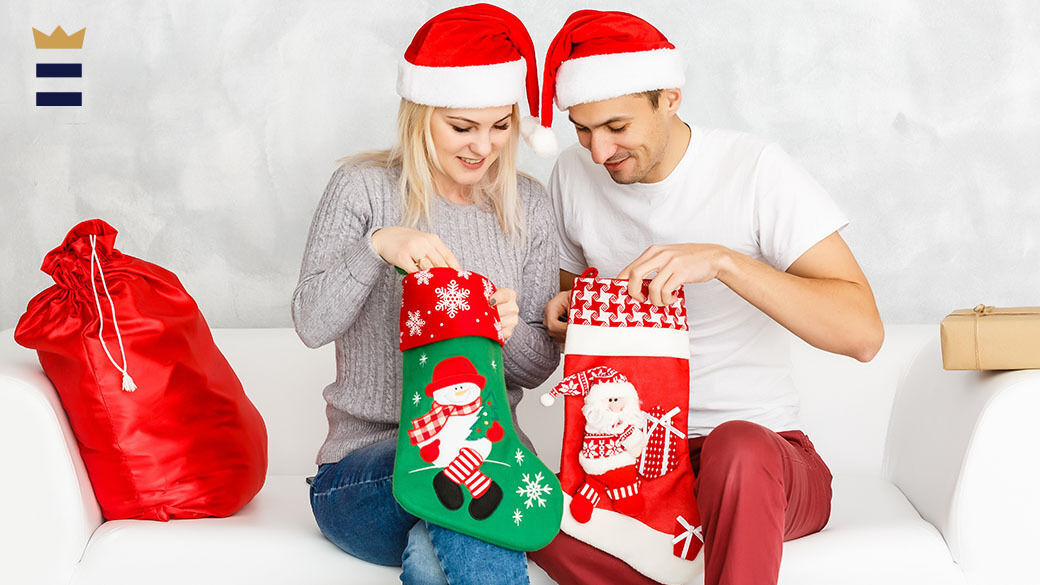 Stocking stuffers for couples
It can be hard to find stocking stuffers for everyone on your list, especially couples. But, if you look, there are tons of remarkable small gifts that can make Christmas memorable.
While you can go the purely practical way and get things like gift cards, there are many creative ideas you can use to spruce up the holidays. From spa sets to matching passport holders, there is a little something for every couple in your life.
Perfect stocking stuffers for couples
Stocking stuffers for under $15
 
Burt's Bees Two-Pack of Lip Balm: available at Amazon
Lip balm is small and useful, making it a wonderful stocking stuffer for anyone. This pack includes two sticks, both are made with vitamin E and peppermint.
Decor Chiq Platypus Matching Tea Infuser: available at Amazon
These tea infusers are perfect for those who love tea and cozy evenings in. They are different colors, so it's easy to tell who each cup belongs to, but they also go well together.
Budieggs Wool Dryer Balls: available at Amazon
Laundry as a couple can be a challenge, but dryer balls make the task faster and more efficient. These are great for people with sensitive skin, plus they are made from 100% New Zealand wool.
Vekkia Rechargeable Book Light: available at Amazon
Bookworms and night owls could both benefit from this clip-on reading light. It is an excellent stocking stuffer for couples since it will keep the reader from disturbing their partner when they stay up. It features three settings for brightness. 
PILPOC The Fube Fidget Cube: available at Amazon
This is an ideal "peace-keeping mechanism" for anyone who has a tendency to annoyingly tap their foot or click their pen. It offers a variety of fidgeting options and is easy to take on the go.
Stocking stuffers for the kitchen
AeroPress Coffee Maker: available at Amazon
Small enough to fit in a stocking, the AeroPress can make up to three cups of coffee in just 1 minute. If you want a super compact version, you could get their travel AeroPress.
Dafuz Matching Coffee Spoons: available at Amazon
These coffee spoons are engraved with "let's have coffee together forever." While they would be a notable engagement or wedding gift, they would also be fantastic for the holidays.
Ann Clark Cookie Cutters: available at Amazon
Cookie cutters are a gift that is reusable, practical and enjoyable. Holiday-themed shapes are especially fun, but general shapes are more timeless; this pack features a convenient mix. 
Stasher Reusable Silicone Bag: available at Amazon
Stasher has made packing snacks or lunch much more sustainable with these reusable silicone bags. Couples will love saving money on disposable plastic baggies while also doing something good for the environment. 
Honey Lake Bee Company Beeswax Wraps: available at Etsy
For couples who are trying to be eco-friendly, beeswax wraps are an easy stocking stuffer. They can also be paired with reusable straws and produce bags.
Stocking stuffers for couples who have everything
By Comely Collections Personalized Flip Coin: available at Etsy
If you or a couple you know is indecisive, this gift can't be beat! Whether it's deciding who has to do the dishes or who chooses the restaurant, this coin is as useful as it is personal.
Wooden Shoe Designs East and West Coast Coasters: available at Amazon
Creative couples coasters are always fun, but these are best for West or East Coasters. Whether you are buying for a long-distance couple or you are just looking for a unique stocking stuffer, these wooden coasters make a fantastic gift.
For couples who love to wine and dine, this stain remover is formulated to specifically target wine stains.
Max Brenner Couples Fondue Tower for Two: available at Amazon
Few things are more luxurious than fondue for two. This simple-to-use fondue tower also comes with fondue forks, so all you need is some chocolate, a tealight candle and water.
Stocking stuffers for couples who like to match
Tee Like Yours Monogrammed Matching Passport Holders: available at Etsy
For couples who love to travel internationally, these passport holders are a distinctive way to stand out.
Dog Mom and Dad Hats: available at Etsy
For couples who are passionate about their dog, these matching hats are a wonderful way to share their love with each other and the world.
I Love You Morse Code Bracelets: available at Etsy
These matching bracelets are an exciting stocking stuffer for couples who want a reminder of their love, no matter how far apart they are. They feature "I love you" in Morse code, so the wearer can feel loved no matter where they go.
Puppies and Joy Magnetic Heart Necklace: available at Etsy
Sweet and minimalist, these personalized magnetic necklaces are great for couples at any stage of their relationship. You can add a stamped letter, and they can be shipped globally, so they work well for long-distance couples.
Printable Gift Co. Personalized His And Hers Socks: available at Etsy
Matching socks are a popular gift that is easy to put in a stocking. These can also be customized with any name for a functional yet romantic touch.
Stocking stuffers for couples who love games
After Dinner Amusements: Family Time: 50 Conversation Starters: available at Amazon
Conversation games are a wonderful way to connect with others, and they are compact enough to fit in a stocking. This pack features intriguing questions that are fun for the whole family, making it an awesome way to bond.
Mattel Uno Family Card Game: available at Amazon
Games are a fantastic way to bond, and Uno is compact enough to fit in a stocking. It's perfect for the card-game lovers in your life.
Bicycle Playing Cards: available at Amazon
Playing cards are a versatile gift since they can be used to play tons of different games. This pack can be used for two-player games like gin rummy or larger games like go fish. 
Jackalyn Beck is a writer for BestReviews. BestReviews is a product review company with a singular mission: to help simplify your purchasing decisions and save you time and money.
BestReviews spends thousands of hours researching, analyzing and testing products to recommend the best picks for most consumers. BestReviews and its newspaper partners may earn a commission if you purchase a product through one of our links.
Distributed by Tribune Content Agency, LLC.