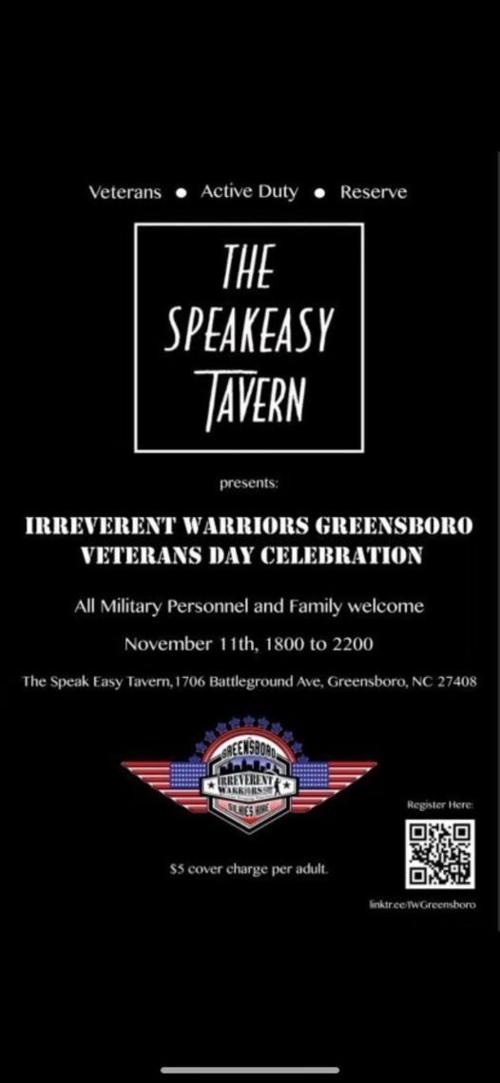 As the nation celebrates Veterans Day, Kellin Foundation, the Servant Center and Irreverent Warriors are raising awareness about the behavioral health needs of veterans and military families and Irreverent Warriors plans to host a Veterans Day Celebration from 6 to 10 p.m. today, Nov. 11, at the Speakeasy Tavern, 1706 Battleground Ave. in Greensboro. The cost is $5 per adult.
"Our veterans and military families sacrificed for our country. Now it is the community's job to address their holistic needs in a trauma-informed way, to acknowledge their history, and support their overall health and the health of their families," said Dr. Kelly Graves, executive director of the foundation. "We need to do this every day – not just on Veterans Day."
Military members may experience extraordinary stress and trauma during their service. Family members at home can also have similar difficulties. The Servant Center and the foundation are both working to ensure local veterans and their families get the best care they need by providers who understand their unique needs.
"Veterans are returning from active service after two decades of war in the Middle East. They need purpose, they need a family. That's what we aim to do at Irreverent Warriors – to provide them a place to come and be part of something bigger, to join the fight against veteran suicide," said Chris Kirwan, a local coordinator for the nonprofit.
The Servant Center provides a continuum of housing services and assists veterans with accessing health benefits. Kellin Foundation – nationally recognized for trauma care – recently partnered with the Servant Center to train its case management, social work and medical staff.
"We asked for this special mental health training because we see our clients struggling every day. Those who are homeless or at risk of homelessness often have unmet mental or behavioral health needs," said Shana Reece, executive director of the Servant Center. "It's a real struggle for social workers to figure out how to navigate all the obstacles."
The foundation recently partnered with UCLA, the United States Department of Defense, and the National Child Traumatic Stress Network to expand its ability to provide behavioral health services to military-involved families. The Kellin staff completed an intensive national training series – called Military-Informed, Trauma-Informed Care for Children and Families or MITI-Kids – to enhance their skills to provide military-informed, trauma-informed behavioral health counseling services for adults and children of military families. "We are proud to serve those who serve our country by becoming a MITI-Kids organization," Graves said.
Irreverent Warriors is a national organization that brings veterans together to improve their mental health and prevent veteran suicide. It unites veterans that have experienced pain, tragedy and trauma and uses humor as a way to cope.