Raleigh, N.C. - Governor Pat McCrory issued a statement following the most recent court ruling on same-sex marriage:
 "The administration is moving forward with the execution of the court's ruling and will continue to do so unless otherwise notified by the courts. Each agency will work through the implications of the court's ruling regarding its operations."
---
What had been a joyous occasion at the Guilford County Register of Deeds office was disrupted when a man walked in off the street pleading, "Please don't do this. This is against God's word."
Ron Tuck, a self-described street preacher, was immediately approached by a couple of local pastors.
One of them was the Rev. Julie Peeples of Congregational United Church of Christ in Greensboro.
"Please don't do this. These are people who have been hurt already," she said.
Tuck said a prayer and then left with people cheering as he exited.
Outside, Tuck remained undeterred.
"Somebody needs to take a stand. This is not right."
Update: 6:52 p.m. Brad Newton and Frank Brooks are the first applicants to receive a marriage license in Guilford County.
"Let's get married, boys," said Ches Kennedy, the men's friend who is a minister.
---
From the Asheville Citizen Times 
"The court determines that North Carolina's laws prohibiting same-sex marriage are unconstitutional as a matter of law," wrote Cogburn, who was appointed to the federal bench by President Barack Obama. "The issue before this court is neither a political issue nor a moral issue. It is a legal issue and it is clear as a matter of what is now settled law in the Fourth Circuit that North Carolina laws prohibiting same sex marriage, refusing to recognize same sex marriages originating elsewhere, and/or threating to penalize those who would solemnize such marriages, are unconstitutional."
Though Cogburn's federal judicial district only covers the western third of the state, North Carolina Attorney General Roy Cooper said through a spokeswoman that the Asheville judge's order applies statewide.
---
Berger, Tillis Statement on Marriage Amendment
Raleigh, N.C. – Senate Leader Phil Berger (R-Rockingham) and House Speaker Thom Tillis (R-Mecklenburg) issued the following joint statement Friday evening in response to Judge Max Cogburn's injunction against the marriage amendment:
"While we recognize the tremendous passion on all sides of this issue, we promised to defend the will of North Carolina voters because they – not judges and not politicians – define marriage as between one man and one woman and placed that in our state constitution. It is disappointing this decision was made without North Carolina's law receiving its day in court, and we will continue to work to ensure the voice of the voters is heard."
---
A few couples who had made it back to the Register of Deeds office ran around the surrounding parking lot yelling, "Yes!"
"Thank you, Judge Cogburn!" screamed Brad Newton, who has had a marriage license on file since Wednesday.
Register Jeff Thigpen pulled up in his car and asked the crowd: "Do you want to do interviews or get married?" Thigpen had his son with him and was carrying a bag from McDonald's.
Three couples filed into the register's office; others were waiting for a partner.
---
RALEIGH — A federal judge in North Carolina has struck down the state's gay marriage ban, opening the way for the first same-sex weddings in the state to begin immediately.
U.S. District Court Judge Max O. Cogburn, Jr., in Asheville issued a ruling Friday shortly after 5 p.m. declaring the ban approved by state voters in 2012 unconstitutional.
Buncombe County Register of Deeds Drew Reisinger kept his Asheville office open late to begin issuing marriage licenses to waiting couples.
Cogburn's ruling follows Monday's announcement by the U.S. Supreme Court that it would not hear any appeal of a July ruling by the 4th Circuit Court of Appeals in Richmond striking down Virginia's ban. That court has jurisdiction over North Carolina.
---
Chief U.S. District Judge William L. Osteen Jr. has denied a request for oral arguments from GOP leaders Thom Tillis and Phil Berger, but has given the state legislature until 3 p.m. Monday to file written arguments against eliminating the state ban on same-sex marriage.
Guilford County Registrar of Deeds Jeff Thigpen — who earlier made the offer to keep his office open if it looked like a decision was possible — closed the office that issues marriage licenses at 5 p.m.
"I know that all of you are weary...the reality is as I see it right now, the judge isn't going to issue an order (today)," Thigpen said.  
---
A group that supports same-sex marriage in North Carolina is tweeting that Judge Osteen has given Tillis/Berger until 3 p.m. Monday to file arguments. 
"Tillis and Berger have mired this process," said Chris Sgro of Equality North Carolina. "Shame on them."
Osteen just denied Tillis/Berger request for oral arguments, according to a flurry of tweets.  
"Now what?" asked the Rev. Liz Grimes.
---
"The silence is deafening," said Brad Newton. He's been waiting for three days outside the Register of Deeds office for notice that he and his partner can obtain a license to legally marry.
---
The crowd is beginning to show signs of weariness. "You go between excitement and frustration trying to figure out why it is taking this much longer," said Ashly Morrison, who is waiting outside the Register of Deeds office to support friends who want to marry.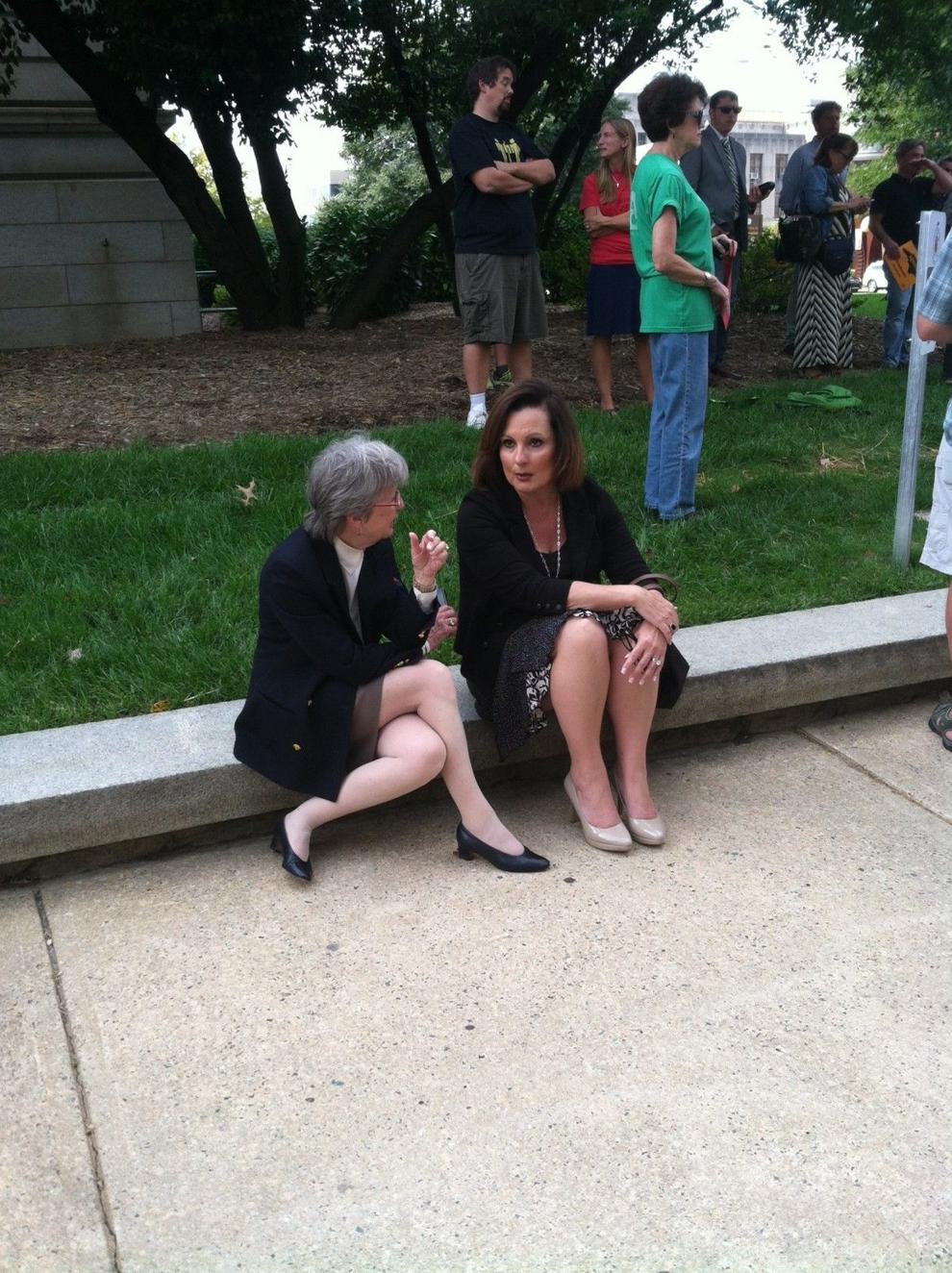 Greensboro City Councilwoman Nancy Hoffmann (left) and Mayor Nancy Vaughan await a federal court ruling in Greensboro on same-sex marriage.
---
Register of Deeds Jeff Thigpen momentarily joined the gathering group outside and got a roar of approval from the crowd when he asked if he should plan to stay open later. The office normally closes at 5 p.m. 
The Rev. Julie Peeples carries with her a special stole embroidered with the Lord's Prayer. She said she will wear it to marry same-sex couples if their licenses are processed.  
"I hope by the end of the day their long, long wait — and not just these last few days— is over," Peeples said. 
---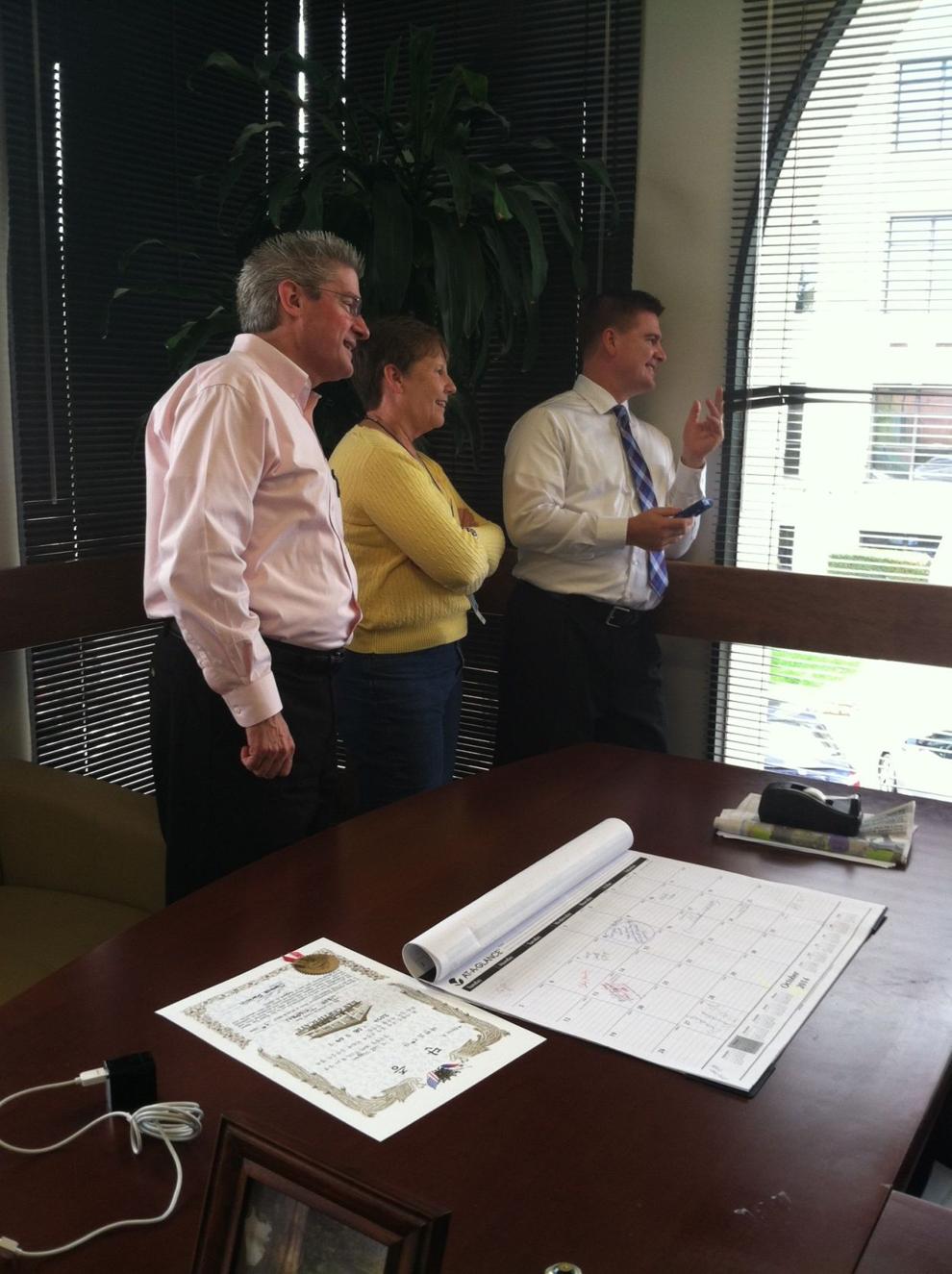 At around 3 p.m., Register of Deeds Jeff Thigpen an employees watch the crowd outside his office gather and wait for word on whether same-sex marriages can go forward in Guilford County.
Outside, Greensboro Mayor Nancy Vaughan stops by to show her support. "What I hope is by the end of the day there is marriage equality so they can enjoy the same benefits heterosexual couples enjoy.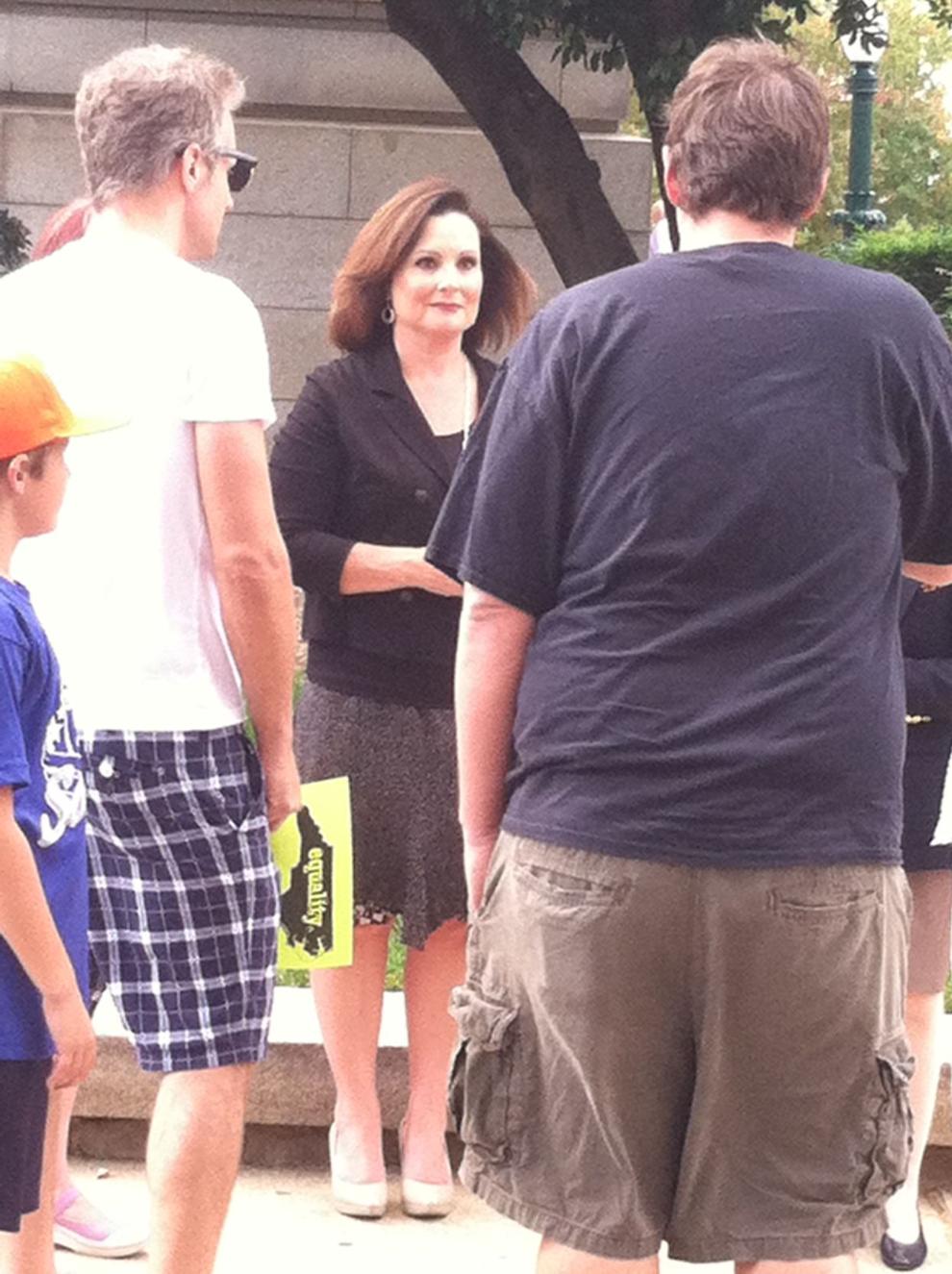 The crowd outside the county office continues to grow as those inside and outside the register of deeds office wait for more official news.
---
Just after lunchtime Friday, GOP leaders Thom Tillis and Phil Berger filed a motion to ask the court to allow oral arguments to be presented in their motion to intervene in lawsuits over same-sex marriage.
News of the motion brought groans from those awaiting a ruling on the issue.
The ACLU, which represents same sex couples seeking the right to legally marry in North Carolina, has filed a petition opposing the Tillis/Berger motion. 
Nearly two hours after the judge's deadline, several of the couples who have already filled out paperwork to marry at the Register of Deeds office are still waiting, worrying and hoping over every legal detail, just outside the county office. 
"We just skimmed the legal argument and we can't imagine the judge will do anything but dismiss it, said Brad Newton, who hoped to get a license to marry his partner of 18 years in front of colorful flower bushes near the office.
Chief U.S. District Court Judge William Osteen Jr. has not responded to the motions.
With no official word from the court, the crowd is enthused by the current rumor that  something is about to happen.
---
GREENSBORO — State GOP leaders met a federal judge's noon deadline to file arguments supporting their motion to intervene in lawsuits over same-sex marriage.
The U.S. District Court judge could rule at any time on whether the state can argue against overturning the state's ban.
"I've heard from folks it's not very well-articulated but the bigger thing to me is that Judge (William) Osteen said if it's not something new and unique he would rule against it," said Chris Sgro of Equality North Carolina about the motion.
"I've heard it's not anything new but I'm not an attorney."
A small crowd has gathered outside the Guilford Register of Deeds Office where marriage licenses are issued. At times, just about everyone is checking news websites for the latest.
Others, including Sgro, have phones pressed to their ears.
Contact Nancy McLaughlin at (336) 373-7049, and follow @nmclaughlinNR on Twitter.