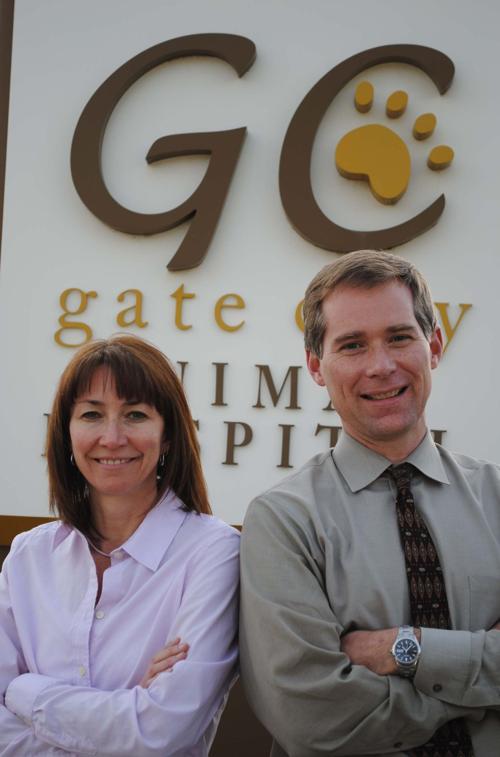 Business: Gate City Animal Hospital
Description: Gate City Animal Hospital provides human-level diagnostics and treatment with compassionate customer service. Our caring staff and dedicated veterinarians provide unparalleled veterinary care for dogs, cats and other pets using state-of-the-art facilities and therapies.
What sets your business apart? We're an American Animal Hospital Association-accredited animal hospital with a very important goal — "Quality, Compassionate Care for Pets and Their Families."
In addition to routine exams and vaccinations, we offer:
• General medical services: Internal medicine, ophthalmology, orthopedics, diabetes, geriatrics, nutrition, obstetrics, oncology, pediatrics, pain management, dentistry, cardiology, dermatology, behavior counseling, pulmonary diseases, reproduction, urology, hospice care
• Diagnostic services: Complete in-house laboratory, X-ray unit, endoscopy, dental X-ray unit, ultrasound, eye and blood pressures
• Surgical services: Orthopedic, exploratory, soft tissue, laser, ophthalmic, dental, reconstructive, feline laser declaw, spay and neuter, growth removals, tissue biopsies.
• Bathing: Hydro-surge massaging bath, a pedicure, ear cleaning, blow dry and a thorough brushing.
• Boarding: Individual cat condos with private lounging areas, windows for bird and people watching, quiet housing away from dogs, soft beds and television. Dog suites with televisions, spacious runs, lounging on hammocklike cots, music and three walks a day in a fenced exercise yard.
Involvement: We actively help educate our community about pet health care. Events in which we participated during 2010 include:
• Healthy Pet, Ask A Vet workshop
• Fill the Food Bowl Campaign
Owners: Dr. Michael Andress and Dr. Audrey Curran
Address: 202 Pisgah Church Road, Greensboro
Hours: 7:30 a.m. to 6 p.m. Monday through Friday, 8 a.m. to noon Saturday
When it opened: July 1997
Upcoming events: Puppy Kindergarten and Life Skills training classes began in March. On May 14, we will hand out information and give pet teeth-brushing and dog-training demonstrations at Bark Park (at Country Park) from 10 a.m. to 2 p.m.
What's the nicest thing a customer ever said to you? "My dog loves coming here; I wish you treated people, too."
What's the best business advice you were given? The Cub Scout motto: "Always do your best"
Check out our Facebook page where we post pet tips, keep our fans informed about local animal events and help spread the word about pets that are lost, found or need a home.
Would you like to recommend a business to spotlight in 27408, 27410 or 27455? Request a spotlight questionnaire from Tiffany S. Jones, tiffany.jones@news-record.com.