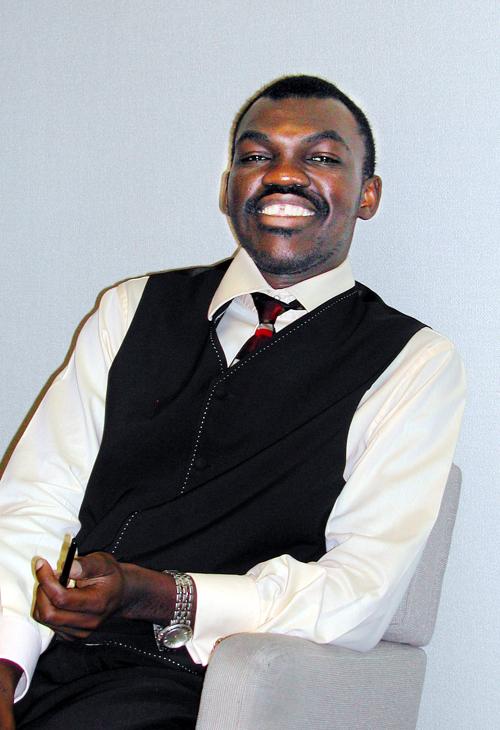 GREENSBORO — A native of Kinshasa, the Democratic Republic of Congo (formerly Zaire), the Rev. Patrick Mubobo felt the calling to become a minister from the age of 15. He became a Christian at 14, and a year later he was preaching at his village church. "My pastor knew I had God's calling, and he trained me," said Mubobo, 28.
But then Mubobo got sidetracked.
Political instability and war in his country forced his father to send Mubobo and his other children out of the country for safety.
Mubobo ended up in Malaysia living with a friend of his father and studying at Midas College. He received an associate's degree in computer science and had every intention of furthering his education, becoming a software engineer and moving back to Zaire.
Instead he ended up in the United States.
"My dad said it was not safe to come back," Mubobo said. "He said I had to find my own way."
A person who looks for the positive in situations, Mubobo believes it was God's plan for this to happen.
"I wanted to seek God's will, so I prayed about it, and I felt God led me to the United States," he said.
Knowing only one person in the United States, a friend of a friend, Mubobo eventually ended up in Greensboro in January 1999. He still wanted to continue his education but put school on the back burner as he struggled with gaining a work permit and surviving financially.
In the midst of this, he visited several area churches, eventually joining All Nations Evangelical Church where he was youth pastor and joined with a pastor from Zaire to start a local French-speaking church. A friend from Malaysia who had moved to the area, Octave Kayanda, continued to tell Mubobo, though, that he felt he was ignoring God's call.
"He told me, 'You need to forget about your fear,"' Mubobo said.
After an intense time of prayer, Mubobo finally took the dive, and on May 7, 2003, he started his own church, Change the Nations. The church, which meets on Sunday afternoons in the chapel at Muirs Chapel United Methodist Church in Greensboro, is composed of about 100 refugees and immigrants from 15 nationalities. He also pastors a church of about 40 members, Sudanese Community Church, which meets on Saturdays at Grace Community Church.
In addition, he continues to visit other churches, such as Guilford Baptist Church, to speak and teach.
"I believe God can use me as a bridge to unite people of every race and every direction," Mubobo said. "I preach for white and black churches."
Ginnie Heck, a member of Guilford Baptist, has come to love and admire Mubobo, who has visited her Sunday School class and led a class when the teacher was out of town.
"He loves everybody, and he's so in tune with God," she said. "He proclaims what God is telling him."
She also is thankful for his personal prayers when she was having some health problems.
"He said I'd be OK, and I was," Heck said. "If you want a prayer warrior, he's the one."
While pastoring two churches and preaching at others, Mubobo also maintains a full-time job as a teller at Bank of America's Lawndale branch. He is training to become a personal banker and was recently recognized as the bank's 2003 Top Performer Teller for the Triad. Plus, he is studying pastoral ministry part time at John Wesley College in High Point.
His primary focus, though, continues to be his work with the church and his desire to help other immigrants. He started Good Samaritan House, a shelter for immigrants near Bennett College. Change the Nations Church financially supports the shelter as well as an HIV project in West Africa. He also hopes to start a low-cost day care for immigrants.
"He's just so kind and such a man of God," said Octave Kayanda, associate pastor of Change the Nations. "He loves the word of God; God has given him the gift to start churches and preach the word of God."
As for the future, Mubobo does not see himself staying at one church for a long period of time. "I think my calling is to build churches, train a pastor and move on," he said. "My goal is to be God's kind of pastor who shepherds the flock, reaches as many people as I can and builds as many churches as I can around the world."
Considered a resident, Mubobo also hopes to obtain U.S. citizenship and would love to move his family to this country. His parents are still in the Democratic Republic of Congo, and his two brothers and three sisters live in South Africa. He has not seen any of his family since moving to the United States.
Wherever life leads him, Mubobo says he has learned he can no longer hide from God.
"I was a Jonas, running from God's calling," he said. "I know now I have to be the light and let it shine and say, 'God, here I am; let your will be done.' "