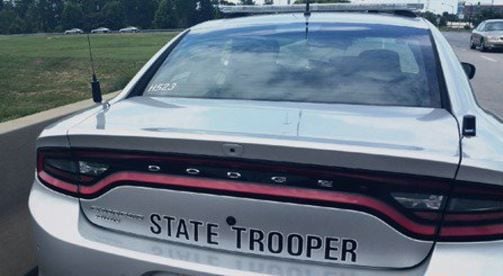 A Burlington man was arrested early Sunday morning after a brief high-speed chase on Interstate-40 through Haywood County.
Just before midnight on Saturday evening, 37-year-old Christopher Junior Roberts was allegedly clocked going 127 miles per hour by a N.C. Highway Patrol trooper as he was heading on I-40 westbound in his 2011 Audi Q5.
According to court documents, Roberts was first clocked speeding near mile marker 25, but wasn't stopped until closer to the North Carolina/Tennessee line.
He not only failed to stop when the trooper turned on his blue lights and siren, the report stated, but he "increased speed."
Once he was pulled over, the trooper found Roberts had an open alcohol container in the car and a "child under 12" years old in the passenger seat, according to the report. The trooper who pulled him over initially suspected Roberts was intoxicated.
"Driver had a strong odor of alcohol coming from his breath, red glossy eyes and slurred speech," reads one court document.
Roberts subsequently took two breathalyzer tests minutes apart that each indicated his blood alcohol level was a 0.10, which is higher than the legal limit of .08.
Along with having his vehicle seized, Roberts was charged with failure to heed a light or siren, misdemeanor child abuse, felony flee to elude arrest with a motor vehicle, felony habitual impaired driving, driving while impaired and possessing open alcohol container in the passenger area.
Roberts is scheduled to appear in court on Sept. 9.