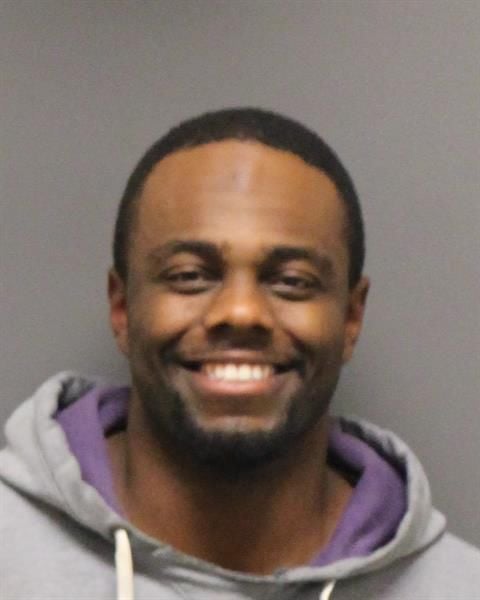 GREENSBORO — Warrants for an armed man arrested on the grounds of Smith High School on Monday revealed a handwritten note that appears to be a hit list.
Steve Brantley Spence, 29, of Norfolk, Va., is in Guilford County jail with bail set at $1 million after police say he went into the school's cafeteria at lunchtime carrying two guns and ammunition.
Spence "spontaneously uttered he had arrived at Smith High School to kill two different people," according to the warrants. In the note, the word "Greensboro" is followed by an arrow pointing toward the words "Smith High School" with the word "Kill" and the first names of two people underlined and in parentheses below.
Spence's intended target at the school was someone with whom he had a personal relationship, police said.
Spence came on campus through a courtyard area and then entered the building through an unlocked door to the cafeteria, according to Greensboro Police Department spokesman Ronald Glenn.
Scott McCully, Guilford County Schools' chief operations officer, said in an email Tuesday that many of the large, comprehensive schools like Smith resemble a college campus with multiple buildings and entry points to allow students to move around. 
"These buildings, designed many years ago, were for different purposes than for protecting students," he said in an email. "We continue to support best practices in limiting access where possible, and providing adult supervision in areas of open access. The GCS OneCard (student ID) project is an example of a best practice that currently is being piloted at several schools."
The district this year issued student IDs that at the pilot schools will be used to track when students enter a building.
On Monday, a Smith employee assigned to cafeteria duty radioed for help after seeing Spence with a gun about 12:40 p.m. The school resource officer chased Spence through campus and eventually subdued him, police said.
No students or school employees were hurt. The school was locked down during the incident.
A third gun was found in a 2016 Mercedes from Virginia that police say Spence stole. He was wanted by Virginia Beach police who accused him of "brutally beating" his girlfriend, according to the arrest warrant.
A copy of an image of the "hit list" note shows a numerical order with "Complete Mission" at the top with the phrase "Kill Denisha" underlined and in parentheses. The next action on the list was to take the car and pick up the "shotgun & 9 mm."
Then, according to the list, Spence planned to drive to North Carolina with a stop in Durham to kill a woman and her parents and then proceed to Smith High in Greensboro to kill the two people at Smith. Next was "Rest" before traveling to Maryland to kill another woman. The bottom of the note says "Hit List" followed by a list of names.
Police said in the arrest warrant that Spence "had a hit list with at least five people, all of which he was involved in a domestic relationship with" and that he had a "clear written plan of action" to carry out the crimes and escape.
Spence is charged with two counts of attempted first-degree murder, and one count each of receiving/transferring a stolen vehicle, having a weapon on an educational property, resisting a public officer, second-degree trespass and going armed to the terror of the people.
In Virginia, he is wanted on several charges including assault on a family member, grand larceny of a motor vehicle, grand larceny, stolen property and strangling another causing wound or injury.
The Virginian-Pilot also reported that a Guilford County judge at a hearing Tuesday afternoon ordered Spence to undergo a mental health evaluation and appointed him a public defender.
Be the first to know
Get local news delivered to your inbox!