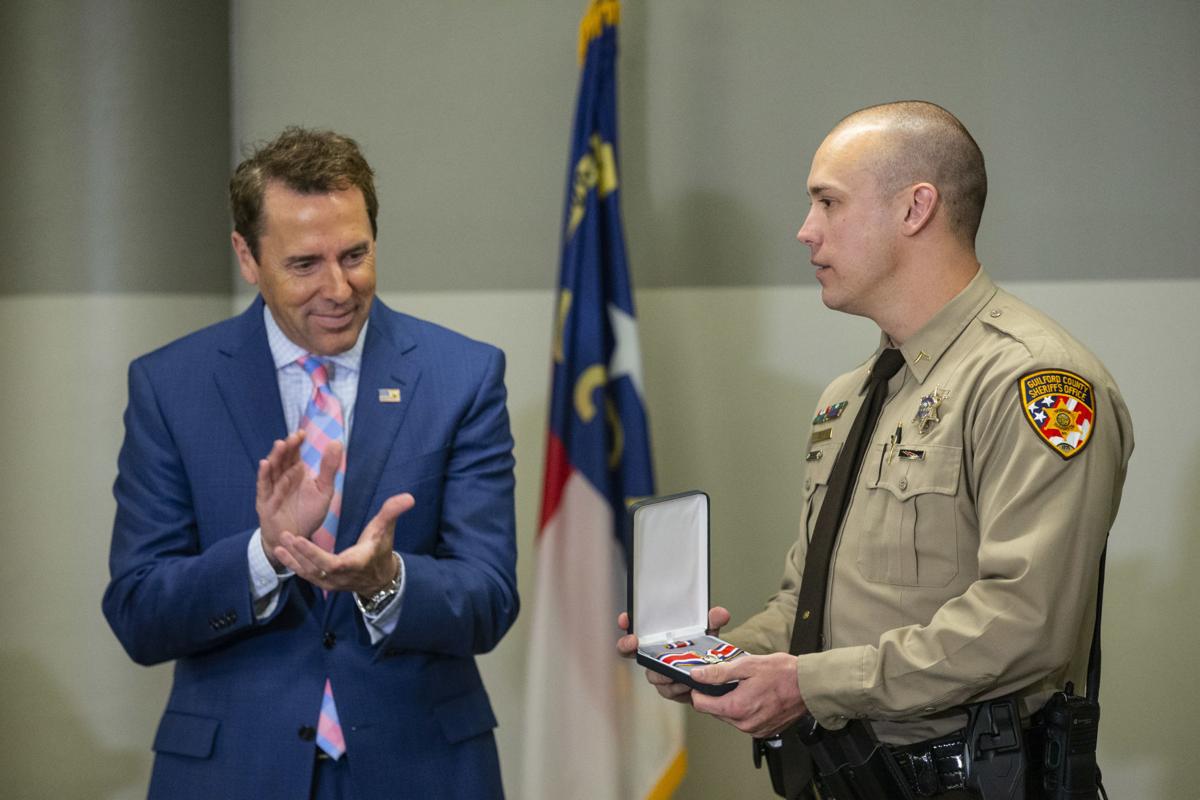 GREENSBORO — A Browns Summit man who twice shot a deputy pleaded guilty Monday to his crimes. 
Donald Ordie Meador Jr., 55, of 2800 Brookledge Court was convicted of two counts of attempted first-degree murder, assault on a law enforcement officer with a firearm and kidnapping, said Steve Cole, chief assistant district attorney for Guilford County. 
He was sentenced to a minimum of 13 years and one month in prison. 
Meador shot Guilford County Sheriff's Deputy Matthew "Logan" Self on Feb. 27, 2017, after Self lunged for a gun that Meador pointed at his wife's head, according to the sheriff's office. 
Deputies said Meador also shot his wife in the foot as she tried to run to safety.
U.S. Rep. Mark Walker honored the former deputy in July with the Congressional Badge of Bravery, an award for law enforcement officers who act bravely in the line of duty. 
A week after receiving the award, Self, who had served the sheriff's office since 2014, joined the Highway Patrol. 
During that awards ceremony, Self and his colleagues provided details of what happened that night. 
When Self responded about 5:40 p.m. to a 911 hangup, he heard arguing from inside the house. 
Meador answered the door. Self was questioning Meador when he saw a woman, later identified by deputies as Meador's wife, quickly walk past. 
Then Self saw Meador pull out a gun and point it at the back of the woman's head. 
Self lunged for the gun, and the wife ran.
Meador and Self began exchanging gunfire. Both men were struck twice. 
Meador was shot in the foot and chest, however, he was wearing a bullet-proof vest that stopped the bullet. 
Self, who was struck in the bicep and hip, fell to the ground. 
At that point, Meador shot at his wife, who was running toward a wooded area. She was hit in the foot. 
Self used that time to radio for help and fix his gun, which had stopped working when he fell to the ground. Then he ran for cover and fired several more rounds at Meador before collapsing. 
Deputies found Self bleeding in a ditch but got him to doctors in time to save him. 
Meador then began an hours-long standoff with police. He came out after deputies filled the house with gas at 1:30 a.m. He had a self-inflicted gunshot wound to the mouth, but survived. 
Cole said the victims were present at the hearing Monday but neither addressed the court. 
Contact Danielle Battaglia at 336-373-4476 and follow @dbattagliaNR on Twitter.​
Be the first to know
Get local news delivered to your inbox!