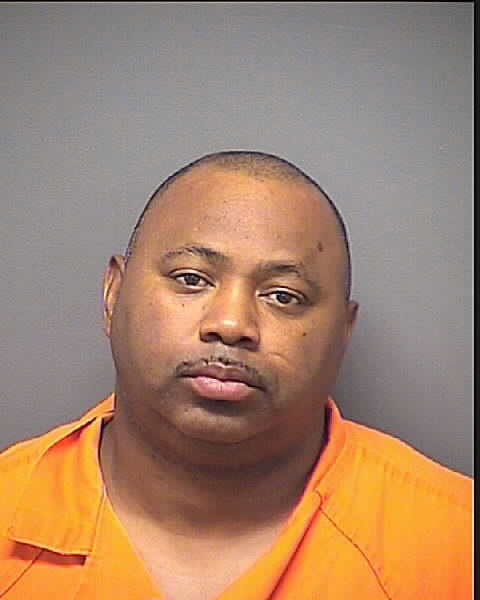 GREENSBORO — A man charged in a fatal stabbing Sunday morning was previously convicted of second-degree murder.
Henry Thomas Hairston, 41, of 733 Madison St. in Reidsville is charged with first-degree murder in the death of Markos Leonard Jones, 26, of 5603 Weslo Willow Drive. The stabbing occurred in the parking lot of Shooters Sports Bar at 3808 W. Gate City Blvd. about 3:30 a.m. Sunday, police said. Jones died at the hospital.
Hairston was convicted of second-degree murder in December 1993 in Rockingham County for a homicide that happened on New Year's Day of that year, according to N.C. Department of Correction website. He served about 10 years and was released from prison in March 2003.
According to previous News & Record articles, Hairston was charged with the death of 21-year-old Reidsville disc jockey Julian Leo Patrick. Police said Hairston shot him in the chest with a .22-caliber pistol following a fight at a party in Ruffin.
Since his release from prison, Hairston has been convicted on drug and habitual felon charges. His most recent parole ended in November 2012, according to the N.C. Department of Correction website.
In the Jones homicide, Hairston is accused of getting into a fight with Jones inside Shooters, said Susan Danielsen, police spokeswoman.
The pair were involved in an argument with several other people when it spilled outside into the parking lot and broke up into three or four other fights, Danielsen said.
Two off-duty Greensboro police officers were already at the bar working as security when the fight began, Danielsen said. The officers were in the parking lot breaking up other fights when Jones was stabbed.
Police still are trying to determine what sparked the fight. Officers don't believe Hairston and Jones knew each other prior to the incident, Danielsen said.
Because off-duty officers were already at the club they were able to immediately detain Hairston, she said.
In a recently-released 911 call, a woman who said she saw Jones in the parking lot repeatedly asked for an ambulance to come to the club.
"We need an ambulance to Shooters on High Point Road (now Gate City Boulevard)," the caller said. "This man is laying out in the parking lot. There's blood everywhere. The police is up here, but there's no ambulance or anything. We need an ambulance, ASAP."
In a subsequent call, the woman said she was uncertain what happened, other than "there was an incident and it intensified," the woman said in the recording.
Hairston is being held without bail in the Guilford County jail.
Hairston is also scheduled to appear in Rockingham County May 4 on felony assault with a deadly weapon inflicting serious injury and common law robbery charges. 
Contact Sarah Newell Williamson at (336) 373-7076, and follow @snewell_NR on Twitter.